Online Jewellery Auctions
Philips holds regular online jewellery auctions with a wide range of amazing pieces. These always present some fantastic opportunities to enhance your jewellery collection including recently pieces such as a large three stone emerald and diamond dress ring, a vintage gold fancy link bracelet, a pair of ruby and diamond cluster short drop earrings, and a Georg Jensen ladies wristwatch.
The convenience of online auctions means you can bid on the jewellery from anywhere in Australia. We also have rooms in Melbourne available for in-person viewings.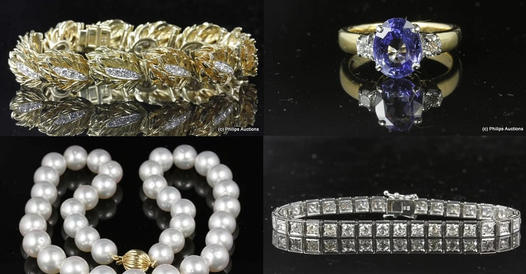 Types of jewellery at our online auctions
 Our online jewellery auctions include both new and antique fine jewellery. Some of these include
bracelets
rings
pendants
necklaces
earrings
watches
fob chains
brooches
bangles
VIEW OUR LATEST ONLINE JEWELLERY AUCTIONS BY CLICKING HERE


Previous Online Jewellery Sold at Auction

A LARGE PEAR CUT DIAMOND PENDANT OF 4.02CT
18ct white gold, crafted as a solitaire drop pendant, featuring a large pear cut diamond weighing approximately 4.02cts, claw set in a fine mount, fitted with bail and suspended from a trace link chain.


A MASSIVE 79.29CT AQUAMARINE AND DIAMOND SET COCKTAIL RING
14ct white gold, handcrafted, Circa: 1950's, designed as an impressive and massive cocktail ring, featuring a superb quality emerald cut aquamarine of intense light blue colour weighing 79.29cts, accompanied by independent lab report, claw set, flanked to each side by rolled geometric shoulders set with diamonds, finished on a wide polished band. Rare jewellery at it's finest.


AN OLD CUT DIAMOND FLORAL CLUSTER BRACELET.
18ct yellow and white gold, the central panel made as a series of five floral clusters, graduated in size, each set with old cut diamonds in seven stone clusters of white gold detail, the central largest arrangement to 1.26ct, with the further four totalling approximately 2.18ct, merging to a linked gold bracelet with additional extension plate and clasp.


A THREE STONE EMERALD AND DIAMOND RING
18ct white gold, made as a modern three stone ring, this luxury jewellery piece features an emerald cut Columbian emerald of bright green colour, weighing approximately 2.00ct, bezel set, flanked to each side by a brilliant cut diamond, each bezel set, totalling approximately 0.62ct, merging to a fine band. 


A PAIR OF DOUBLE DIAMOND CLUSTER EARRINGS
18ct white gold, designed to sit as a smaller floral diamond set stud featuring seven brilliant cut diamonds, connected to a curved arm that sits behind earring, terminating with a larger floral cluster of seven larger diamonds, creating a "floating" appearance, totalling throughout approximately 2.56ct, fitted with pierced posts. 


A 2.18CT FANCY YELLOW AND WHITE DIAMOND RING
18ct yellow and white gold, made as a modern, elegant three stone ring, featuring a central cushion cut golden yellow coloured diamond weighing 2.18ct, the fine quality stone accompanied by GIA certification, claw set in yellow gold, flanked to each side by a white trillion cut diamond, the two totalling 0.58ct, set in white gold, merging to a smooth white gold band.


A STUNNING ANTIQUE TOURMALINE SET BRACELET.
14ct yellow gold, high Victorian, possibly a Suffragette piece, designed as an ornate endless knot style panel bracelet, the heavily detailed and domed central panel set with green and pink/mauve coloured natural tourmalines, each stone oval cut, the largest of 5.40ct, seven stones throughout, merging to a wide, domed centipede linked gold bracelet. An amazing piece of fine jewellery.


A BEAUTIFUL SAPPHIRE AND DIAMOND THREE STONE DRESS RING
18ct white gold, made as an elegant three stone ring of classic proportion, featuring a central oval sapphire of intense royal blue colour, weighing approximately 2.05ct, claw set in four double claws, flanked to each side by a transition cut diamond of approximately 0.65ct, also claw set, further detailed to gallery with small diamonds set to each side, finished on a simple low band. A.T.D.W.: 1.30ct.


A HEAVY GOLD FOB CHAIN
18ct white gold, crafted as a striking solitaire dress ring, featuring a rectangular cushion cut tanzanite of intense vibrant blue with violet overtones, weighing approximately 11.00ct, claw set, flanked by a triple diamond set band, the central row set with marquise cut diamonds set end to end, the outer sides claw set with brilliant cuts, marquise totalling approximately 0.24ct and brilliant cuts 0.43ct, merging to a smooth band.


A COLUMBIAN EMERALD AND DIAMOND PENDANT ON CHAIN
This 18ct white gold, made as a delicate grain set double diamond rail of flexible form, was a very popular piece at a recent online jewellery auction. The Arabesque form centred by a single emerald cut Columbian certified emerald of intense vivid green colour, weighing 0.48ct, claw set, fitted with bail and suspended from bright cut trace link chain. Designer jewellery piece that oozes high end.


A SAPPHIRE AND DIAMOND COLLIER
18ct white gold, made as a classic single stone collier set throughout with oval cut Ceylonese sapphires, medium cornflower blue in colour, each set length ways, fifty-two totalling approximately 32.20ct, spaced throughout with small marquise shaped panels, each diamond set, completed with concealed clasp and catch. Length: 43cms 


A GOLD LADIES TISSOT WRISTWATCH
18ct yellow gold, marked to dial Tissot Stylist Swiss Made with manual movement, Circa: 1960's, with slim round case, silvered dial, baton markers, two hands, fitted to a lovely woven style bracelet with original fold over clasp. Total Weight: 29.6grams


A BEAUTIFUL DIAMOND AND CALIBREE CUT RUBY SQUARE CLUSTER RING
18ct white gold, handmade as a Deco inspired cluster ring, set with central old cut cushion shaped diamond of approximately 0.78ct, grain set within a calibre cut frame of intense red rubies. Completed with stepped shoulders set with carre cut diamonds, merging to a fine band. 


A THREE STONE DIAMOND RING TOTALLING 1.77CT
18ct white gold, made as a classic three stone ring of graduated proportion, centrally set with a brilliant cut diamond of 0.68ct, claw set, flanked to each side by a smaller brilliant cut, the two totalling 1.09ct, also claw set, pierced to gallery, finished on a fine band.


A CUSHION CUT SAPPHIRE AND DIAMOND RING
18ct yellow and white gold, made as a large cushion shaped cluster ring, centrally featuring a vivid deep blue sapphire cushion cut weighing 4.14ct, accompanied by GRS certification, claw set within a grain set frame of ten transition cut diamonds, totalling 2.00ct throughout, set in white gold beads, finished on a yellow gold band. 


A QUALITY 1.50CT PRINCESS CUT DIAMOND RING
18ct white gold, made as a modern solitaire diamond ring, set with a quality central princess cut diamond of 1.50ct, accompanied by independent GIA certificate, claw set to each corner, set to a tapered, square edged band. Valuation on request and GIA certificate.


A 14K YELLOW GOLD DIAMOND LINE BRACELET
A 14K yellow gold articulated diamond line bracelet set with 57 round brilliant cut diamonds of uniform size with a box and figure eight clasp. Total estimated diamond weight of 3.10ct. Another amazing piece of jewellery sold at our online auction.


AN ELEGANT DIAMOND LINE BANGLE
18ct white gold, crafted as a simple oval shaped bangle of polished white gold, detailed through top with twenty-three uniform sized brilliant cut diamonds, totalling 2.44ct, each claw set with lovely gallery work, fitted with clasp and catches. Inner Width: 5.5cms


A STUNNING TANZANITE AND DIAMOND DRESS RING
9ct yellow gold, made as a Victorian styled solid gold fob chain, polished gold finish, completed with a fixed T-bar on short length of chain and fitted bulldog clip as clasp. Length: 49cms Weight: 85.5grams


A FINE QUALITY OPAL AND DIAMOND BROOCH/PENDANT
18ct yellow gold, handcrafted as a vertical bar style brooch/pendant, featuring a solid carved piece of Lightening Ridge opal, intense spectral colours throughout of green, blue and orange, measuring 42mm x 13mm, claw set, framed by a grain set surround of brilliant cut diamonds, completed with pin and concealed flip diamond set bail to reverse.


A COLLECTION OF JEWELLERY
Comprising three pieces, one pair of 9ct rose gold Victorian cufflinks, each of the single sided cufflinks designed as scrolled initials, along with a silver rose gold plated Masonic ball pendant, opening to a series of peaked panels and finally a rose gold plated pair of small double sided cufflinks.