Russian Icons – gifts from above
Taken to be the Gospel in paint, Russian Icon painting are considered as expressions of Orthodox Christianity. With some even believed to miraculously "appear" as gifts from above, they are constructed to relate scripture visually rather than through the use of words. The subject matter of these paintings is a subtle blend of deep faith and the affairs of the everyday. Predominately painted on wood, many Icons are unsigned and not attributed to a particular artist or artists.
Philips Auctions are delighted to present twelve fine representative examples of this seldom offered historic art form; imbued with grace, spirituality and beauty.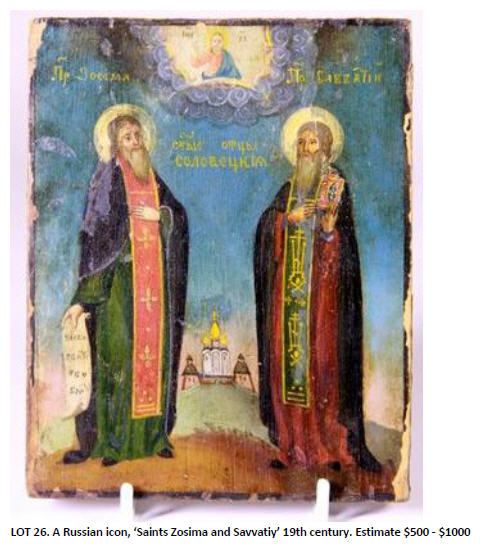 Zosima and Savvatiy have been recognised by the Russian Orthodox Church as saints since 1547. Depicted in tempera colours on a timber panel, with full length figures of the saints flanking the Solovetsy Monastery which they founded in the mid-15th century in the White Sea. 'Mother of God of the Sign' appears in clouds above; with descriptive Cyrillic script in the Church Slavonic language.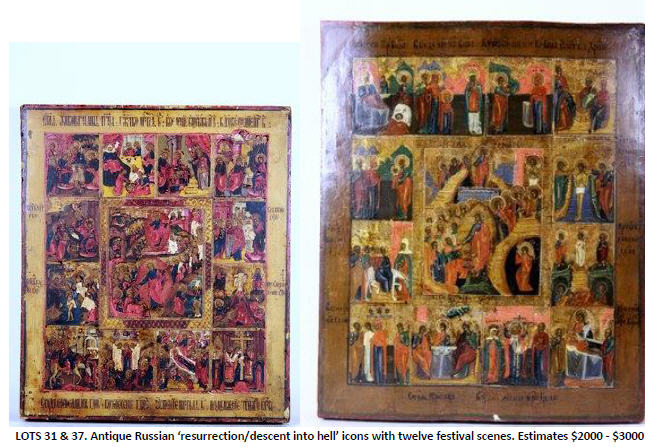 Some works are presented as multiple panels with the central figurative image of Christ within a mandorla, or with Christ standing at the gates of Hell - surrounded by twelve festival scenes depicting significant events in the life of Christ and the Virgin. Furthering the story representations are Cyrillic inscriptions in the margins.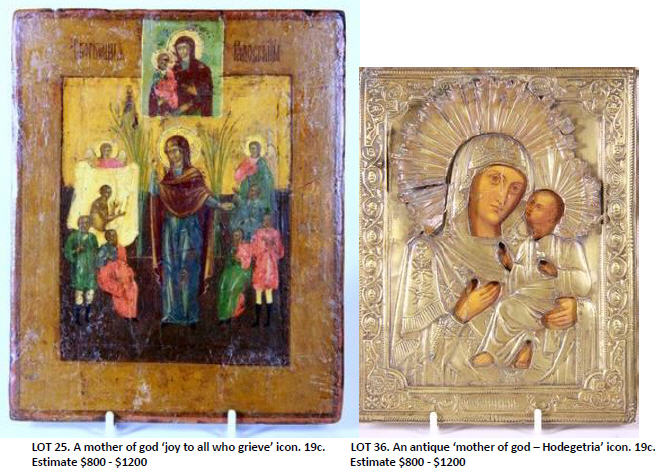 A common theme of the genre involves the virgin Mother of God. Depictions are sometimes seen standing flanked by palm leaves, with suffering figures and angels in the background, augmented by a cartouche of the Mother and Child and Cyrillic script. A popular style "Hodegetria" shows the Virgin gesturing to the Christ child seated on her knee, who reciprocates the gesture while gazing at his mother. Often these works are protected by a decorative brass oklad.
Typified by intense tempera colours and imbued with a breath of humanity, this offering of these enchanting sacred images presents a rare opportunity for the astute collector to view a substantial holding of these serene pictorial works.
Forthcoming Auctions
Fine and Decorative Arts - Sunday 19th June 2016
Modern and Antique Jewellery - Monday 20th June 2016
Enquiries: +61 3 9509 6788 This email address is being protected from spambots. You need JavaScript enabled to view it.