Organic arts of the orient
We are fortunate to have an extensive oriental section in our inaugural 2020 auction, ranging from antique to more contemporary offerings from various collectors and estates.  Humour, playfulness, serenity, reverence, mythology and belief are all beautifully presented in miniature in our current sale.  Through the hands of mostly unknown craftsmen, materials as diverse as malachite, coral, jade, turquoise, ivory, have all been fashioned into sculptural treasures.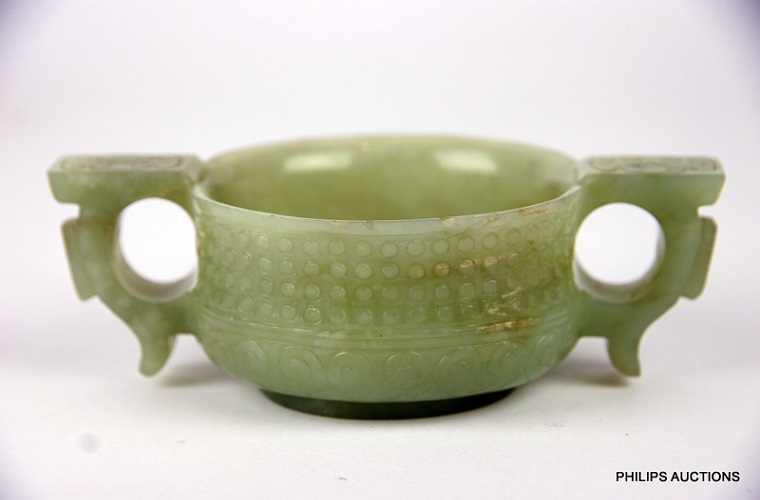 Of particular note are two jade items, Lot 186, a jade libation cup in the Ming manner with the original Stanley L. Moss of London label and number.  Stanley L. Moss, established in 1910, is one of Europe's and certainly England's longest family run Asian arts dealership. 
Lot 147, also a libation cup, represents a cut peach with a masterful pierced and carved crabstock and floral handle. It is also fitted in an intricately carved rosewood display stand, itself an extraordinary example of craftsmanship, a hint perhaps at the significance of the piece to which it plays a supporting role.
Other tempters include Lot 164 a refined carved malachite figural group.  It is an exciting use of this immensely beautiful stone, utilising to the full its natural wavy striations and vivid character.
Playfulness and humour abound in Lot 161, a vintage Japanese ivory okimono depicting a collection of animated figures tightly grouped in a canoe, each busily engaged in activities from turtle catching, fishing, manning the oars, playing instruments or dispensing drink, and depicted with extraordinary detail and individuality.