The Art of Furniture Inlay
The art of furniture inlay involves the labour intensive, intricate technique of inserting glued veneers of usually expensive timbers and materials such as mother-of-pearl, ivory and metal to timber surfaces to create highly decorative and often symbolic designs, patterns and scenes. Examples of this exquisite artform which frequently grace our rooms hark from an era when the finished object  was greatly revered, far more valued than the labour that created it.   
We are pleased to offer some fine and diverse examples of this technique in our forthcoming auction and hope that you too enjoy and appreciate the workmanship, refinement and beauty of this remarkable near lost art.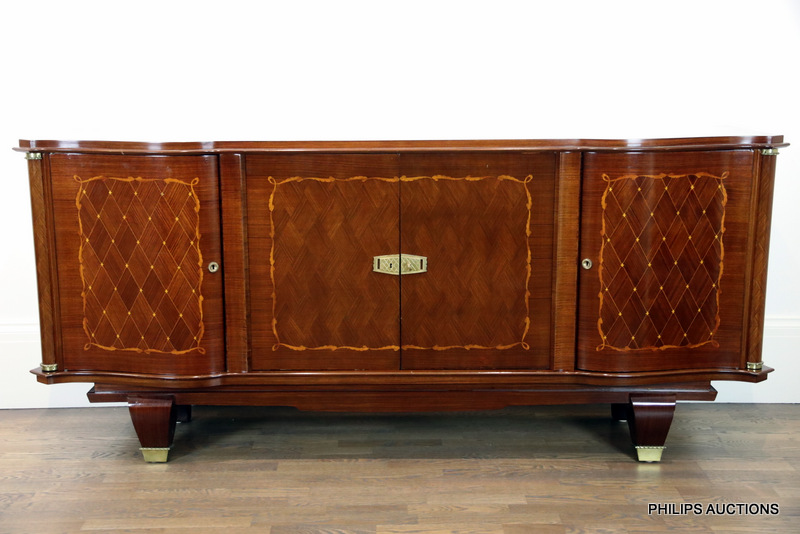 The Art Deco enfilade, Lot 381 , in the manner of Leleu, is an exercise in refined elegance. The facade of each door is strikingly decorated as a parquet arrangement of diamond tiles, the outer cupboards distinguished by fine blondewood stringing and petite four point stars. The curvaceous leafy border to each panel of tiles serves as an elegant, subtle nod to the item's Rococo lineage. 
Mixed timbers with their peculiar colours, grains and properties are utilised to great effect in the Italian style games table, Lot 405.  This painting in timber, featuring a horse rider with hounds in a mountain enclosed hamlet uses fine pale timber with a light wavy grain to 'paint' the sky, and bird's eye maple to suggest the ruggedness of the mountains.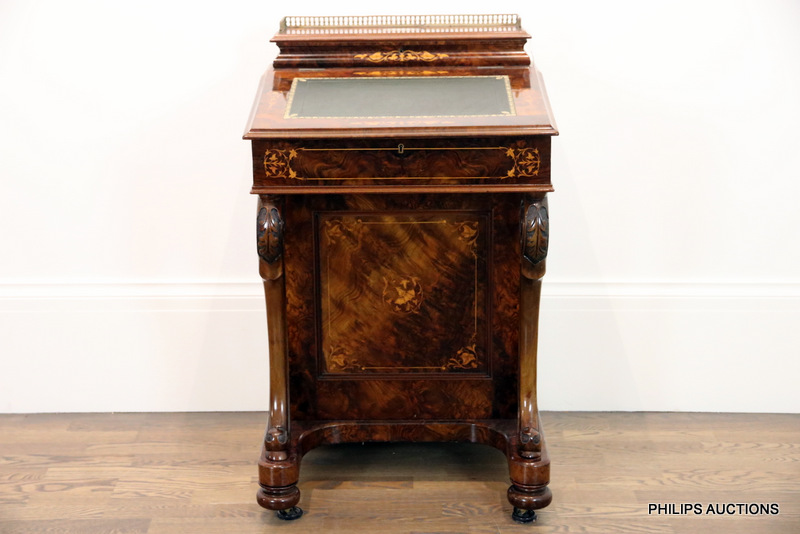 The English Victorian burr walnut games table and near matching davenport, Lots 396 and 404, both display finely detailed trailing ivy leaf and tendril borders in boxwood, elevating the high quality pieces with interesting well figured veneers to items of exquisite and delicate beauty. The davenport bears a presentation plaque to the recipient on the occasion of his marriage; the Victorian symbolism associated with ivy -  eternity, fidelity, and friendship, is therefore particularly fitting.
The suite of Chinese rosewood furniture, Lots 92 and 93, inlaid in luminous mother-of pearl-with abalone shell accents, too, is rich with meaning. The pair of chairs, Lot 92, for example symbolise differing seasons. One features a vase filled with 'friends of winter' prunus and pine foliage complete with lingzhi fungus  in a censer, the classic Chinese symbol of longevity.  The other chair features peony, the 'king of flowers', and the symbol of spring. To the rear of the chair back, we find shou medallions, and to the arms and crests, symbolic pomengranates.