The art and craft of David Upfill-Brown
The name David Upfill-Brown is probably unfamiliar to most, yet we have all seen his work.  The speaker's chair at Parliament House in Canberra is one of David's many public commissions both here and beyond our shores including furniture for the parliaments of PNG and other Pacific nations.
Born and raised in Southern Africa, David began his artistic life as a sculptor, honing the art of Shona sculpture in Zimbabwe and working with the peculiar regional soapstone known as serpentine. He developed a strong affinity and understanding of the stone with which he worked believing the best way to learn about material was to carve.  He applied the same mode of thinking as he transitioned from stone to wood carving.  
Following a successful solo exhibition in Cape town in the mid-1970s, David emigrated to England where he commenced intensive furniture making at John Makepeace's Parnham House in Dorset under master craftsman, Robert Ingham.  In 1982 David emigrated again, this time to Australia. 
Reading David Upfill-Brown's furniture is like journeying through the rich history of furniture making but through original eyes and with a sculptor's sensibility. His output showcases the intrinsic beauty of the array of native and exotic timbers with which he works, whether it be delicate spidery cherry wood or jarrah chairs hinting at art nouveau or Thonet, or an ash and jarrah demi lune table of Neoclassical proportions or in the case of the elegantly simple robes we are offering, lot 448, fashioned from Hunter Valley cedar and sourced vintage Queensland silver ash.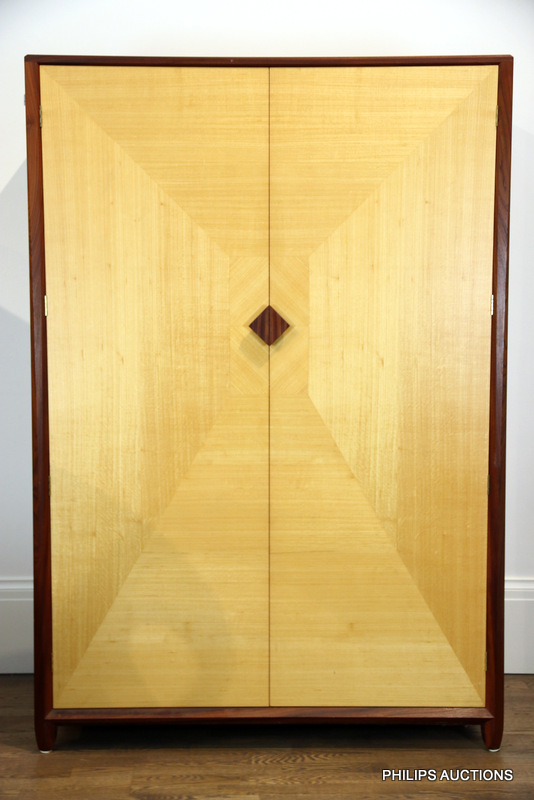 This pair of robes, a private commission, come with working drawings, and associated documentation allowing us a privileged peek into the mind of the craftsman as he devises his commission and corresponds with his clients. Unsurprisingly, the sculptor's love of material comes to the fore; the robes are beautiful to touch, satiny smooth, the soft redness of the cedar contrasting with mellow buttery tones of the ash. The doors comprising slender strips arranged in mitred quarter veneer panels are centred with simple diamond set cedar handle. The beautifully fitted interiors include two levels of hanging space and central drawers. While currently being offered as originally intended these robes would serve as exceptionally stylish cabinets in a home or workplace office.  
Other items offered in our Fine and Decorative Arts auction comprise a very diverse array. These include an interesting assortment of contemporary, craftsman and retro furniture.  
For a touch of designer dash, we are offering some stylish and bold furniture by American designer, Jonathon Adler.  A fine black lacquered Crawford cabinet with chunky prism cut acrylic handles is complemented by the Crawford console.  (Lots 383 and 384) Both items have the characteristic slender conical brass legs with ball feet, a hint of 1960s refinement.  And how fabulous does this designer furniture look against the magnificent vintage polychrome wooden blackamoor standard lamp?  (Lot 31)
For a bit of retro fun, Philips is offering a marvellous 'atomic' coat stand by the French designer, Roger Feraud featuring tubular black steel with coloured 'billiard ball' hooks. (Lot 449)  
An eclectic array of silver items should tempt collectors.  We are offering a marvellous single vendor collection of snuff boxes and vinaigrettes.  These items formed part of the collection of the late John Borthwick of South Australia.   Of delight is Lot 182, a novelty William IV silver cow snuff box. We are offering a good group of Georgian sterling teapots (Lots 165, 175, 217 and 233) and a delightful collection of nutmeg graters (Lots 181, 183, 250, 251). 
A good group of Chinese and Japanese ceramics are also on offer, of note is the fine Satsuma koro, Lot 145.  Exquisitely moulded and decorated in a pleasingly refined light toned palette, we can comfortably date this piece to the late Edo/early Meiji period due to the use of the distinctive gosu blue, precursor to the use of cobalt which prevailed during the Meiji and beyond.