Patrick Street Holy Water
With a pedestal base, slightly rustic engraving, and a swing handle with a curious ring attached, this fascinating item from the Patrick Street Collection has been identified as an Italian Holy Water Font dating back to the restoration of the Papacy in 1814.
To be offered in the second auction instalment of the collection of former Deputy Chief Magistrate Patrick Street, this item employs the prevailing French standard for marking silver, a GP under a crown, the Provisional warranty mark used during the restoration period.
Patrick Street's fascination for this item extended to commissioning the specially crafted blue glass liner, and appealing in the Silver Society newsletter for information that lead to the accurate dating and description of this desirable piece.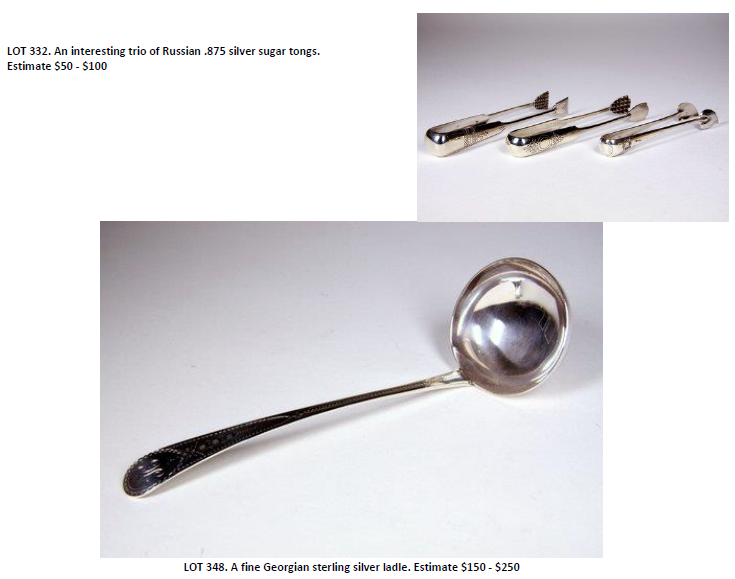 This expansive group presents a large number of quality silver items, featuring Russian sugar tongs, French silverware, cruets and a magnificent bright cut Georgian ladle with maker's mark for George Smith & Thomas Hayter, presenting a crisp hallmark and looking as fresh today as it did over 200 years ago.
The consistent quality of this impressive collection is evident in this second offering of important treasures.
Forthcoming Auctions
Fine and Decorative Arts - Sunday 19th June 2016
Modern and Antique Jewellery - Monday 20th June 2016
Enquiries: +61 3 9509 6788 This email address is being protected from spambots. You need JavaScript enabled to view it.