Stunning Silver
A great variety of fine silverware is on offer at the July Auction, ranging from sterling silver George III and William IV tea and coffee services, candlesticks, sugar tongs, napkin rings, and a large sterling silver presentation tankard. With over 180 lots to change hands, this collection offers opportunities for all tastes and budgets.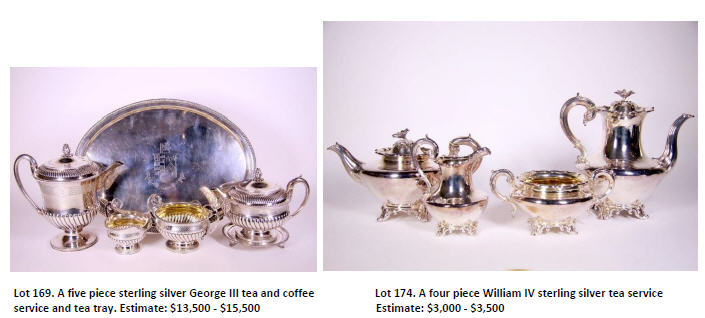 A highly valuable five piece sterling silver George III tea and coffee service and a sterling silver footed tea tray with coat of arms forms a highlight of this month's event. With maker's mark for Timothy Renou, this magnificent setting presents gadrooned rims, partial spiral body gadroons and bright cut borders. Made prior to Queen Victoria's coronation, a four piece William IV sterling silver tea service possessing an elegant compressed form with pie crust rims, and maker's mark for Edward, John and William Barnard will be sure to attract attention.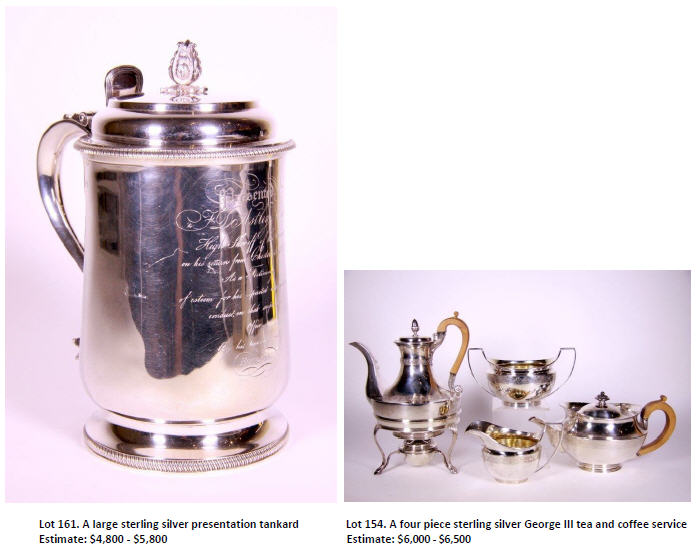 With a dedication to Mr Astley, High Sheriff, from his tenantry and friends, a Peter & William Bateman large sterling silver presentation tankard displaying a shaped low domed lid and cast bud finial is an impressive piece that is sure to do well. Similarly, a John Emes four piece sterling silver George III tea and coffee service in the neoclassical style will be of particular interest.
These fine items are great investment pieces, and purchasers can be confident of the authenticity and value of these desirable items as all are stamped with maker's marks, and hallmarked 925 representing certified sterling silver.
Decorative Arts Manager, Dennice Collett said that 'at this auction we again present a wonderful silver range, from small collectables to fine table ware including items from the silver collection of Mr Patrick Street, and examples from two other prestige estates, showcasing fine settings by the likes of Emes, Barnard, and William and Peter Bateman. Philips Auctions maintains its position as the auction house of choice for the sale and purchase of quality silverware.'
Forthcoming Auctions
Fine and Decorative Arts - Sunday 31st July 2016
Modern and Antique Jewellery - Monday 1st August 2016
Enquiries: +61 3 9509 6788 This email address is being protected from spambots. You need JavaScript enabled to view it.