Birds of a Feather Puzzle Together
Setting a theme for this month's decorative arts auction, illustrated and sculpted birds provide a decorative motif tying together several of the many desirable and picturesque items on offer.
An arresting baluster pair of Japanese vases from the Meiji period of the late 19th and early 20th centuries, illustrated in subtle tertiary colours with morning glory and decorative birds complements a wonderful Worcester lion's foot reticulated urn produced by the celebrated English artist James Stinton. Strikingly populated by Aberdeen Finches, this handsome object features a blush ivory porcelain lattice collar and lid, and is fine example of this well-known artist's oeuvre.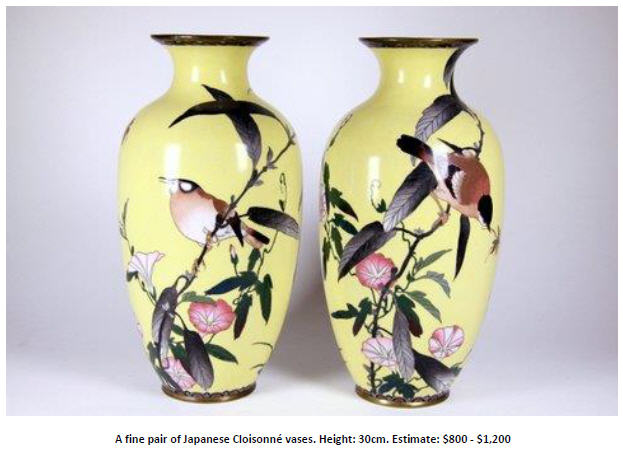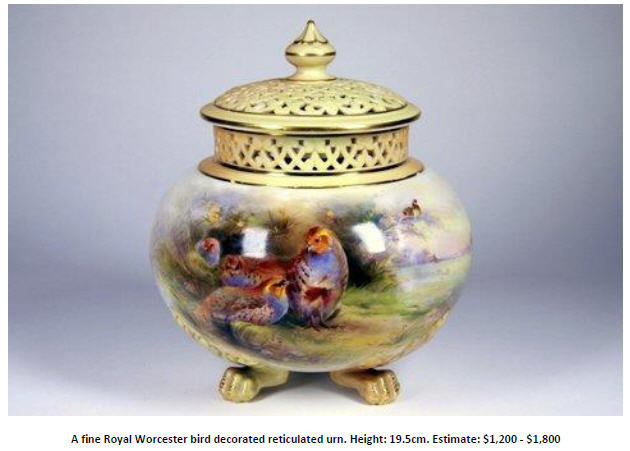 With an amazing attention to detail, Chinese Puzzle Balls are so delicate they can only be painstakingly carved by hand. Two remarkable examples of this time honoured craft are on offer at the forthcoming September Auction, and represent this genre at its best. Crafted respectively from Jade and Ivory, these puzzles are constructed from a solid block, carefully sculptured from within by special tools that create the balls that provide the puzzle to this early form of Rubik's Cube. Decorative Arts Manager Dennice Collett comments that these pieces represent extremely fine work with extraordinary craftwork. Truly to seen to be believed!
Forthcoming Auctions
Fine and Decorative Arts - Sunday 11th September 2016
Modern and Antique Jewellery - Monday 12th September 2016
Enquiries: +61 3 9509 6788 This email address is being protected from spambots. You need JavaScript enabled to view it.