Time for Tea!
Widely acknowledged as Britain's leading silversmith of the 19th century, Paul Storr established a reputation for his fine work that ranged from household items, to major works commissioned by royalty. His famous PS mark distinguishes much of the silver ware purchased by both King George III and King George IV.
Of particular interest at the forthcoming September auction is an amazing sterling silver teapot bearing these initials. When offered at auction, Storr's work is sure to attract great attention and this magnificent example of his work is no exception. The low oval teapot has a waisted collar and recessed lid, and is beautifully ornamented with guilloche, mesh and laurel leaf borders. The restrained Neoclassical design is evidenced in a crisp 'C' scroll handle with ivory insulators and striking paterae rim.
Decorative Arts Manager Dennice Collett says 'Storr is one of the truly big names in silver making of the period – the elegance and supreme quality of the craftsmanship stands it above the rest. It is a knockout piece.'
Continuing in the silver theme, substantial offerings at the next auction include a very fine collection of Dutch pieces, including dinner services, cake servers, napkin rings, and a desirable letter rack.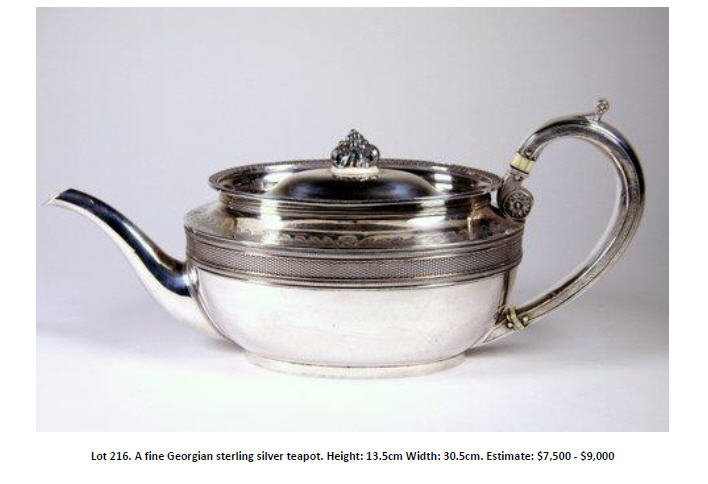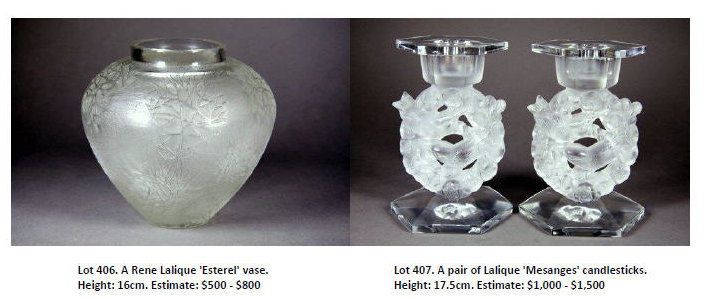 Famous for his glass art including jewellery, vases, perfume bottles and chandeliers, Rene Lalique made his name in the 19th and 20th centuries with his bold and yet refined designs, and became a leading exponent of the Art Nouveau style.
An exciting offering of his work this auction includes a handsome circa 1923 ovoid press moulded frosted vase with leaf designs, and a stunning set of frosted candlesticks that would be the talking point of any great occasion. Set on icy clear glass hexagonal bases, they reveal the stencil mark of Cristal Lalique France on the underside.
Forthcoming Auctions
Fine and Decorative Arts - Sunday 11th September 2016
Modern and Antique Jewellery - Monday 12th September 2016
Enquiries: +61 3 9509 6788 This email address is being protected from spambots. You need JavaScript enabled to view it.