September highlights Silverware, Jewellery and Glass
Philips' September Decorative Arts and Jewellery auctions were most successful, with great results particularly in the silverware, jewellery and glassware categories. An eager crowd of buyers jostled to acquire some wonderful examples, including a refined Georgian sterling silver swing handled bread basket, and a fine Paul Storr teapot, both of which achieved impressive results.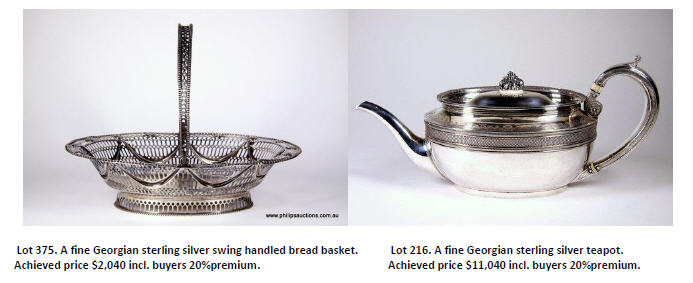 Quality silver is bringing good money and saw the 6th instalment of the Patrick Street Collection achieving great results, with many items finding new homes with prominent well known purchasers including the W.R. Johnston Collection with funds provided by a generous donor. Following the auction, the vendor thanked Tony Philips and his team, saying 'your firm is Number One for silver sales. I am indebted to you for everything you have done for me.'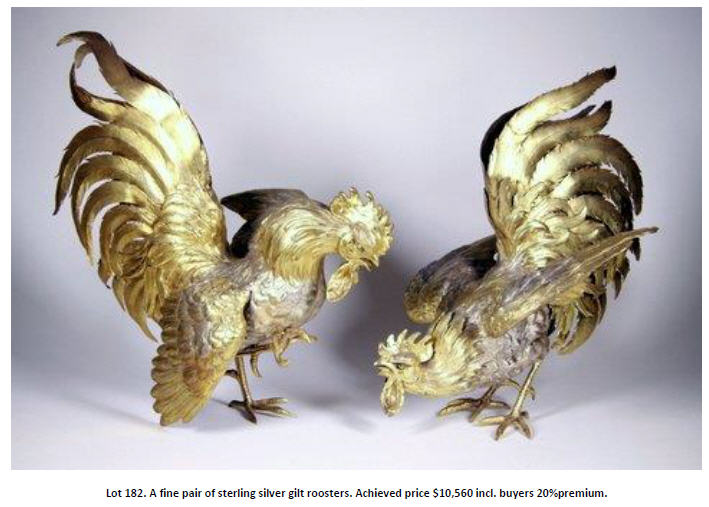 Attracting great interest was a pair of sterling silver gilt roosters. The international under bidder was most disappointed at not securing these fascinating items, which sold to a buyer who was preparing to celebrate the forthcoming Chinese Year of the Rooster.
Achieving well above reserve, a glass perfume bottle by Emile Gallé was a great hit with it's handmade quality and a wonderful red bleeding heart decoration, while a very special ivory Chinese puzzle ball achieved a great result for a client who brought in the item not realising its true value.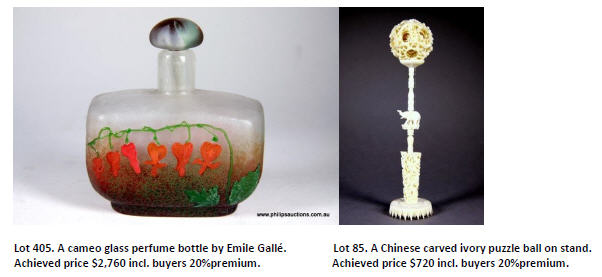 Jewellery was a strong performer for September with solid prior interest delivering great results at auction. With a real sense of opportunity in the room, coloured stones took centre stage among the wide range of diamond rings, brooches, pendants and necklaces on offer. Coloured stones are sought after for their unique characteristics, and of particular note were a stunning pair of emerald and diamond cluster earrings set in 18ct white gold, and a Tiffany & Co Ribbon Collection diamond ring.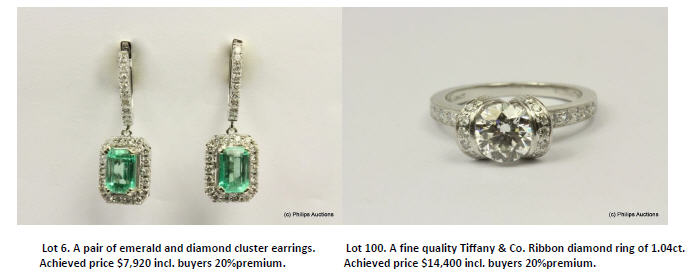 The sales success of silverware at all price points is greatly encouraging the supply of items for auction, and with only two further auctions remaining for this year, now is the time for sellers to consider how they can benefit from this buoyant trend.
Forthcoming Auctions
Fine and Decorative Arts - Sunday 23rd October 2016
Modern and Antique Jewellery - Monday 24th October 2016
Enquiries: +61 3 9509 6788 This email address is being protected from spambots. You need JavaScript enabled to view it.
Save