Venetian Glass and Asian Treasures
Venetian glass is making a big entrance in the month of October. From the Murano Islands comes a stylish and colourful presentation of glass decanters, and a glamorous Latticino ewer. With amazing raspberry pink colouring, this spiral ribbed decanter makes a bold impression with its four textured berry like prunts and corresponding elaborate stopper, and hides a foil Murano label on the underside.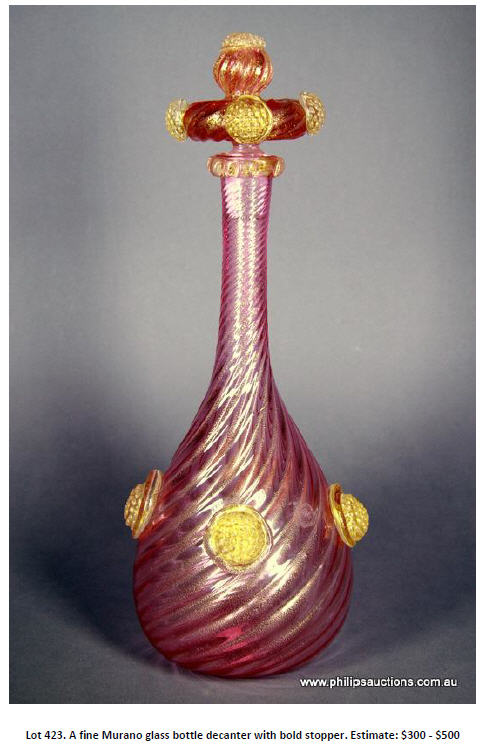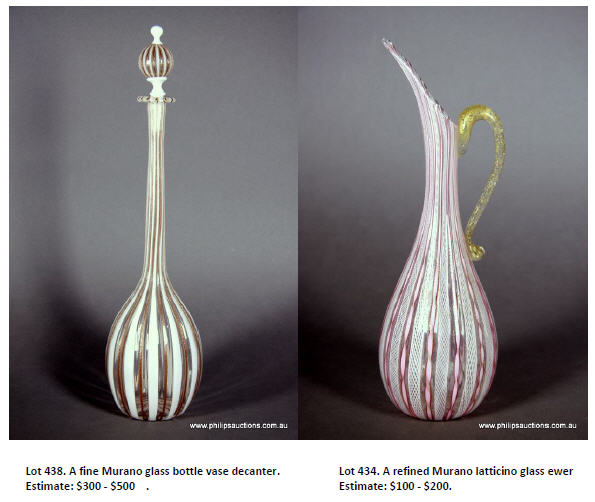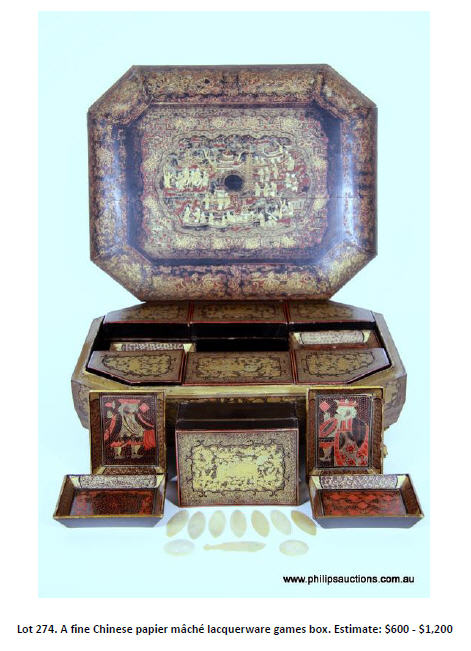 For lovers of Oriental detail and intrigue an antique Chinese Qing Dynasty games box will attract a great deal of attention. Beautifully constructed from papier mâché with a striking lacquer finish depicting ornamental gardens, this fascinating item has seven separate boxes and is complete with mother of pearl playing pieces and tokens.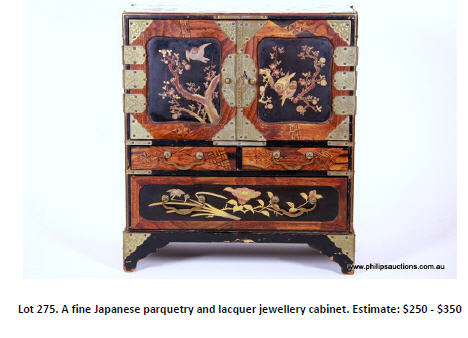 Further representing Asian design and detail is a beautifully proportioned Japanese jewellery case. This striking cabinet is decorated with parquetry and contains eight small drawers, and one full width drawer. From the Meiji to Taisho periods, its fine decoration is outstanding with depictions of flora and birds, and delights with subtle red colours and gilt.
Asian treasures abound in this next auction, including an imari porcelain figurine of a bijin, a Chinese court robe, Japanese woodblock prints by Toyohara Kunichika, and an amazing Savonarole style throne chair. Be sure to experience the wide range of desirable decorative arts at the penultimate auction for 2016. With over 500 interesting and diverse lots on offer, there will be many enticing opportunities for all tastes and budgets.
Forthcoming Auctions
Fine and Decorative Arts - Sunday 23rd October 2016
Modern and Antique Jewellery - Monday 24th October 2016
Enquiries: +61 3 9509 6788 This email address is being protected from spambots. You need JavaScript enabled to view it.