Coburn carves a niche
The iconic work Birds in Flight by renowned Australian painter John Coburn is a very special presentation in the Philips' October auction. Coburn is synonymous with Australian abstraction and spiritual themes, and is represented in all major public collections and many high profile private holdings.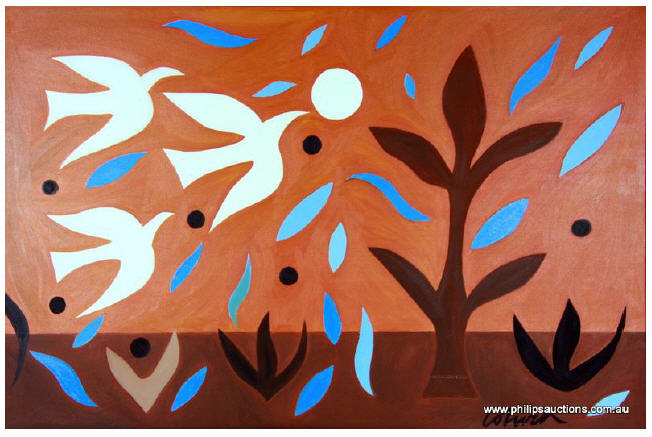 Highly sought after for his flat patterned technique and vibrant use of colour, his works continue to grow in value and represent a sound investment in a vibrant piece of our cultural heritage.
The flight of birds has been a continuing theme in Coburn's output from the 1970's and the work on offer is a genuine example of this acknowledged oeuvre. In perfect condition and signed by the artist, this artwork presents a great opportunity for aesthetic enjoyment that will increase in value over time.
We regularly have high quality artwork from a range of talented artists at our auctions. Continuing in a colourful theme, the upcoming auction features an amazing range of intricate Persian, Indian and Afghan rugs and runners to add an affordable touch of opulence to any interior.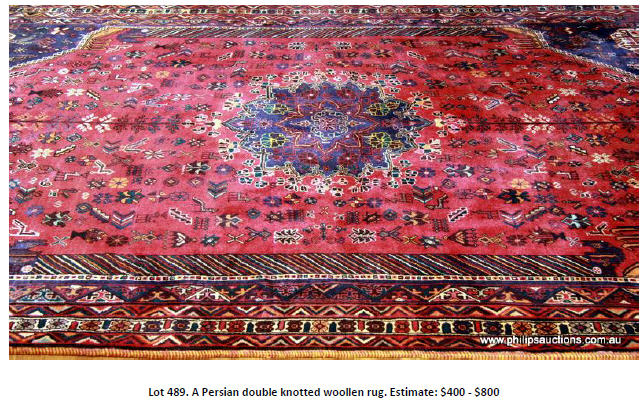 Black forest wares or carvings historically emanate from the Swiss town of Brienz, and have been made famous by the Huggler family carving business that has been in operation for over 100 years. Typically portraying forest animals such as Bears, Stags, Eagles and Boars, the genre holds a special place in the world of decorative arts.
Two fine examples of this unique art form are on offer in October, one carved from Walnut depicting cows, the other with bears on a music box complete with winding key. Sourced from the same eclectic collection, these items come with the owner's insight that objects such as these were usually crafted during the dark Swiss winters when people were much inclined to remain indoors.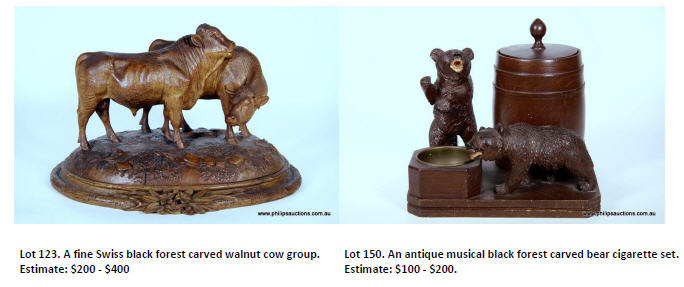 October is shaping up to be a great month for collectors at Philips, with a particular emphasis on unique and varied treasures that will appeal to collectors with an eye for quirky enjoyable objects. Doors open at 11am for registration with the auction commencing at 12 noon.
Forthcoming Auctions
Fine and Decorative Arts - Sunday 23rd October 2016
Modern and Antique Jewellery - Monday 24th October 2016
Enquiries: +61 3 9509 6788 This email address is being protected from spambots. You need JavaScript enabled to view it.