Table Talk
As part of a significant collection that is being presented at the October Philips' Decorative Arts auction, a substantial Sèvres inlay salon table on an ornate pedestal base will be an interesting highlight. Renowned porcelain designers, Sèvres date back to 1740 and are synonymous with fine decorated ceramics. This table features 18 portraits of French notables including Louis XVI, Madame de Pompadour, and Marie Antoinette, all presented in a beautiful golden bronze and giltwood setting.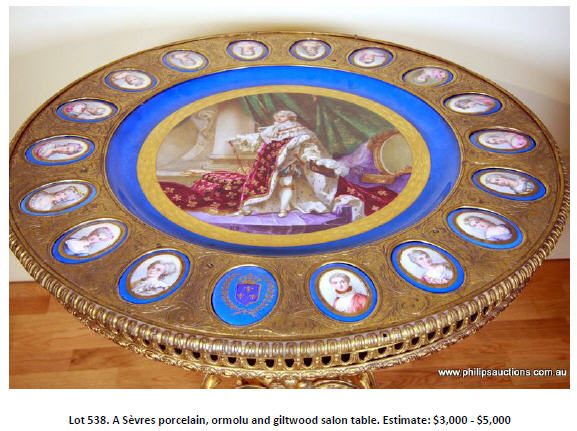 From the same fascinating eclectic collection come two trophy pieces from the 1930's. Inspiring a newspaper article that was in sharp contrast to the grim stories of the great Depression, these items resulted from what would now be recognised as an outdated hunting expedition by the Melbourne based Younger family in Kenya. Featuring a mahogany lid and seat respectively, these pieces represent the high adventure of a bygone era.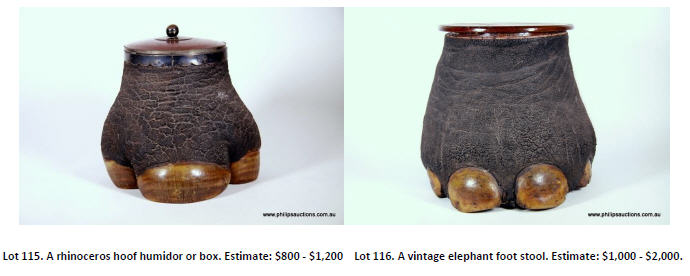 With its tail serving as a handle, a peculiar 1930's taffeta lined Armadillo basket will be sure to make an impression. A rare object not often seen.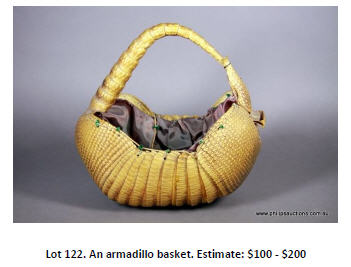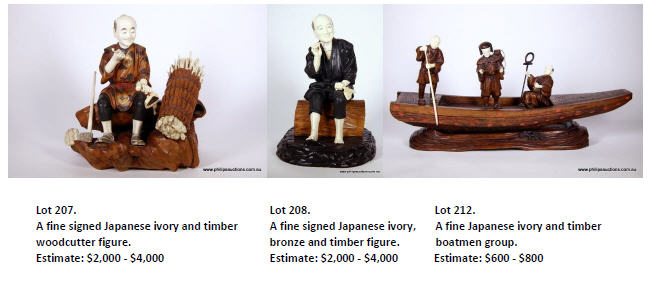 From the Meiji period, the figure of an older man seated upon a hollow log on a dark timber base is a significant piece from the Tokyo school, disclosing the early influence and fusion of Western style in Oriental scenes.
This extraordinary offering of diverse items is made possible by an avid collector downsizing. Director Tony Philips says varied pieces such as these '...really make an auction interesting. They are genuine antique items steeped in history and culture, and while not for all tastes, they represent a colourful era in the decorative arts.'
Forthcoming Auctions
Fine and Decorative Arts - Sunday 23rd October 2016
Modern and Antique Jewellery - Monday 24th October 2016
Enquiries: +61 3 9509 6788 This email address is being protected from spambots. You need JavaScript enabled to view it.