Outstanding October Offerings
With a full house of motivated purchasers, many of whom stayed for the entire auction, the October Philips' Decorative Arts auction was a great success with a high clearance rate. Aboriginal art with 112 items for sale was a strong performer with offerings from the now closed Alison Kelly and Blue Door galleries. All lots changed hands for good prices, featuring works by Clifford Possum, William Sandy and Minnie Pwerle.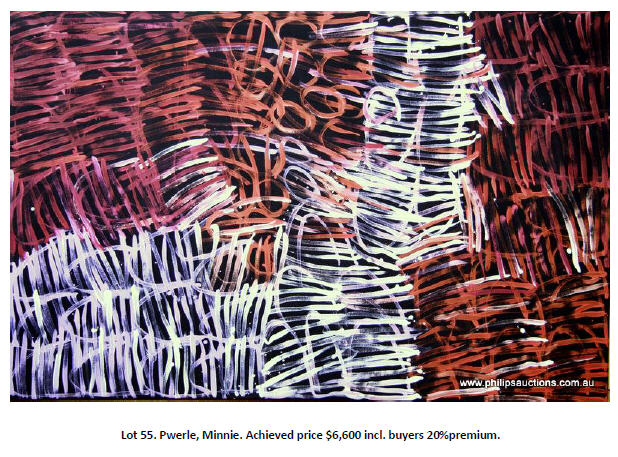 There was no shortage of stunning timepieces to attract buyers' interest with entries ranging from Deco to Nouveau. Of particular interest was a spelter and marble 1930's Tessier clock with a graceful seated maiden in draping attire, and a Nouveau bronze and copper salon timepiece that inspired prolonged bidding and a remarkable price. Director Tony Philips said "This is one of the most impressive examples of the clockmakers art that I have seen."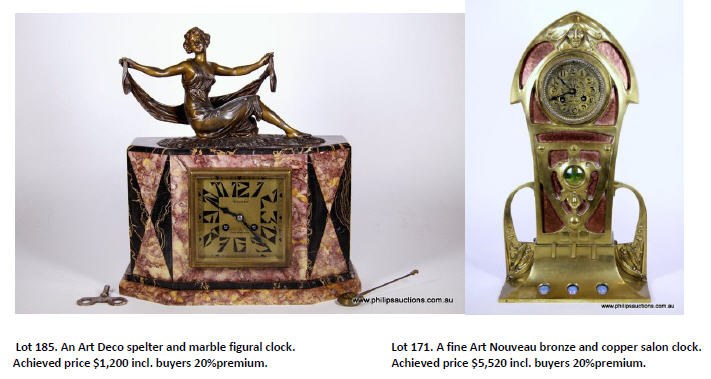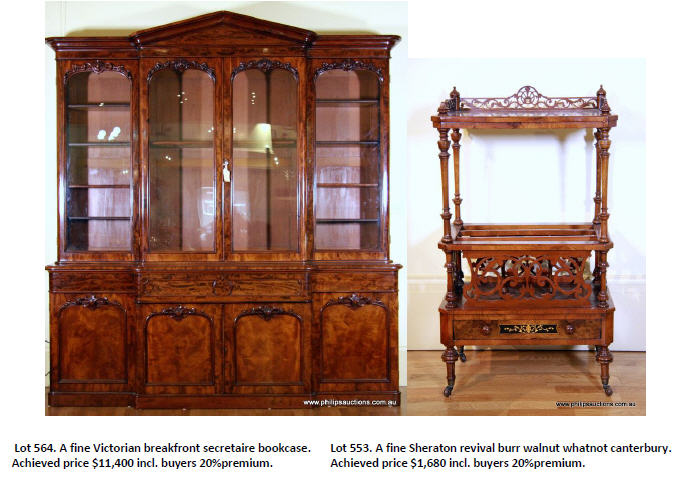 Furniture items ranged from extremely large to more whimsical offerings. Topping expectations, a large Victorian bookcase caused considerable excitement, providing a most welcome return for the owner. At the other end of the scale a beautifully ornate burr walnut Canterbury with Sheraton style decoration in boxwood and ebony similarly exceeded predictions, setting the tone for a very successful auction event with sellers praising both the service they received from Philips Auctions, and the fantastic prices achieved. Thrilled vendors said, "I found Tony extremely professional, he knew exactly what he was doing" and "…thanks for a great job - efforts much appreciated!"
On a quieter note, the following day's Modern and Antique Jewellery auction was less well attended but produced some sound results. Notable items included a pair of Columbian emerald and diamond earrings, a tanzanite and emerald set dress ring, and a Ceylonese sapphire and diamond dress ring.
December's auction is shaping up to be a great finale to the year, providing a fine array of treasures for loved ones at Christmas. Decorative Arts will offer a great range of carpets, furniture and fine silverware, while the Modern and Antique Jewellery event will feature a handsome collection of emerald set items, an original Art Deco diamond bracelet, and a high end jade selection.
Forthcoming Auctions
Fine and Decorative Arts - Sunday 4th December 2016
Modern and Antique Jewellery - Monday 5th December 2016
Enquiries: +61 3 9509 6788 This email address is being protected from spambots. You need JavaScript enabled to view it.
Save
Save