Stunning December Jewellery
With Christmas just around the corner, the last Philips' Jewellery auction for the year is set to provide some delightful gift options for this special time of the year. December's event presents a particularly strong offering with quality items from three striking collections on show, a selection sourced from the renowned Kozminsky jewellers, and a fabulous presentation of very large high quality diamonds.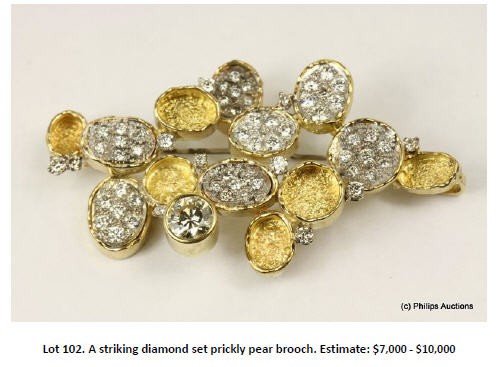 Of great interest is a complex diamond set 'prickly pear' brooch made from 18ct yellow and white gold. This unique item has been designed as a series of varying oval and round discs set with high quality diamond, alternating with unset discs finished in gold. It is proudly part of our fine jewellery collection.
Making a glittering appearance are two stunning diamond pieces. Representing the height of 1950's fashion are an exquisite pair of cocktail earrings formed in platinum with fine quality baguette cut stones. Complementing these is a magnificent three stone diamond cluster ring in 18ct yellow and white gold set within an additional 22 brilliant cut diamonds at a combined 2.52ct.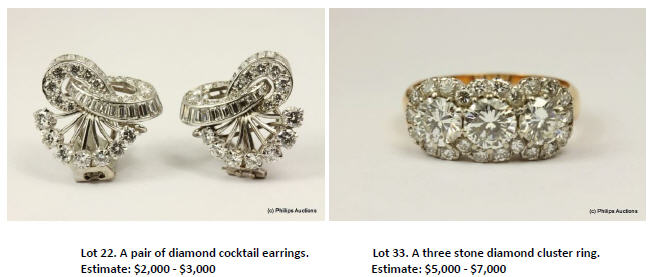 We regularly sell Australian vintage engagement rings so be sure to check back each auction for our latest collection.
With refinement and classic beauty, an ornate blue and white diamond drop necklace is imbued with poise and elegance. Made from 16ct white gold and featuring a V shaped drop panel, this magnificent piece is distinguished by 12 large blue brilliant cuts totalling 3.50ct.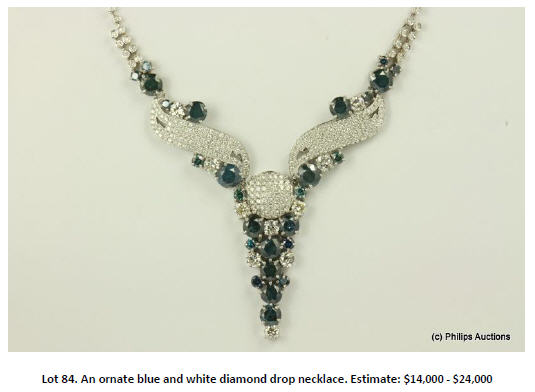 Join the enthusiastic crowd of bidders and connoisseurs on Monday night and add a note of flourish to your jewellery collection at the close of 2016. With a large offering of high quality antique and modern jewellery this event is not to be missed. At Philips' you can buy with confidence, and rely on their detailed knowledge and assistance. Doors open at 3.00pm for registration with the auction commencing at 6.00pm.
Forthcoming Auctions
Fine and Decorative Arts - Sunday 4th December 2016
Modern and Antique Jewellery - Monday 5th December 2016
Enquiries: +61 3 9509 6788 This email address is being protected from spambots. You need JavaScript enabled to view it.
Save
Save