Seasons Greetings for 2016
The final Auction for 2016 was a huge success and a fitting way to end the year. With Glenferrie Road adorned with Christmas decorations on a warm sunny summer afternoon, a full house of eager buyers prepared for an exciting afternoon of abundant opportunity.
Among those on offer was a magnificent Toorak estate featuring ivory, porcelain, silk and grand furniture which were very popular with buyers. From another source, a pair of antique oak doors from a winery proved to be a very successful way to close off the year.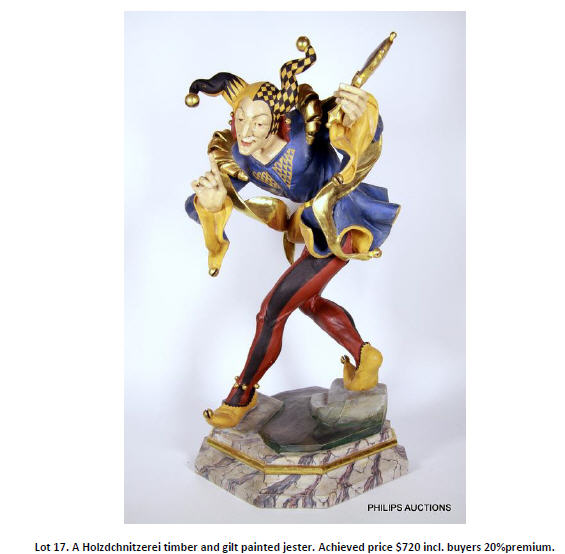 Setting a festive tone, an endearing court jester painted in full regalia on a marble base was a great hit, selling well above reserve just in time to adorn the Christmas Day table. Also very useful at this time of year, the penultimate edition of the Patrick Street silver collection went under the hammer and literally "went crazy", according to Director Tony Philips. Other silver included an 85 piece sterling silver boxed cutlery service and a magnificent Mappin & Webb setting for twelve.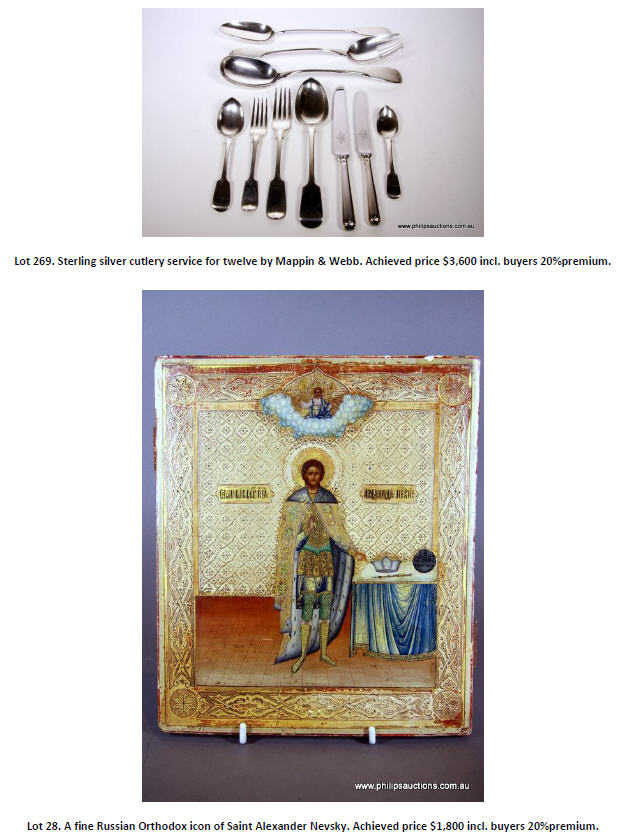 Following the success earlier this year with a large and wondrous collection of Russian Icons, a particularly interesting example changed hands after spirited bidding for a robust price, pleasing both buyer and seller and continuing the sales achievement of this captivating genre.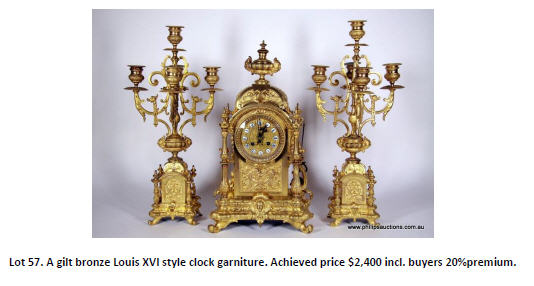 A lucky buyer successfully bid for a festively ornate gilt bronze Louis XVI style clock and candlesticks. With the clock in working order, this fine ensemble dating from the 1880's features fluted pillars and scrolls with finials, and Roman numerals set within a decorative bezel and arched plinth with scroll. Selling in the high range of estimate, this magnificent garniture piece represents great value and aesthetic delight.
With 300 bidders at auction, and many additional phone and absentee bids, the results were again impressive. Of note was a carved ivory treasure boat reaching $6,000, Chinese porcelain figurines gaining $3,120, and a stunning David Boyd painting Family playing by a lake changed hands for a remarkable $12,600.
The final Modern and Antique Jewellery auction held the following day was also well attended with many fine items changing hands. Of great interest were two separate pairs of diamond cocktail earrings which sold for $6,720 and $10,200 respectively. The highlight of the auction was jade, which reflecting buyer confidence in fully certified items sold extremely well.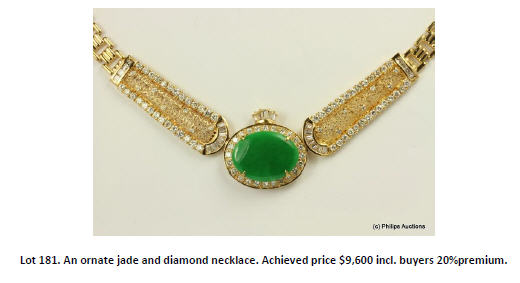 It's been a wonderful year for Decorative Arts, Furniture and Jewellery, and we thank our regular enthusiastic buyers and sellers for their involvement. We wish everyone a joyous festive season and a happy and prosperous new year. Reopening on Monday 16th January, we'll see you in 2017 for some very special and exciting sales!
Forthcoming Auctions
Fine and Decorative Arts - Sunday 12th February 2017
Modern and Antique Jewellery - Monday 13th February 2017
Enquiries: +61 3 9509 6788 This email address is being protected from spambots. You need JavaScript enabled to view it.