Have a Seat!
Starting February off with a compact beautifully offered auction that sets the scene for a fabulous 2017, Philips wishes everyone a Happy New Year and looks forward to an exciting schedule of sales events throughout the coming months. Delivering quality over quantity, the forthcoming auction features a diverse range of interesting and unusual items including funky boxes, lovely old timber sailing objects and the final instalment of the Patrick Street silver collection, comprising over 20 lots and including a remarkable pair of French Louis XVI Candelabras that would not look out of place in the Palace of Versailles.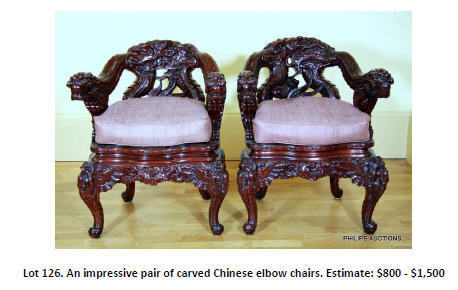 In the front row for 2017 are a remarkably ornate pair of Chinese elbow chairs featuring carved dragons and serpents set on scroll footed cabriole legs. Beautifully presented, these fine items make for great buying and will enhance any setting with their tasteful and refined presence.
From a Stonnington home comes a remarkable pair of leadlight windows displaying wondrous nature scenes, with pink and green mihrab and fan motifs all set in handsome hardwood surrounds.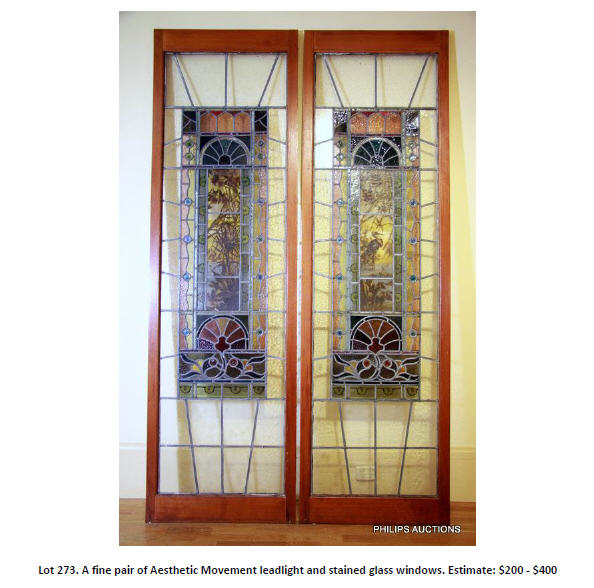 Of significant interest and value is the offering of a fine Victorian mahogany extension table. This substantial piece boasts six extension inserts providing a massive length of 490cm. Originally in use at St. Patrick's Cathedral, this item along with a mahogany dumb waiter (Lot 321) was purchased by the Keeper of the Church's assets in the late 1960's and has been passed down through the current vendor's family. Fit for a Cathedral, this is a piece to treasure for years to come.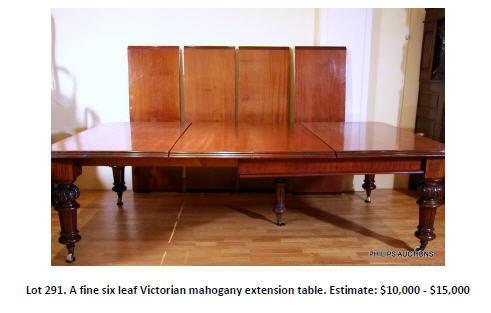 Considered the last principal exponent of the ukiyo-e tradition, Japanese artist Ando Hiroshige (1797-1858) is well respected for his sublime woodcarvings. Recognised for his landscapes and depictions of birds and flowers, his work is seen as the divide between original Japanese culture and the subsequent westernisation of this style. The forthcoming Philips auction features over 15 stunning woodcarvings from various Japanese artists, with many from the hand of this renowned artist.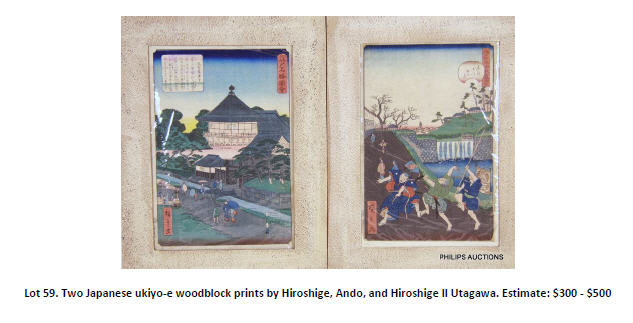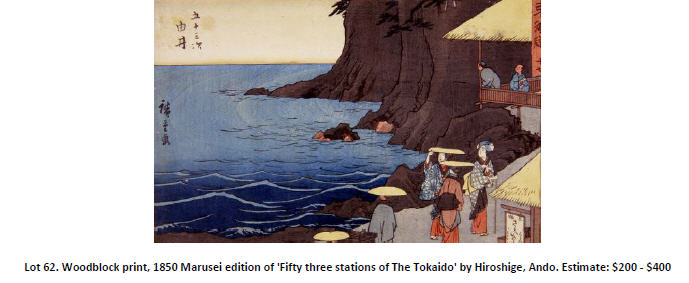 Featuring over 300 high quality sale lots, the February decorative arts event presents a unique opportunity to begin the year with some fine and rare purchases. Doors are open from 11am for registration, and the auction commences at 12pm.
Forthcoming Auctions
Fine and Decorative Arts - Sunday 12th February 2017
Modern and Antique Jewellery - Monday 13th February 2017
Enquiries: +61 3 9509 6788 This email address is being protected from spambots. You need JavaScript enabled to view it.