Valentines Day Delights
Welcome back to a fresh year of gems and delights! To launch the 2017 season of Modern and Antique Jewellery auctions, we are beginning with a small but significant offering rich in Jade and well-presented modern pieces - just in time for Valentine's Day. Jewellery Manager, Tanya Philips describes this event as 'an enticing and really well offered petite sale with a lot of options for buyers.'
Of great interest in the February offering are a beautifully made pair of polished tigers eye and diamond earrings. Originally purchased in Bond Street, these items are handcrafted and fully hallmarked from London. Set in 18ct yellow gold and presented as three distinctive swirls, these pieces are highlighted with seven brilliant cut diamonds arranged in a captivating V formation around a pair of tigers eye beads.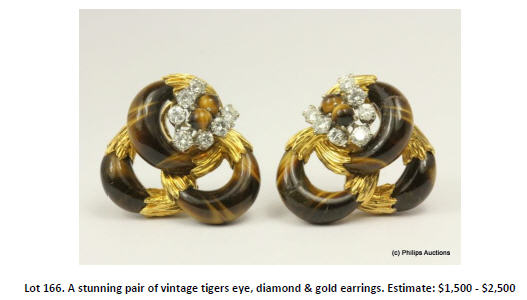 A most attractive Tremblant brooch will be sought after at auction for its unique light reflecting properties due to the characteristic hidden spring, and a classic Georgian design featuring a pleasing unfurled flower pattern.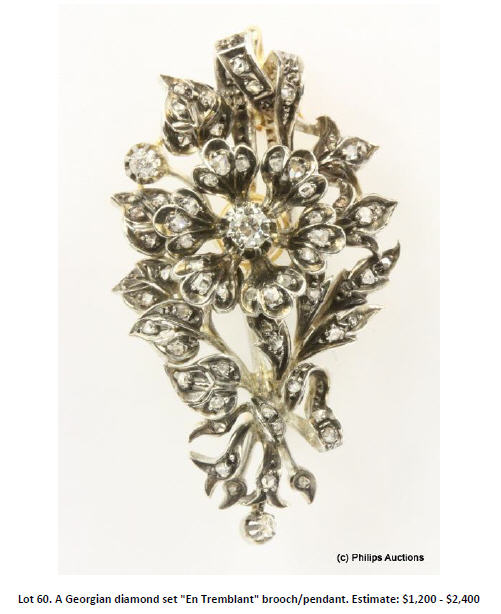 For charm and style, a wonderful antique diamond dress ring is hard to pass by. On offer is a particularly fine example featuring a round plaque panel set with 25 concentric old cut diamonds. With full English Hallmarks, this piece represents assured buying, authenticity and value.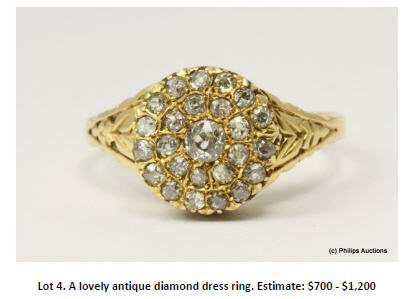 Displaying a high level of craftsmanship and fine old cut oval shaped diamonds, an antique 3 stone gypsy ring would make a perfect Valentine 's Day gift for someone special. Of the highest quality, this ring is set with 1.00ct of low set stones that carefully blend into to an 18ct smooth gold band. A gift that would truly be appreciated.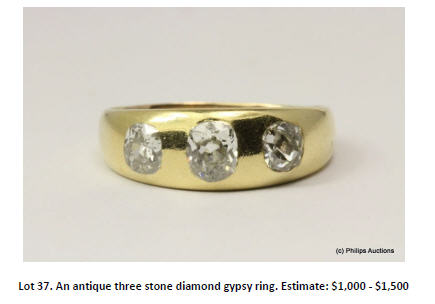 With approximately 50 unreserved lots of nearly new, modern and contemporary items of jewellery to be sold under receivers instructions, there are many opportunities for great buying at the February Modern and Antique Jewellery auction. Doors open at 3pm for registration with the auction commencing at 6pm.
Forthcoming Auctions
Fine and Decorative Arts - Sunday 12th February 2017
Modern and Antique Jewellery - Monday 13th February 2017
Enquiries: +61 3 9509 6788 This email address is being protected from spambots. You need JavaScript enabled to view it.
Save
Save