Huge May Auction
With over 500 varied and significant lots on offer, the May Philips Auction is set to be a big opportunity to acquire highly valuable items at remarkably affordable prices. Starting out very big is a Queensland exhibition sideboard at an extremely attractive price. Purchased in 2006 for $30,000, this magnificent piece now represents amazing value. With its height and width measuring an impressive 231cm x 216cm, it is enthusiastically described by Director Tony Philips as 'an unusual piece if you are going for big!'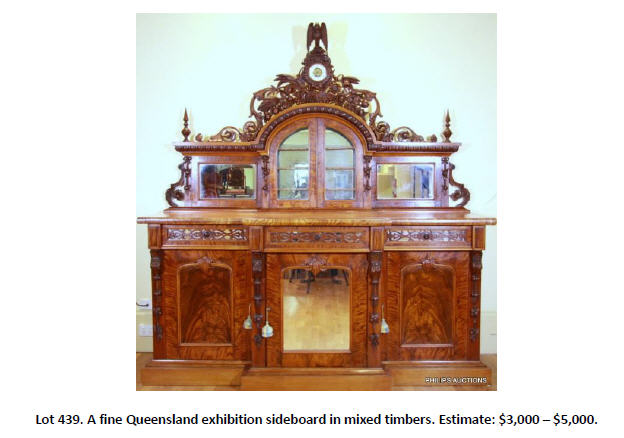 Also notable for its dimensions is an unusually large Persian rug from the 1930s. Measuring 615cm x 271cm, this is the largest rug that Philips have ever offered. Tony Philips says 'If you have a large room, this rug will be truly amazing!' A handmade rug like this would have taken over 12 months to complete and is vibrantly embellished through the use of vegetable dyes.
Glassware is a great feature of the May auction, with Decorative Arts Manager Dennice Collett describing the offering as 'ranging from Victoriana at its finest with superb epergnes and a large exhibition quality enamel decorated vase, to the wonders of iridescence in the work of great Bohemian houses, Loets, Pallme-Kӧnig, Rindskopf, Kralik and others, including the surprisingly modern vibrance and zest of 1930s "Tango" glass.'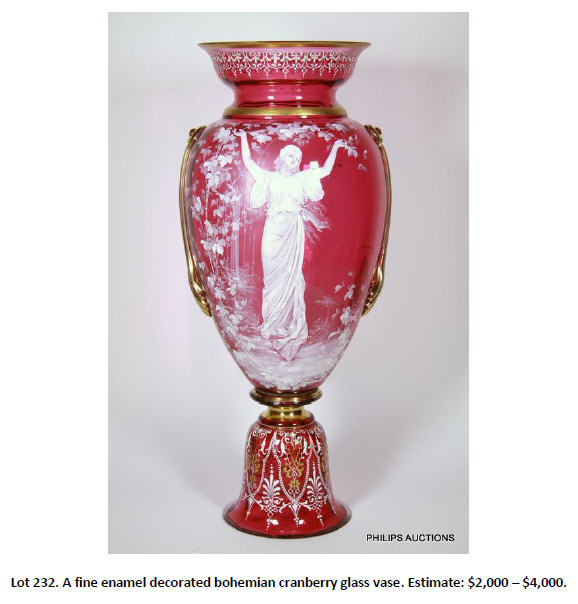 From the notable series 'The Guardians' by Georges Gori comes a classic example of this much admired setting. The depictions vary, primarily by placement of the dogs, with the stylish figure typically striking the same elegant pose. Realised in patinated spelter with a handsome tan and cream Brazilian onyx base, this striking piece is a must for art deco collectors.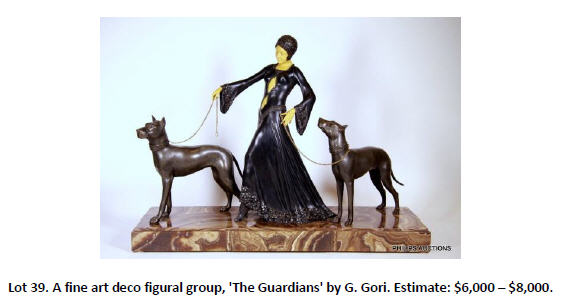 Get ready for a huge sale on the 7th May at the Philips auction rooms in Glenferrie Road. With so many fine items to be offered at great prices, it is an event not to be missed by savvy collectors. Doors open at 11am for registration with the auction commencing at 12pm.
Be sure to keep an eye on our website for information on the important July porcelain sale, at which we will be offering a magnificent single ownership collection of international standing in its entirety.
Viewing Times
Wednesday 3rd May 9 am - 7 pm
Thursday 4th May 9 am - 5 pm
Friday 5th May 9 am - 5 pm
Saturday 6th May 12 noon - 5 pm
Forthcoming Auctions
Fine and Decorative Arts - Sunday 7th May 2017
Modern and Antique Jewellery - Monday 8th May 2017
Enquiries: +61 3 9509 6788 This email address is being protected from spambots. You need JavaScript enabled to view it.