Mother's Day Special Sale
The May Modern and Antique Jewellery Auction will be a very special event. Just in time for Mother's Day, it will showcase a wonderful range of items including watches, brooches, and stunning diamond jewellery. A feature of this auction is the presentation of several magnificent items from the same much loved collection. The standout member of this offering, and the auction as a whole, is a breathtaking figure eight platinum diamond ring with two visually matched early brilliant cut stones and a Grecian inspired mount.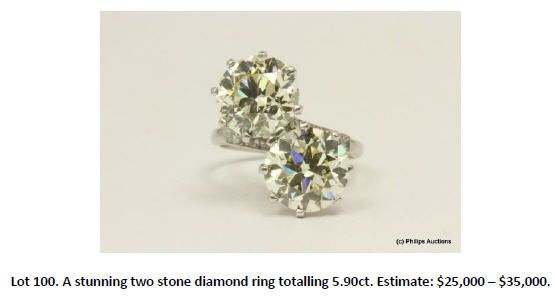 The offering of treasured items from this collection highlights the care and understanding that Philips bring to the sale of family heirlooms, particularly in providing impartial advice and support during what may be a difficult and delicate process. Jewellery Manager, Tanya Philips says 'Many people need assistance at this time. Who do I call? What do I keep? When is the right time to sell? It can be a very stressful time and we strive to add comfort and value to the service. I am always available to assist'.
The items being offered represent a passion for jewellery that spanned over 60 years and include an art nouveau peridot and seed pearl set necklet, an antique amethyst set collier necklace and a delightful a diamond set sunburst brooch/pendant set in 14ct white gold.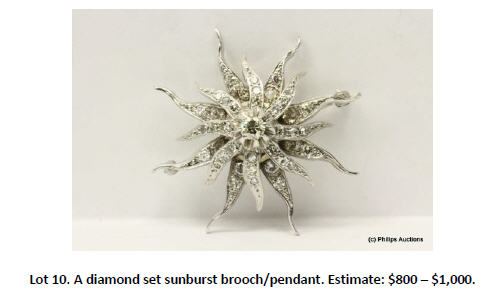 Brooches are very well represented in May and are to be offered in a great range of styles, prices and formats including leaf, bar and cameo examples. A handcrafted diamond fox brooch is sure to be popular and would make an eye-catching addition to any jewellery collection with its ruby red eyes.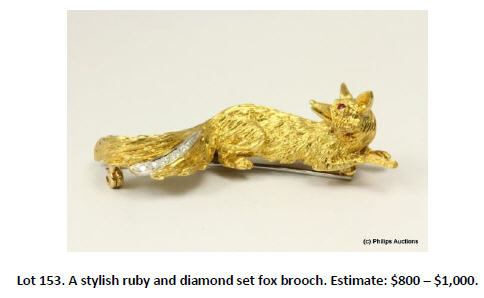 The May jewellery auction event presents an amazingly wide choice of jewellery items for all tastes and budgets, and with over 270 items to be offered it will be an event not to be missed. Doors open at 3pm for registration with the auction commencing at 6pm.
Viewing Times
Wednesday 3rd May 9 am - 7 pm
Thursday 4th May 9 am - 5 pm
Friday 5th May 9 am - 5 pm
Saturday 6th May 12 noon - 5 pm
Monday 8th May 3 pm - 5.30 pm
Forthcoming Auctions
Fine and Decorative Arts - Sunday 7th May 2017
Modern and Antique Jewellery - Monday 8th May 2017
Enquiries: +61 3 9509 6788 This email address is being protected from spambots. You need JavaScript enabled to view it.