Olympic Record
At Philips, preparations are under way for another record sales event at the June decorative arts auction. With over 400 individual lots, the choice of high quality collectables will be huge, ranging from substantial furniture items to fine silverware, and whimsical entries including an eight foot tiger skin, a Tasmanian koala pelt rug, and a fascinating presentation of taxidermy items.
Of great historical significance, a comprehensive record of our successful bid for the 1956 Olympic Games will be of great interest to collectors. This kid bound document issued in 1948 to IOC delegates and financial sponsors holds plans of the Olympic venues, correspondence from the Premier and Lord Mayor, and wonderful historic photographs of Melbourne and Victoria.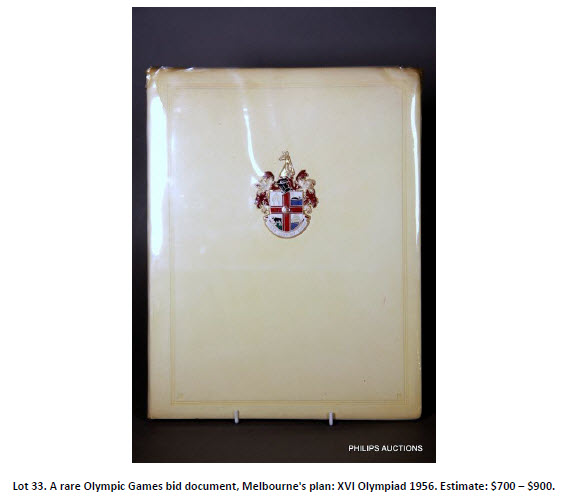 From a comprehensive single collection, the June auction features over 40 items of delightful Clarice Cliff ceramics including popular and rare examples from the Bizarre and Fantasque series. A must for aficionados of this sought after genre, this substantial offering presents a great range from the Crocus, Celtic Harvest and My Garden categories, and the marvellous Circus cup and saucer designed by Dame Laura Knight.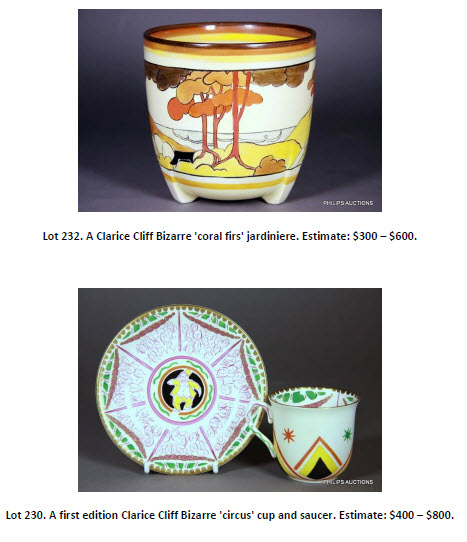 Poised to be a remarkable bargain is a magnificent walnut extension dining table from the 1930's. Featuring a highly polished surface, two leaves and an arresting octagonal pedestal, this piece was originally purchased from Capocchi in Melbourne for $16,000.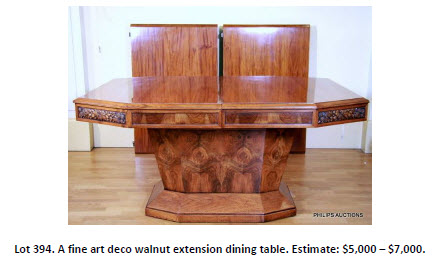 Complementing a terrific showing of silverware to be offered in over 40 lots, an exotic and well balanced Victorian tea service sets the silver scene with its magnificent dragon spout and tiered waisted body. Dated 1871 London, with a makers mark of Barnard & Sons Limited, this desirable set is decorated with chevrons, navette and scrolling motifs and is completed by a matching creamer and sugar bowl.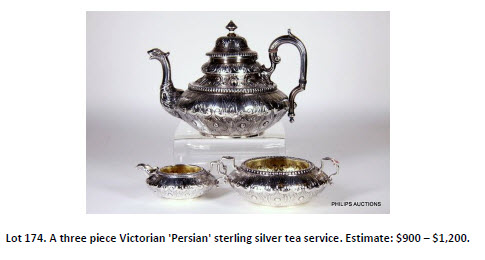 Come and take part in the Philips June auction and find a bargain or secure that elusive item you have been searching for. Doors open at 11am for registration with the auction commencing at 12pm.
The following auction in July features the important Timothy Menzel porcelain sale, at which we will be offering this magnificent single ownership collection of international standing in its entirety. Keep an eye on our website for the full listing coming soon.
Viewing Times
Wednesday 14th June 9 am - 7 pm
Thursday 15th June 9 am - 5 pm
Friday 16th June 9 am - 5 pm
Saturday 17th June 12 noon - 5 pm
Forthcoming Auctions
Fine and Decorative Arts - Sunday 18th June 2017
Modern and Antique Jewellery - Monday 19th June 2017
Enquiries: +61 3 9509 6788 This email address is being protected from spambots. You need JavaScript enabled to view it.