Eyes on the Tiger
Extra seating was required to accommodate the large and eager crowd of purchasers at the Philips June Decorative Arts Auction. Strong selling items included an offering of over 40 stunning Clarice Cliff ceramics, and a wide range of furniture that was in high demand.
Taxidermy was a visual highlight of the event and gave the room a unique atmosphere with many fascinating objects on display. Among the list of interesting items was an eight foot tiger rug that was highly sought after and finished well above estimate.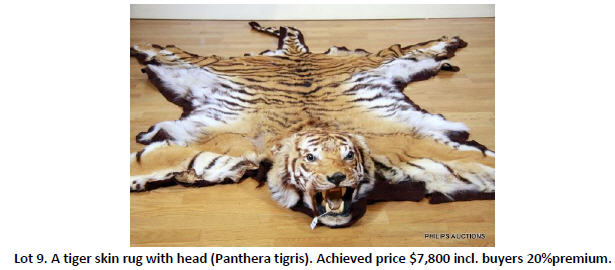 Greatly exceeding expectations, a wonderful ninety-two piece R. Leclair Limoges dinner service was fiercely contested and resulted in a tremendous outcome for the seller. Constituting a complete service for twelve, this comprehensive setting featured a large round platter in deep cream with floral sprigs and chevron gilt borders.

In a quite different vein, an impressive crystal chandelier performed very well achieving an outcome at the high end of estimate. With ten arms, and 15 candles, this memorable piece was fashioned in a scrolling basket shape with pear shaped drops and prisms.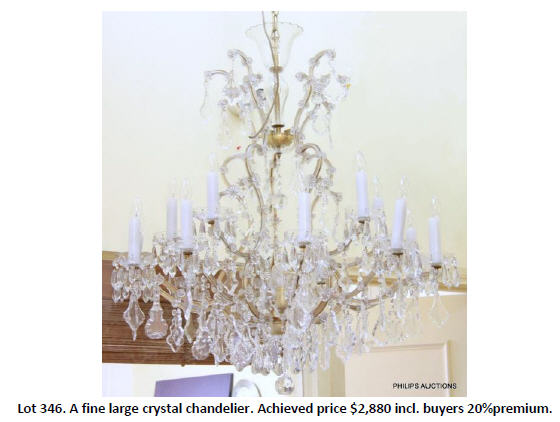 Furniture was strong as always with many fine lots delivering great results. Highlights included an architectural style Victorian mahogany double bed, and a set of eight fabulous birch dining chairs with red velvet seats, tapering straight legs and a magnificent timber finish.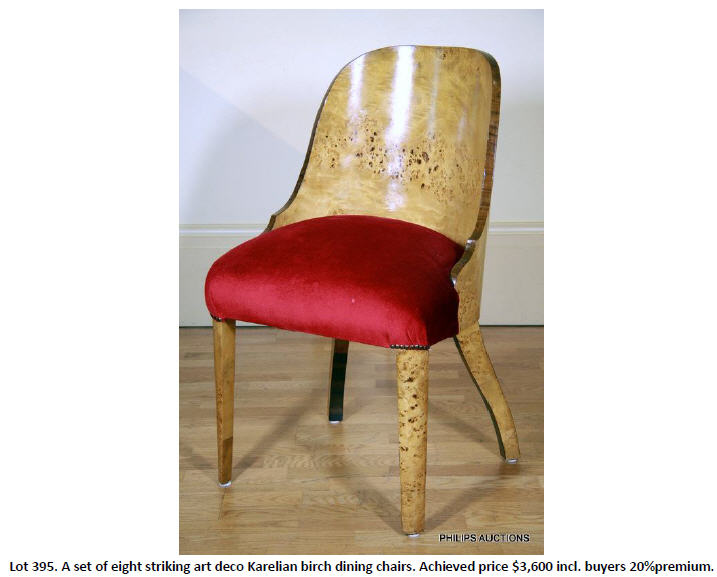 The following Monday saw a very strong Jewellery sale offer over 300 diverse and valuable items including a wonderful cognac diamond cluster ring of 2.21ct. that sold for $4,080, a valuable Burmese ruby and diamond dress ring for $8,400, and a striking solid black opal and diamond cluster ring of Lightening Ridge origin.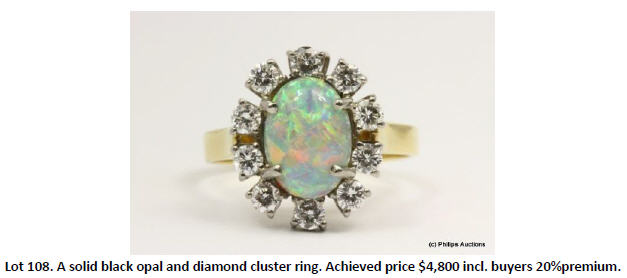 Our next auction on Sunday 30th July is set to be the Auction of the year! Presented in two parts, we will begin with the much awaited Timothy Menzel Fine English Porcelain Collection comprising over 250 lots of the world's finest porcelain. The catalogue for this important event will be available online in July along with details for absentee and phone bidding registration.
The July Decorative Arts Auction will follow, and features the notable oil painting The Pinnacles, Cape Woolamai, strongly attributed to celebrated landscape artist Eugene von Guérard. Doors open at 11am for registration with the auction commencing at 12pm.
Viewing Times
Wednesday 26th July 9 am - 7 pm
Thursday 27th July 9 am - 5 pm
Friday 28th July 9 am - 5 pm
Saturday 29th July 12 noon - 5 pm
Forthcoming Auctions
Timothy Menzel Fine English Porcelain Collection & Fine and Decorative Arts - Sunday 30th July 2017
Modern and Antique Jewellery - Monday 31st July 2017
Enquiries: +61 3 9509 6788 This email address is being protected from spambots. You need JavaScript enabled to view it.