Perfect Porcelain
A highlight of this year's auction calendar is the offering of a major internationally significant porcelain collection in its entirety. The Timothy Menzel Early English Porcelain Collection is an outstanding example of a lifetime's research and acquisition culminating in a world leading exposition of this important decorative arts form.
On Sunday 30th July 2017, Philips will be offering this superb collection in a special auction to be held prior to our usual Decorative Arts sale event. This historic occasion will be of great interest to ceramics collectors, with its scale encompassing 250 – 300 items of the highest quality and desirability, most in pristine museum quality condition.

From Worcester and Liverpool respectively come two marvellous teapots in the form of an elegant and iconic Boy on Buffalo design, and a stately Rock and Fence patterned example attributed to Seth Pennington circa 1780.
With exquisite mirror images decorations by Thomas Baxter, a pair of Chamberlain Worcester semi circular bough pots with pierced covers are among the collections highlights. One pot was sourced in the U.K. and several years later Menzel delighted in the discovery of its pair in the U.S.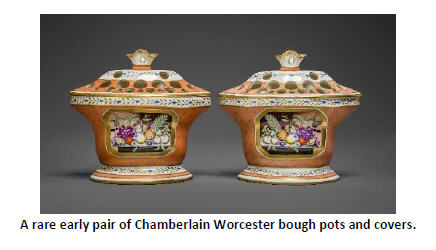 A highly decorative salt glazed stoneware plate is notable for its rare moulded pattern in the form of a basket weave border. Depicting three figures relaxing by a river, this memorable item was created by William Bourne and dates to circa 1760.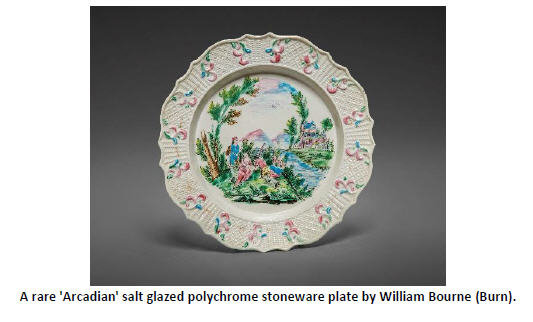 A yellow ground Worcester "Harvest Bug" cup and saucer may be small, but packs a big punch with its style and beauty. Attributed to celebrated London decorator James Giles, this wonderful piece displays distinctive crowsfoot borders to both cup and saucer, and delightful flower sprigs with the harvest bug on a bright lemon yellow background.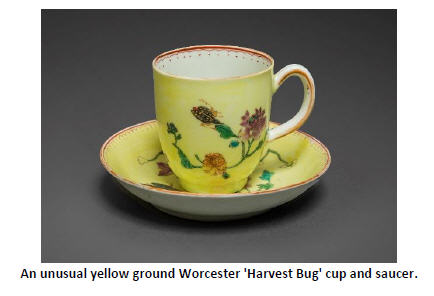 Possessed with great majesty and poise, a fabulous Baluster style vase decorated by notable Swansea designer William Pollard makes a striking impression and would make a valuable addition to developing collections. In perfect condition, this vibrant example is distinguished by ornate roses, wild rose, foxgloves, and a single butterfly in enamel colours.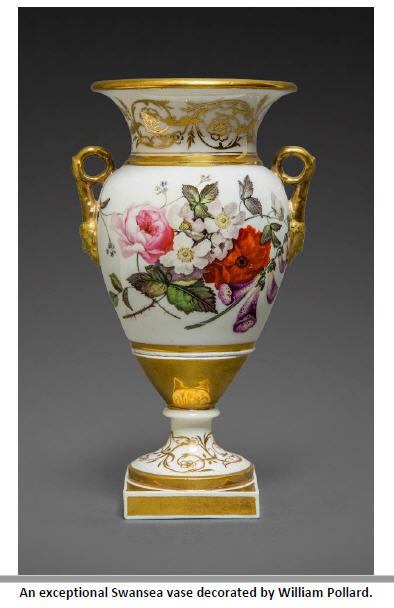 The Philips July auction is set to be the antiques sales event of the year. With the Timothy Menzel Fine English Porcelain Collection occupying the first half of proceedings, and the Decorative Arts offering to follow, it will be a bumper event! Don't miss this once in a lifetime opportunity to view and purchase porcelain at its best. The significance of this event should not be underestimated. It is extremely rare for such a fine collection to be offered in its entirety, and with no reserve set, the opportunity to acquire rare and valuable pieces will never be greater.
Doors open at 11am for registration with the auction commencing at 12pm. The catalogue for this important event will be available online, along with details for absentee and phone bidding registration.
Viewing Times
Wednesday 26th July 9 am - 7 pm
Thursday 27th July 9 am - 5 pm
Friday 28th July 9 am - 5 pm
Saturday 29th July 12 noon - 5 pm
Forthcoming Auctions
Timothy Menzel Fine English Porcelain Collection & Fine and Decorative Arts - Sunday 30th July 2017
Modern and Antique Jewellery - Monday 31st July 2017
Enquiries: +61 3 9509 6788 This email address is being protected from spambots. You need JavaScript enabled to view it.