The Pinnacle!
The forthcoming Philips July auction will be an absolute blockbuster, and with two major sales events running back to back, it is set to be the auction of the year! Beginning with the much anticipated Timothy Menzel Fine English Porcelain Collection which has attracted great international interest, the afternoon will conclude with a packed Decorative Arts auction of over 350 fascinating lots.
Representing a major highlight of this year's auction calendar, Philips proudly present an extremely rare and valuable oil on canvas study by renowned painter Eugen Von Guérard. Depicting the famous view of the granite rocks at Cape Woolamai known as The Pinnacles, this work is seen as the preliminary to his painting View of the granite rocks at Cape Woolamai which recently sold for nearly a million dollars at auction in Sydney. With its authenticity fully verified, this iconic and sought after work will make for a sound investment with its enormous growth potential and ease of future sale.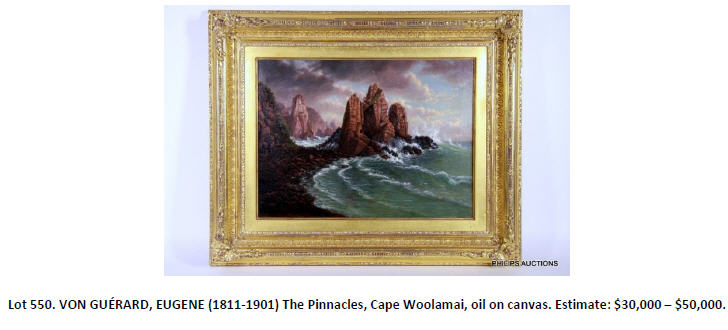 French made furniture is well represented this month with many fine examples of extraordinary craftsmanship on offer. Of great interest is an oak and walnut Art Nouveau occasional table in trefoil shape with the inlaid signature of decorator Émile Gallé.
Ranging from classical to art deco and nouveau, the 28 clocks that will be presented are certain to create interest for their variety and great value. Outstanding examples include a Napoleon III ormolu mantle clock garniture, and an impressively ornate ormolu and cloisonné enamel mantle clock with brass dial and Roman numerals.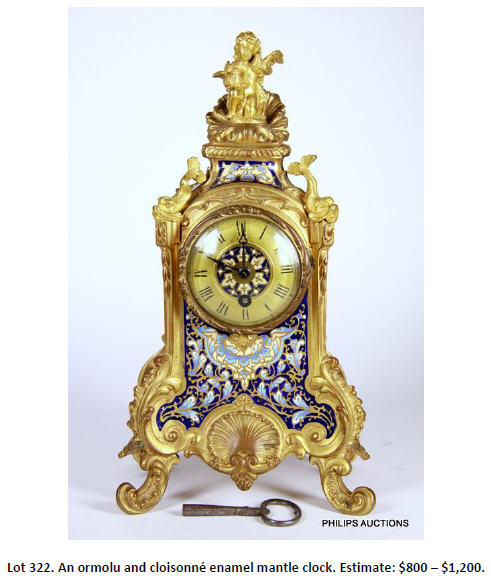 Silver shines in July with a wide representation of wares including Georgian jugs, fine cutlery, milk creamers, and ladles. An 1885 sterling silver porringer from London, with maker's mark for James Wakely & Frank Clarke Wheeler strikes a most handsome pose with its cartouche decoration and scrolling handles.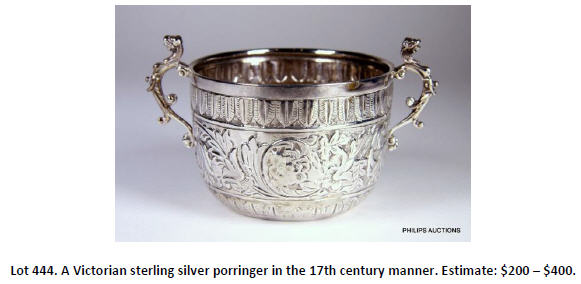 The July Jewellery auction follows the next evening and is distinguished by a fantastic array of rings, pendants and necklaces with 1½ - 2 carat diamonds that are perfect as investment pieces. Of interest this month is a selection of Australian and international coins including a rare 1901 gold German States Lubeck 10 Mark coin and two gold Romanian 12½ Lei coins.
Stunning dress jewellery items include a bold Columbian emerald dress ring, and a captivating aquamarine set drop tassel necklace in the Victorian Etruscan Revival style.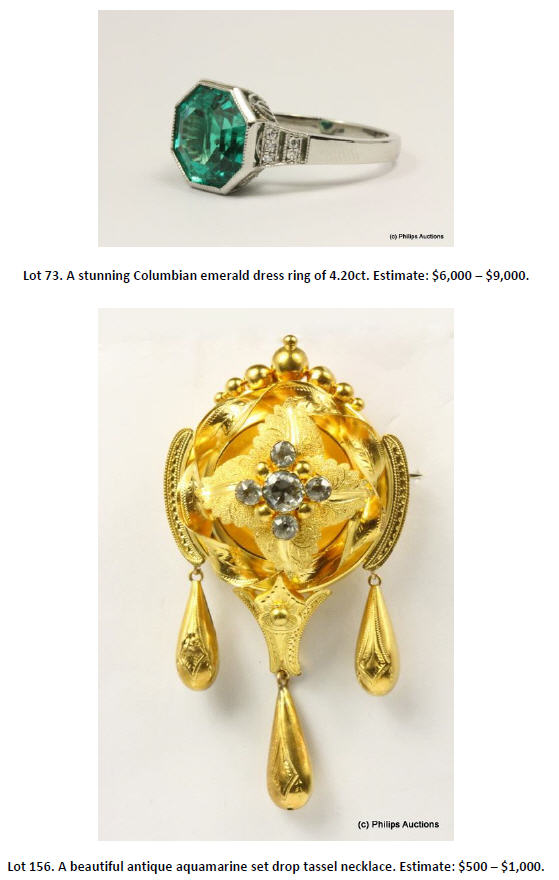 With two major events on the same day followed by a stunning jewellery sale the following day, July is ending with a great flourish at Philips Auctions. Be sure not to miss out on the once in a lifetime opportunities presented by the Timothy Menzel Fine English Porcelain Collection sale, and indulge in the wealth of treasures to follow.
Forthcoming Auctions
Timothy Menzel Fine English Porcelain Collection & Fine and Decorative Arts - Sunday 30th July 2017
Modern and Antique Jewellery - Monday 31st July 2017
Porcelain and Decorative Arts: 12.00pm – doors open 11.00am
Jewellery: 6.00pm – doors open 3.00pm
Viewing Times
Wednesday 26th July 9 am - 7 pm
Thursday 27th July 9 am - 5 pm
Friday 28th July 9 am - 5 pm
Saturday 29th July 12 noon - 5 pm
Jewellery - Monday 31st July 3 pm - 5.30 pm
Enquiries: +61 3 9509 6788 This email address is being protected from spambots. You need JavaScript enabled to view it.