Nephrite knockout!
At a packed, standing room only September Philips auction, 248 bidders enthusiastically contested over 400 lots of decorative arts and delivered a fantastic clearance rate in excess of 85%. The afternoon's highlight was the stunning result that Philips provided for the sellers of a Nephrite tray bearing the stamp of Fabergé and master initials MP for Mikhael Perchin.
With an estimate in the range of $10,000 – $20,000, bidding soon escalated to $70,000 and became a fiery contest between two determined parties who battled it out in $1,000 increments. After pausing for breath at a remarkable $120,000, the chase continued with the triumphant bid coming in at a stunning $150,000 including buyers premium. On hearing of the seller's surprise and elation at the amazing result, Director Tony Philips commented, "We love ecstatic vendors!"
A great result was achieved with a Victorian sterling silver seven light candelabrum changing hands for over $19,000, demonstrating the continuing strong demand for fine silverware. Dated 1886 London, this impressive piece displays the maker's mark for Richard Hodd & Son.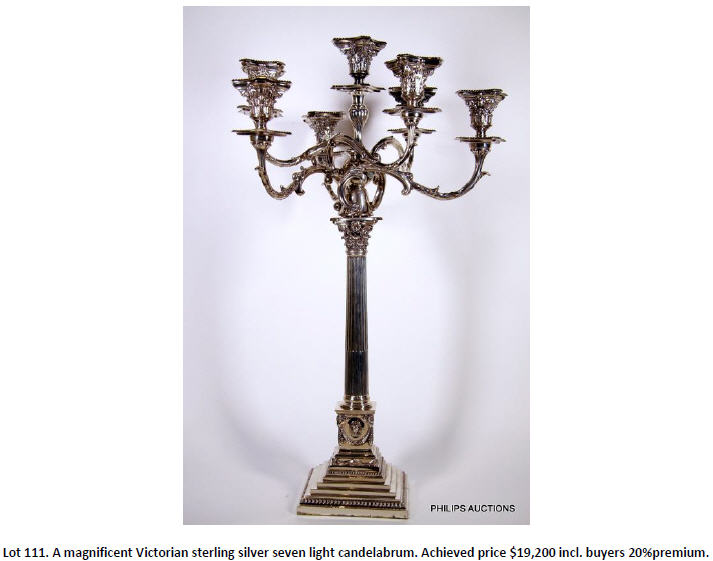 Furniture sold extremely well in September contributing strongly to the overall high auction clearance rate. Amongst a great offering of chairs, tables, cabinets and commodes, a lovely Napoleon III marquetry rosewood pier cabinet attracted significant attention with its flecked marble top and floral decorated frieze, achieving a great outcome for the very satisfied vendor.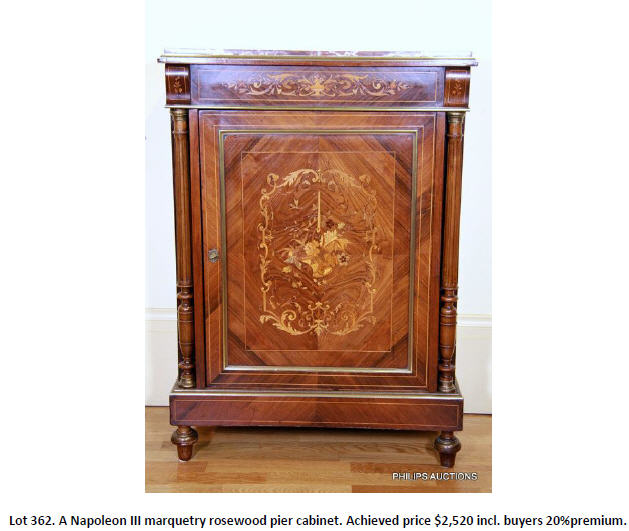 From the Late Qing Dynasty a magnificent set of 12 glass lined silver bowls surprised by changing hands for many times the estimate. Featuring six cranes in a watergarden and chrysanthemum motifs, these very desirable items have been X-ray tested to .86-.94 silver and bear the marks MK and HC believed to represent Canton and Shanghai.
The following evenings Jewellery auction was similarly well attended, and a strong clearance rate of 70% provided great outcomes for buyers and sellers alike. Of great interest was the offering of an estate collection of 70 gold coins which all sold well. Jade and opal jewellery were the standout performers with many attractive lots delivering well above the conservative estimates that had been applied.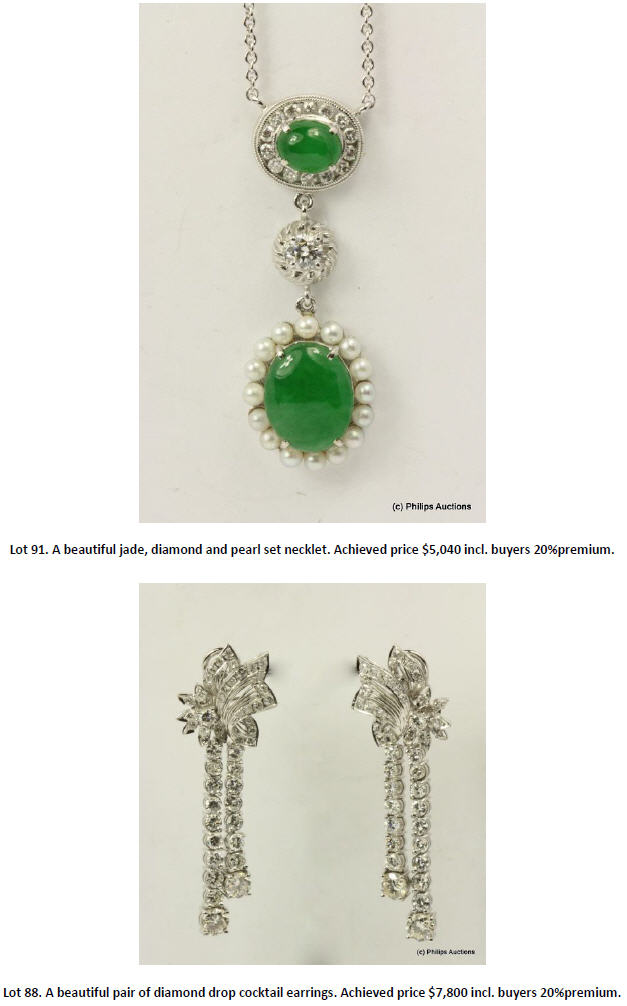 The forthcoming October auction is definitely not to be missed and features the John Spicer collection of blue and white Georgian English porcelain, along with fantastic furniture offerings from the same estate. Other highlights will include a two metre Japanese Arita vase from the Meiji period, a magnificent Bulle table, and a great selection of silver, fine carpets and Persian rugs.
Forthcoming Auctions
Fine and Decorative Arts - Sunday 22nd October 2017
Modern and Antique Jewellery - Monday 23rd October 2017
Viewing Times
Wednesday 18th October 9 am - 7 pm
Thursday 19th October 9 am - 5 pm
Friday 20th October 9 am - 5 pm
Saturday 21st October 12 noon - 5 pm
Enquiries: +61 3 9509 6788 This email address is being protected from spambots. You need JavaScript enabled to view it.