Masterful McCubbin
October at Philips features a magnificent collection from the estate of Murray Piper. From a leading role within the travel industry, he had the opportunity to travel the world and carefully acquire a fine collection of decorative arts which will be sold in 305 lots, including paintings, rings and watches. Also well represented at this month's auction are Oriental furniture and vases, Georgian furniture and Persian rugs.
Most recognised for the iconic depiction of the early Australian settlers in The Pioneer, Frederick McCubbin is one of the country's most famous and sought after painters. Taking pride of place in the Piper collection is a rare and valuable McCubbin still life, similar to the work acquired by the National Gallery of Victoria. Still life: roses and books measures 25.5cm x 27.5cm and presents an amazing opportunity to own a major stake in Australia's art history. Director Tony Philips says "It's not often you get something like this from an estate – this is one out of the box!"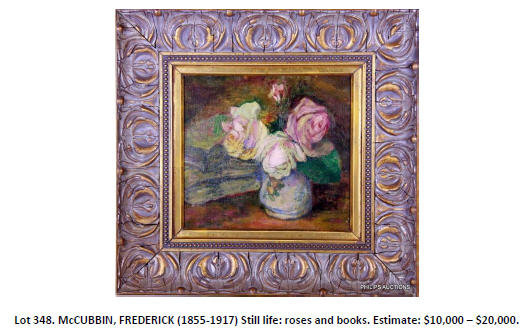 An absolutely remarkable example of the Japanese Meiji period is on offer in the form of a rare Arita ware blue and white floor vase that stands a lofty 155cm high. Decorated with bird and landscape scenes and embellished with dragons, this example is a must for collectors of this distinctive period.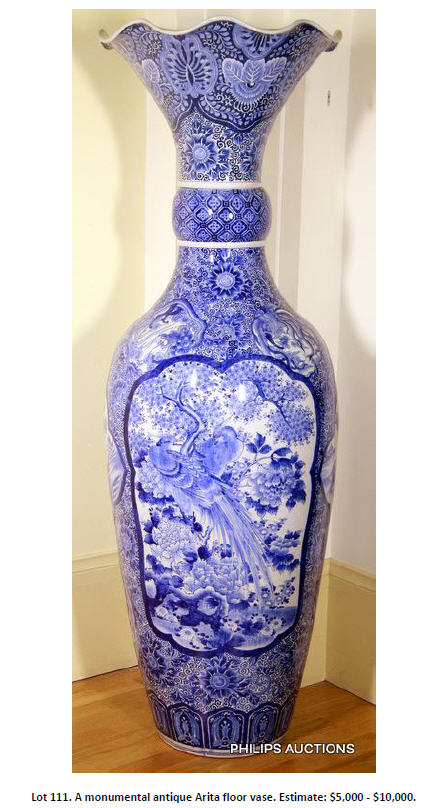 From the same collection comes a fascinating group of mother of pearl inlaid rosewood furniture from the late Qing Dynasty. Acquired by the vendor's grandparents while living in the Orient, the set includes an inlaid table, chair, and stand, plus an impressive carver with pierced dragon and phoenix designs, featuring a 'three friends of winter' landscape decorating the seat.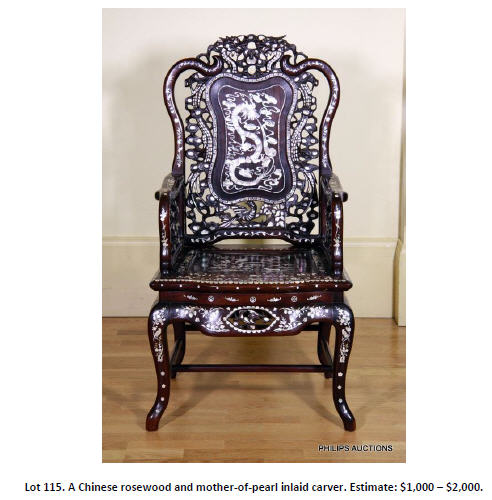 From the personal collection of eminent historian and sinologist Professor C.P. Fitzgerald are several delightful grouped examples of Qing Dynasty porcelain. Of particular interest is a set of seven featuring a barrel shaped teapot and a dish with Kakiemon style illustration.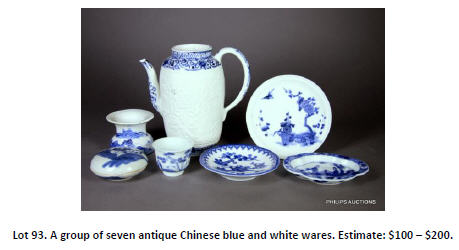 Silverware is strongly represented at the October auction and showcases many fine examples of the genre including cutlery, trays, creamers, and even a Georgian toast rack. With the sought after makers mark of Peter & Ann Bateman comes a George III sterling silver teapot made in an oilcan style with skilful rococo decoration.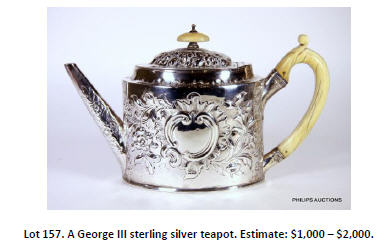 With a strong emphasis on emeralds, the following Monday's Modern and Antique Jewellery auction is sure to be a great success with numerous delightful and varied lots featuring this popular gem. Jade is also well represented with many traditional Chinese forms on offer including chilli, gourd, and snow pea. October is the penultimate auction for the year, and with 300 high quality lots on offer it presents the ideal opportunity for great Christmas gift purchasing at fantastic prices.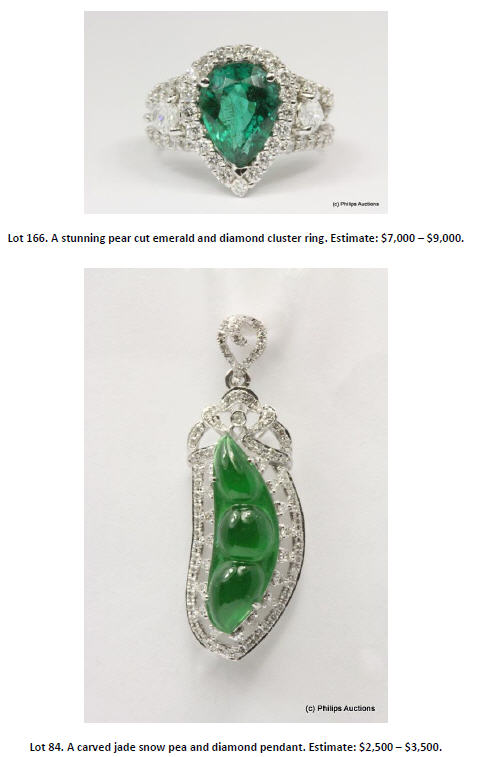 Join us at the Philips October auction for a wonderful presentation of high quality decorative arts with many opportunities for porcelain collectors and art lovers, and as always, a wide range of quality furniture. Doors open at 11am for registration with the auction commencing at 12pm.
Forthcoming Auctions
Fine and Decorative Arts - Sunday 22nd October 2017
Modern and Antique Jewellery - Monday 23rd October 2017
Viewing Times
Wednesday 18th October 9 am - 7 pm
Thursday 19th October 9 am - 5 pm
Friday 20th October 9 am - 5 pm
Saturday 21st October 12 noon - 5 pm
Jewellery - Monday 23rd October 3 pm - 5.30 pm