Delightful December
With Christmas rapidly approaching, the Philips December auction presents a perfect opportunity for quality gift shopping from a fine range of Decorative Arts and Jewellery. The final auction for 2017 is set for the festive season with an amazing offering of high quality genuine French furniture, over 30 fascinating clocks, stunning rugs, significant silverware, and even collections of Meccano and model trains!
From the mid-19th century comes a beautiful Napoleon III Boulle cabinet with a magnificent black marble top and brass Berainesque inlay. Standing 110cm tall, this delightful example of the French style has wonderfully curved edges decorated with espagnolettes, and features a striking scarlet tortoiseshell ground.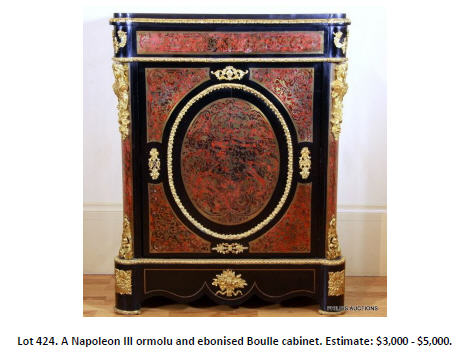 Representing the same sought after era, a refined and graceful palisander drop side table makes an impression with delightfully detailed inlay depicting table game and floral arabesques. Featuring a notable frieze drawer and tapering legs with toupie feet, the piece extends to a generous width of 127cm.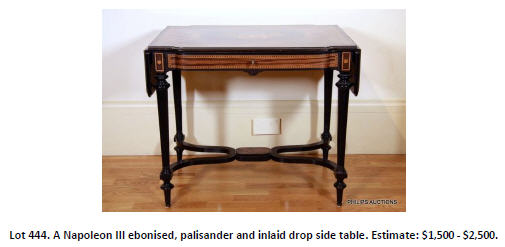 Complete with elegance and style, a remarkable sterling silver coffee service with maker's marks for Henry Chawner & John Emes is determined to make an impression. This striking ensemble includes individual wooden handled coffee and tea pots, a trivet, sugar basin and creamer on a substantial oval tray. Beautifully decorated with shell borders and laurel wreaths, this distinctive service deserves pride of place in a formal dining setting.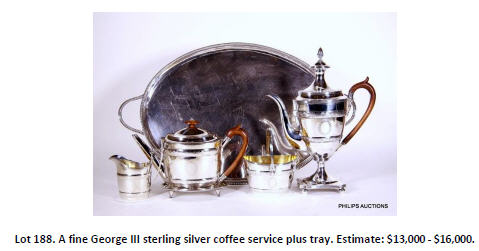 For the mantelpiece, a French three piece marble clock is an ideal garniture, providing solid style and function within a traditional presentation. A wonderful example of fine craftsmanship, this piece is characterised by a drum head, visible escapement, and a mercury regulator pendulum. Enhanced with volutes and red marble details, the central piece is complimented on both sides with matching tazze.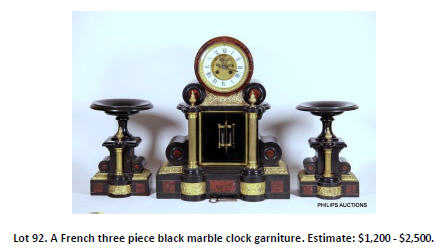 Persian rugs are a perfect choice for Christmas giving, and with a great range in December there are many delightful and affordable examples to choose from, including Indian, Caucasian and Ziegler wool carpets.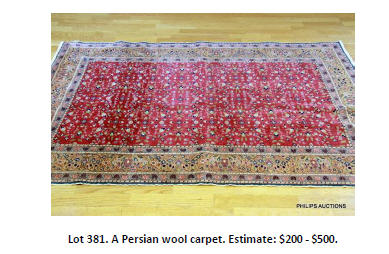 The December Modern and Antique Jewellery auction to be held on the following Monday evening will feature many items particularly selected with Christmas gifting in mind. Certainly, a delightful pair of gold drop earrings could not fail to please!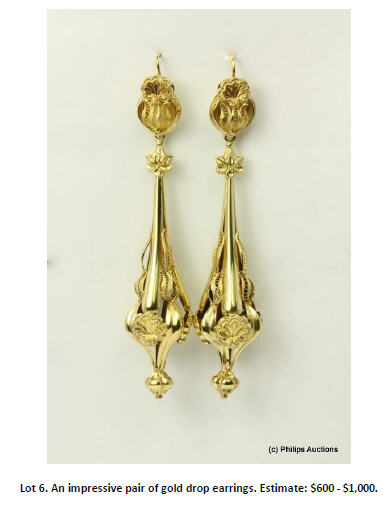 Set in 18ct white gold, a substantial solitaire dress ring will be an exciting feature of this month's offering. With a very large 11ct emerald of fine deep green colour, this outstanding piece will attract great attention through classic design, and an elegant stepped shoulders diamond stone setting.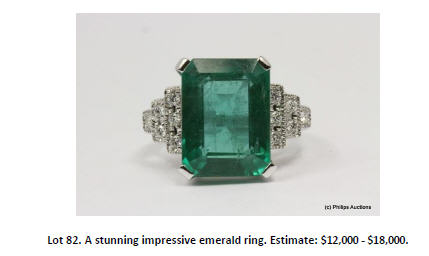 With a huge range of quality items at great prices, the Philips' December Auction is not to be missed. Doors open at 11am for registration with the auction commencing at 12pm. We hope to see you there for what will be a great wind up for 2017.
Forthcoming Auctions
Fine and Decorative Arts - Sunday 3rd December 2017
Modern and Antique Jewellery - Monday 4th December 2017
Viewing Times
Wednesday 29th November 9 am - 5 pm
Thursday 30th November 9 am - 5 pm
Friday 1st December 9 am - 5 pm
Saturday 2nd December 12 noon - 5 pm
Jewellery - Monday 4th December 3 pm - 5.30 pm
Enquiries: +61 3 9509 6788 This email address is being protected from spambots. You need JavaScript enabled to view it.