Seasons Greetings from Philips
Providing a satisfying conclusion to the year, the Philips December Auction was a great success with over 230 bidders delivering an outstanding 80% sale rate. With Christmas approaching, smaller items were in vogue as buyers acquired gifts, leading to significant interest in decorative arts. High performers were silver, porcelain and clocks, with the delightful inclusion of a vintage singing bird automaton that changed hands for $1,920.
Great for gifting, a 1930's pair of stylised squirrels in bold geometric forms caught the imagination and sold well above their estimate.

With over 30 examples on offer, clocks performed exceptionally well with a clearance rate of over 90%! A wonderful Louis XV style ormolu mantle clock set the scene for style and grace, and changed hands for a rewarding $3,360.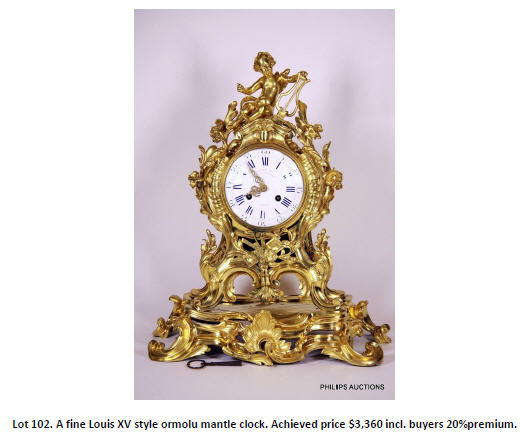 Always a strong performer, glassware was well represented and attracted great interest. A stunning Rene Lalique 'Eucalyptus' vase provided a highlight along with several other items by the notable French glass designer. Dated circa 1924, this moulded opalescent vase with its stylish polished rim sold very well at over double the estimate.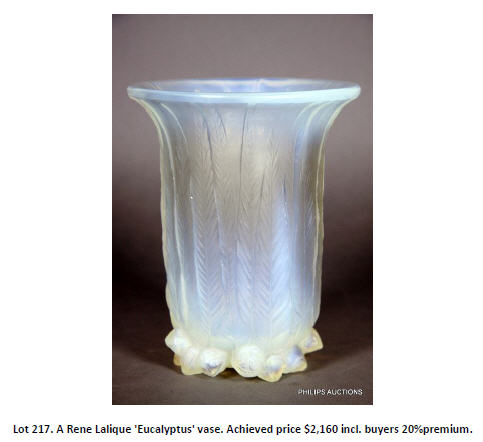 Rounding out a great year for furniture, a giltwood Louis XV style three seater found a new home, impressing with sage green jacquard upholstery and fine cabriole legs with whorl feet.

The Christmas season provided great interest in Jewellery, with a very successful auction on Monday night attended by 145 eager bidders, with diamonds and emeralds both presenting as strong performers.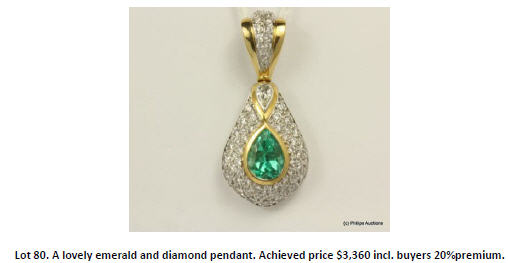 It's been a wonderful year for Decorative Arts, Furniture and Jewellery, and we thank our regular enthusiastic buyers and sellers for their involvement. The highlights are many, and include the fantastic results achieved with the oil on canvas study View of the granite rocks at Cape Woolamai by renowned painter Eugen Von Guérard, the highly sought after nephrite Fabergé tray by Michael Perchin, and the sell-out Timothy Menzel porcelain collection.
We wish everyone a joyous festive season and a happy and prosperous new year. We are reopening on Wednesday 17th January and look forward to seeing you in 2018 for another great year at Philips Auctions. Highlights of our February auction include a great range of fantastic furniture and wonderful early Georgian porcelain from a single estate.
Forthcoming Auctions
Fine and Decorative Arts - Sunday 25th February 2018
Modern and Antique Jewellery - Monday 26th February 2018
Viewing Times
Wednesday 21st February 9 am - 7 pm
Thursday 22nd February 9 am - 5 pm
Friday 23rd February 9 am - 5 pm
Saturday 24th February 12 noon - 5 pm
Jewellery - Monday 26th February 3 pm - 5.30 pm
Enquiries: +61 3 9509 6788 This email address is being protected from spambots. You need JavaScript enabled to view it.