Furniture and Fine Porcelain
Launching 2018 with a great flourish, the Philips February Auction presents a wide range of decorative arts with a large offering of fantastic furniture, many paintings, ceramics, clocks, and a fine variety of glass and silverware. Highlighting this auction is a presentation of over 160 lots of porcelain from the estate of the late Antony James, an avid collector who worked with the Johnston Collection in Melbourne, and painstakingly acquired a wonderful selection of the finest porcelain pieces.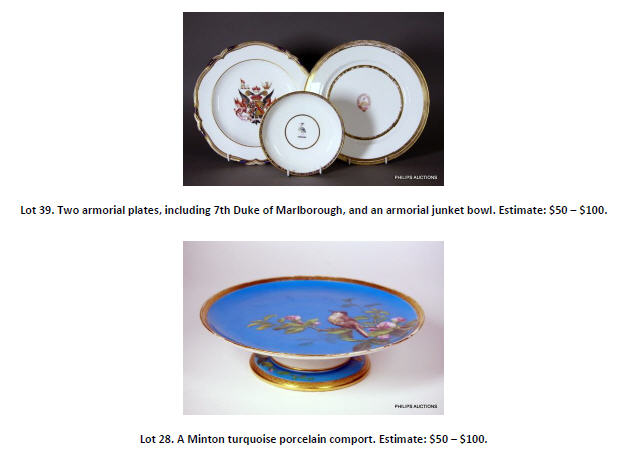 Examples on offer include a collection of coffee cans and factory plates, Bow and Derby figurines, beautiful soft porcelain figurines and jugs, and a pair of delightful armorial plates with arms for Sir John Winston Spencer-Churchill, 7th Duke of Marlborough. From the same collection comes a fascinating and valuable resource of over 80 reference books to be offered in 7 lots. All items from this collection are unreserved.
A notable work from renowned Australian painter James Alfred Turner will feature in this month's auction and is set to generate great interest. Known for his detailed depictions of rural life in Victoria, Turner was highly regarded for his particular attention to detail, and his iconic representation of early pioneer life. This painting comes from the Kenneth Mackenzie estate, and last changed hands at Fine Arts Auctions in March 2010 for $33,552.

With over 60 lots of fine furniture, the February auction has a great range of tables and chairs, display cabinets, commodes and sideboards. Of particular interest is a huge four door mahogany bookcase, a charming pair of Louis XV tulipwood bedside tables, and a beautiful Victorian walnut card table.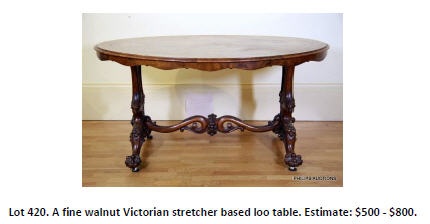 Always in great demand, rugs are a strong feature this month with fantastic examples of Persian, Turkish, and a delightful Kashmiri Indian silk on silk rug. Also of interest, a signed Turkish silk on silk runner will attract attention with its traditional garden design and rows of mihrab shaped tiles.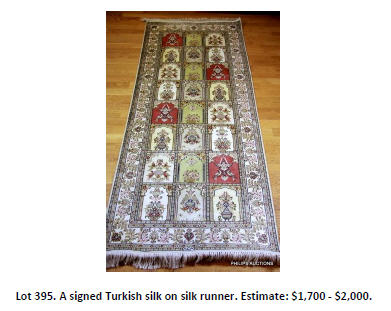 Jewellery maintains its lustre in February with a strong representation of fine watches, along with great examples of ruby, emerald, and diamond rings and bracelets. Particular interest will be shown in an impressive radiant cut diamond ring of 5.41ct, an antique style oval solitaire diamond ring, and a fabulous multi coloured sapphire and diamond line bracelet.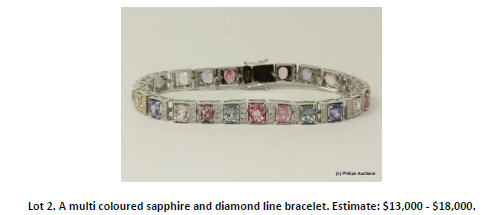 With such a great showing in both the Decorative Arts and Modern and Antique Jewellery, the first auction of 2018 sets the scene for what will be a great year at Philips. Come along and be a part of the excitement, and secure fine furniture, artworks and jewellery at great prices. Doors open at 11am for registration with the auction commencing at 12pm.
Forthcoming Auctions
Fine and Decorative Arts - Sunday 25th February 2018
Modern and Antique Jewellery - Monday 26th February 2018
Viewing Times
Wednesday 21st February 9 am - 7 pm
Thursday 22nd February 9 am - 5 pm
Friday 23rd February 9 am - 5 pm
Saturday 24th February 12 noon - 5 pm
Jewellery - Monday 26th February 3 pm - 5.30 pm
Enquiries: +61 3 9509 6788 This email address is being protected from spambots. You need JavaScript enabled to view it.