Great start to a new year
The 2018 auction season got off to a fantastic start at the Philips February auction with a record attendance paving the way to a great year. Leading the charge was the offering of the Antony James estate which attracted great interest and generated strong sales, evidenced in a lot average of $200, and an overall result in excess of $30,000.
Major items of note from this collection were a significant offering of plates and coffee cans which all sold at a great rate, a charming pair of Derby Neptune and Venus figures which realised $1,920, two signed and engraved mugs reaching $984, and four Stag Hunt Teawares from Worcester and Chamberlain selling for $720.

The vendors were delighted with the outcome, and in a letter following the sale Therese James thanked Philips for the respect given to the collection, the high level of research applied, and the outstanding result. Director Tony Philips said "It is a fine testimonial that demonstrates Philips understanding of the specialness of the sale."
Silverware was a strong performer, and with over 30 lots on offer provided great buying from a wide range of stunning lots. Of particular interest was an Edwardian fruit bowl selling for $4,560, an elegant pair of George III armorial sauce boats changing hands for $4,080, and a magnificent Garrard & Co cutlery service achieving well above estimate at $7,500.

With a wide representation of styles and prices, carpets and rugs provided exciting results for vendors with a fine Persian wool rug selling for $1,560, a Tree of Life patterned Kashmiri Indian silk on silk example for $1,320, and a magnificent Persian silk on silk Qum rug of fine weave for a most impressive $2,640.
Buyers were pleased with the 65 diverse lots of furniture presented, with bookcases, commodes, clocks and tables strong performers as always. Fine examples included a flame Mahogany secretaire bookcase, which from a low estimate performed strongly at $2,520, and a Breakfront four door antique style bookcase which greatly exceeded expectations at $3,240.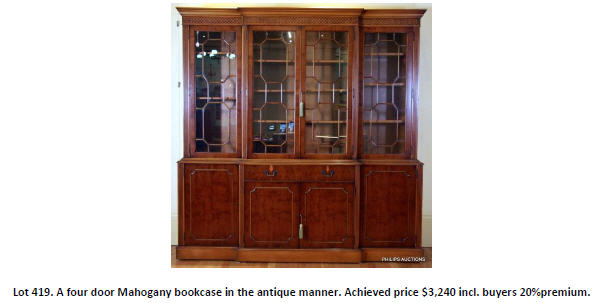 The following evening's Jewellery auction was very strong, and with over 120 bidders keenly contesting a wide range of sought after items, it was a great result for buyers and sellers alike. Watches were a standout feature of the event, with fantastic prices realised for Patek Philippe with $12,000 and $10,800 paid for a distinctive 1940's example and a Gondolo art deco wristwatch respectively. A good result was achieved with a beautiful Ladies Rolex Oyster Perpetual selling for $3,120.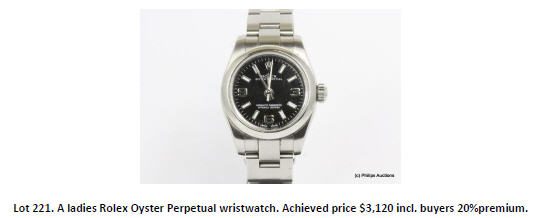 The forthcoming April auction is not to be missed with a fantastic range of brassware, porcelain and French furniture setting the scene for what will be a comprehensive offering of decorative arts and jewellery. Highlights include a Waterford crystal chandelier, beautiful commodes and tables, and a marvellous Scottish liberty desk.
Forthcoming Auctions
Fine and Decorative Arts - Sunday 8th April 2018
Modern and Antique Jewellery - Monday 9th April 2018
Viewing Times
Wednesday 4th April 9 am - 7 pm
Thursday 5th April 9 am - 5 pm
Friday 6th April 9 am - 5 pm
Saturday 7th April 12 noon - 5 pm
Jewellery - Monday 9th April 3 pm - 5.30 pm
Enquiries: +61 3 9509 6788 This email address is being protected from spambots. You need JavaScript enabled to view it.