Out of the Box
The Philips April auction promises to be a great event with an impressive 470 lots to be offered including a fine presentation of antique furniture, a huge range of silverware, and a fascinating collection of diverse Egyptian pieces.
Of note is a lovely collection of music boxes, highlighted by a marvellous example featuring drums, castanets, organs and bells. This delightful piece plays 36 airs, and comes with six cylinders, seven engraved bells and a crank winding mechanism.
A wonderful piece of Melbourne's history is to be offered in the form of an original fitting from the former George's department store in Collins Street. Complementing a great range of bronzes and clocks, this white and black marble French neoclassical style clock will be in great demand with its portico styling, candelabrum side pieces, and fascinating provenance.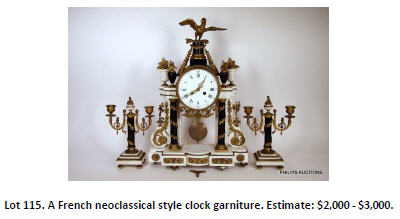 With over 60 lots of fine silverware on offer, April provides many opportunities for smart buying including tea and coffee services, table settings, candlesticks, and wonderful trays and salvers. A great example of the silversmith's art is an 1878 aesthetic movement sterling silver parcel gilt chalice decorated with Japanese fans, birds, insects and a spider in a web.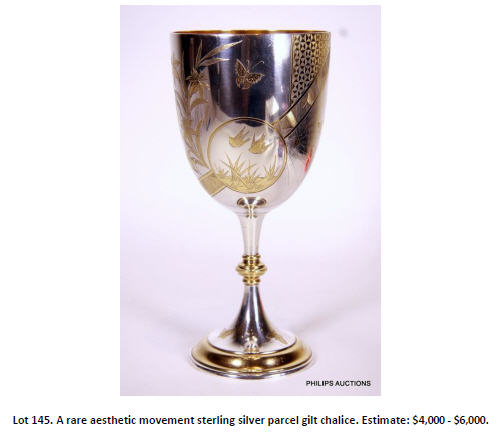 From a collector in country Victoria comes a fascinating group of certified Egyptian works including a pair of wooden sarcophagus hands, a captivating Coptic terracotta doll's head dating from around the 4th century, and wooden depictions of the gods Anubis and Hathor. A stunning polychrome papyrus funerary mask will attract attention with its stylised face and striking gold leaf application.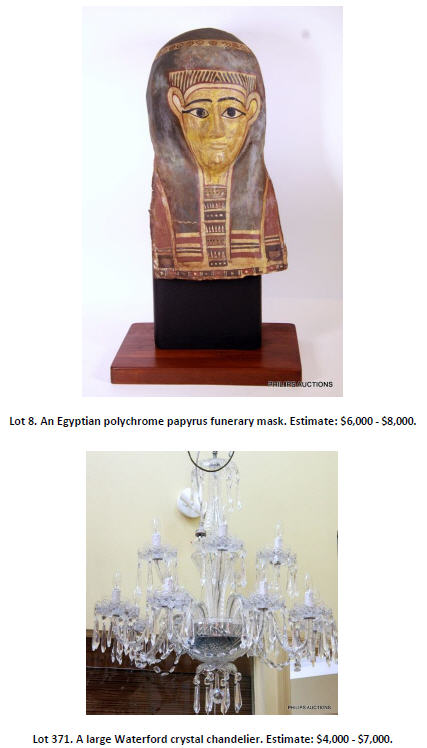 Further features of this jam-packed auction include a marvellous collection of antique French furniture showcasing commodes, chiffonières and games tables, a collection of John Campbell pottery, and a stunning twelve branch two tier Waterford crystal chandelier.
A fantastic Jewellery auction follows on Monday night with an attractive range of watches, including Omega and IWC, and a Patek Philippe golden ellipse wristwatch. Diamond jewellery is very well represented and features a magnificent large solitaire diamond pendant, a wonderful cluster ring and a radiant cut diamond ring of 5.41ct. From the 1970's, a beautiful Cartier 18ct. gold woman's bracelet will make a confident statement with a bold flared profile and woven herringbone link.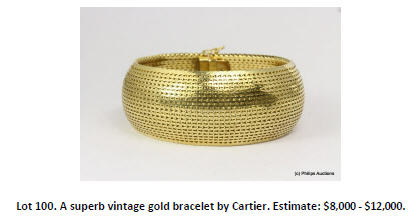 Join us at the Philips April auction for a fantastic range of great furniture and decorative arts at the best prices. Doors open at 11am for registration with the auction commencing at 12pm.
Forthcoming Auctions
Fine and Decorative Arts - Sunday 8th April 2018
Modern and Antique Jewellery - Monday 9th April 2018
Viewing Times
Wednesday 4th April 9 am - 7 pm
Thursday 5th April 9 am - 5 pm
Friday 6th April 9 am - 5 pm
Saturday 7th April 12 noon - 5 pm
Jewellery - Monday 9th April 3 pm - 5.30 pm
Enquiries: +61 3 9509 6788 This email address is being protected from spambots. You need JavaScript enabled to view it.