Eye for the unusual
The April Philips Modern and Antique Jewellery auction presents many wonderful items from a tasteful collection with a deep and resonant provenance. Collector and artist Martha Ash was a Polish born holocaust survivor who migrated to Australia with her husband Feliks in 1949. Together they established a highly successful clothing business. From humble beginnings in Murrumbeena, they established their lives in Melbourne, grew their business, and rose to prominence in the Melbourne Jewish and Artistic communities.
Martha was very active in the arts, serving as a volunteer at the National Gallery of Victoria and the Jewish Museum. Having studied pottery with the Boyd family in the 1950's, and later silver smithing and enamelling, she began to direct her own artistic output into the fields of mosaics, jewellery and stained glass. Working at night from a small studio at home she created a body of work reflecting her culture and heritage. Active in the Jewish community and a keen follower of their history, at the age of 70 she created a major stained glass mural "From Creation to Redemption" for the Temple Beth Israel Synagogue, which she dedicated to her late husband. A three part documentary involving aspects of her fascinating life is being made by her daughter Eve, and is currently in post-production.
Martha loved to entertain, socialise and wear beautiful jewellery. With her eye for the unusual, she assembled a wonderful range of fine items including solitaire rings, stunning necklaces, drop earrings and vintage wristwatches. Martha's two daughters and three grandchildren are thrilled with the prospect of the Jewellery being worn again. "My mother wore most of her jewellery, but since her death it has mostly been sitting in a safe. Hopefully they will find a place where they are loved and appreciated in the right home", said Eve.
The Crown Jewel of the collection is a magnificent solitaire diamond pendant featuring a single brilliant cut diamond of approximately 4.5ct in a six claw mount, suspended from a fixed cable link gold chain.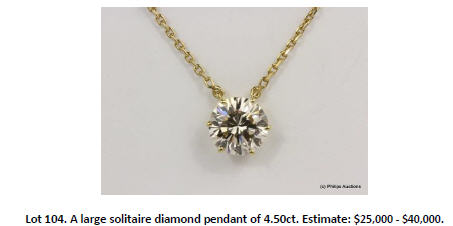 With a most unusual clasp, inlaid with baguette diamonds, a marvellous triple strand pearl necklace represents iconic 1950's styling to a tee.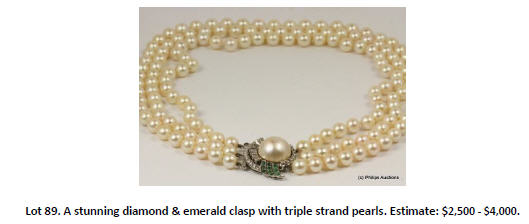 Also in the 1950's vein, a striking and stylish pair of cocktail drop earrings make quite an impression.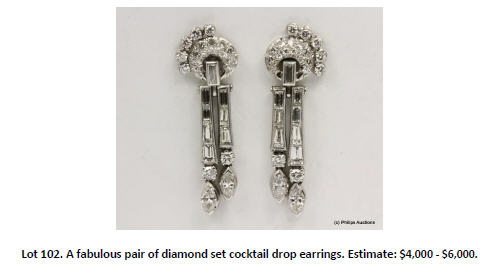 With a beautifully carved intricate dragon motif, an impressive rectangular lapis pendant on a 20ct gold chain within a 14ct frame will be sure to please, and would make a valuable addition to any collection.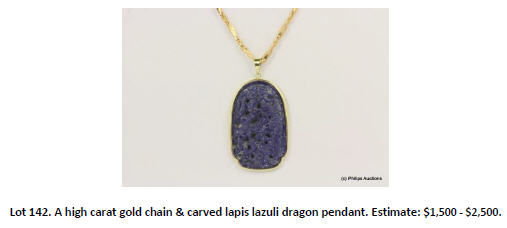 The April jewellery auction will be a fantastic event with over 290 lots to be sold, and with the offer of many beautiful items from the Martha Ash collection, it is truly not to be missed. Doors open at 3pm for registration, with the auction commencing at 6pm.
Forthcoming Auctions
Fine and Decorative Arts - Sunday 8th April 2018
Modern and Antique Jewellery - Monday 9th April 2018
Viewing Times
Wednesday 4th April 9 am - 7 pm
Thursday 5th April 9 am - 5 pm
Friday 6th April 9 am - 5 pm
Saturday 7th April 12 noon - 5 pm
Jewellery - Monday 9th April 3 pm - 5.30 pm
Enquiries:+61 3 9509 6788 This email address is being protected from spambots. You need JavaScript enabled to view it.