Great result for Silver and Gold!
In a lively April Decorative Arts sale at Philips Auctions, silver and gold once again proved themselves to be highly sought after, providing terrific results for buyers and sellers alike. Strong performers included a Mappin & Webb five piece sterling silver tea and coffee service selling for $6,700, a very handsome French 18 carat gold snuff box reaching $8,500, and a striking two handled cup and cover with makers mark for Lewis Herne and Francis Butty. Notable results were also seen with a rare silver ewer achieving $5,800 and a very imposing silver soup tureen changing hands for $20,700.


Furniture put on a very strong showing with all items selling well. Among the favourites, a magnificent orchestral music box featuring organ, drums and castanets sold for $10,300, and a magnificent kingwood commode with a red and white marble top sold at the high end of estimate for $2,500.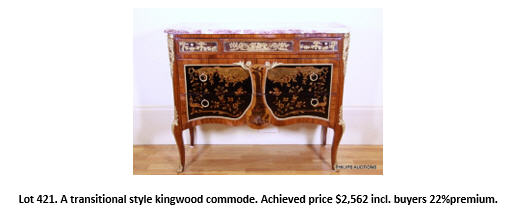 A similar result was achieved in glassware with all items selling, and at very rewarding prices. Standout items featured a magnificent twelve branch Waterford chandelier for $7,400, and a distinctive jade necklace and traditional case that exceeded expectations by attaining an impressive $4,800.

The following evening's Jewellery auction proved very successful with a wide range of delightful items proving popular with the many highly motivated bidders. Highlights included a bold Cartier gold bracelet at $37,200 and a golden ellipse Patek Philippe wristwatch setting the pace at $8,500.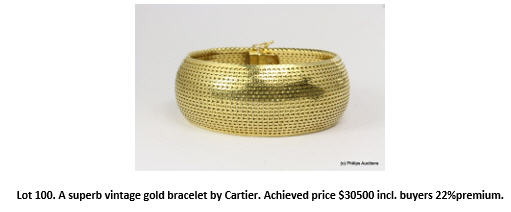 Rings of all types performed very well including a radiant cut diamond solitaire and a sapphire and diamond cocktail dress ring both selling for $7,400 apiece, and a magnificent ruby and diamond cluster realising a substantial $14,800. At the lower end of the scale, a delightful sapphire and diamond example sold briskly at $4,500.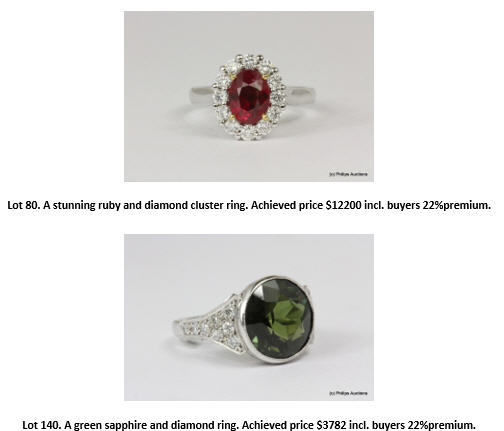 Also attracting great interest, a 1960's gold cigarette case with an unusual bark finish sold extremely well at $7,300, a pretty spinach jade bangle proved to be popular, and a fascinating 1940's 18 carat rose gold bracelet with classic styling achieved a great result, selling at $5,000.
Join us next month for another great offering of quality Decorative Arts and Jewellery at the best possible prices. With new lots arriving each day, it's all happening at Philips – Melbourne's premier auction house.
Forthcoming Auctions
Fine and Decorative Arts - Sunday 20th May 2018
Modern and Antique Jewellery - Monday 21st May 2018
Viewing Times
Wednesday 16th May 9 am - 7 pm
Thursday 17th May 9 am - 5 pm
Friday 18th May 9 am - 5 pm
Saturday 19th May 12 noon - 5 pm
Jewellery - Monday 21st May 3 pm - 5.30 pm
Enquiries: +61 3 9509 6788 This email address is being protected from spambots. You need JavaScript enabled to view it.