Focus on Furniture
With an emphasis on fine furniture, the June Philips auction is an intimate boutique affair with many great opportunities for the savvy buyer. This high quality auction will present a delightful range of beautiful commodes and bookcases, along with a special range of fine artworks, a stunning offering of silverware and a comprehensive selection of clocks and bronzes.
June is surely the month for serious furniture buyers with worthy examples in all categories, and all at very attractive prices. Choose from sideboards, cabinets, chairs, tables, and buffets; and of course an impressive selection of commodes, bookcases and stylish sofas.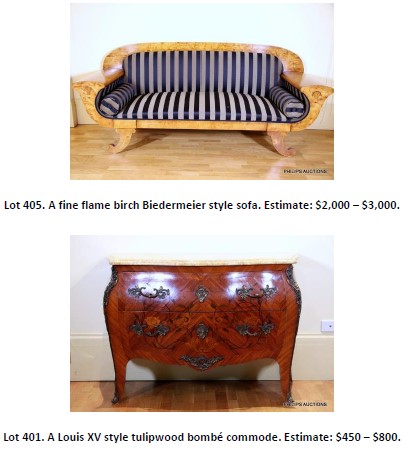 Silver puts on a very strong showing in June with many fantastic pieces for the discerning buyer. Of special interest is a most unique Thai sterling silver handbag, a wonderful Austro-Hungarian silver secessionist centrepiece, a magnificent George II sterling silver bread basket with maker's marks for Aymé Videau, and a magnificent seven piece tea service weighing an impressive 7.3 kilos!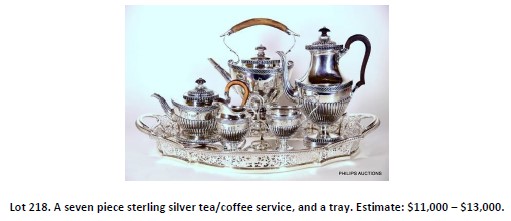 For something decidedly different, a handsome music box with six discs may be just what you are looking for! Dating from c 1900, this magnificent device plays perforated twelve-inch metal discs operated via an external sliding crank, each playing a different tune. Presented in a beautiful walnut case inlaid with bird and foliage motifs, each disc is stamped with the well-known German manufacturer's distinctive mark.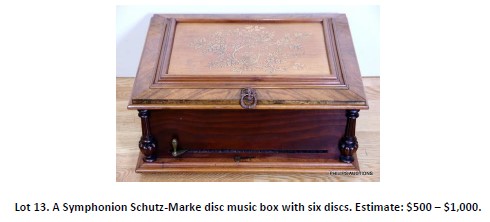 Clocks and bronzes provide a great deal of interest this month with many traditional mantle and portico timepieces available, along with an intriguing selection of art deco styles. Of particular note, a neoclassical ormolu clock garniture makes a striking impression, as do two individual Louis XVI style ormolu mantle clocks and several wondrous deco garnitures and figural examples. A finely detailed and accomplished figurine by a student of Rodin reflects a strong showing of bronzes for this auction.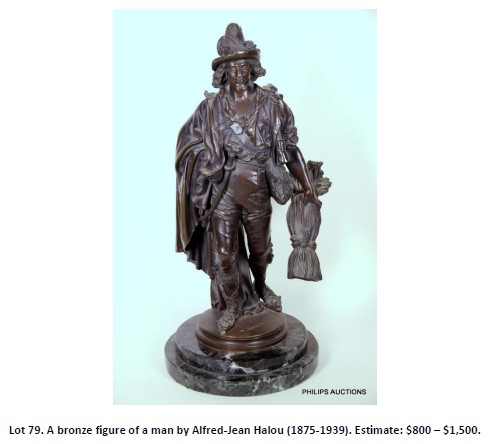 Further highlights of this special sale include great artworks from Girolamo Nerli, William Rubery Bennett, and three by the notable Violet McInnes; a lovely collection of scent bottles and a quality selection of English Porcelain. Persian rugs are well represented with some particularly fine large silk offerings, and many smaller examples that will enchant.
Jewellery in June is a delight with stunning high carat diamond rings, a great range of coloured stones, and an estate collection of gent's watches including IWC and Jaeger. With a wonderful selection of necklaces, pendants and bracelets, there is something for everyone, including a fascinating collection of Australian Federation stamps and coins.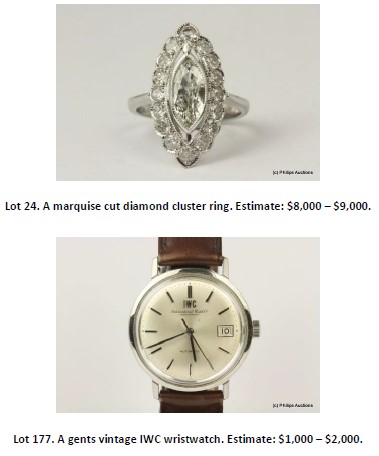 Join us for our great June offering of high quality furniture, decorative arts and jewellery. Doors open at 11am for registration with the auction commencing at 12pm.
Forthcoming Auctions
Fine and Decorative Arts - Sunday 24th June 2018
Modern and Antique Jewellery - Monday 25th June 2018
Viewing Times
Wednesday 20th June 9 am - 7 pm
Thursday 21st June 9 am - 5 pm
Friday 22nd June 9 am - 5 pm
Saturday 23rd June 12 noon - 5 pm
Jewellery - Monday 25th June 3 pm - 5.30 pm
Enquiries: +61 3 9509 6788 This email address is being protected from spambots. You need JavaScript enabled to view it.