Sweet Perfume
Celebrating the arrival of spring, Philips launches into September with a fantastic auction featuring a glorious offering of fine perfume bottles from a single well respected collection, a great range of French glassware, copperwares, and antique porcelain. Also of interest is a delightful showing of paintings, rugs, and many items of quality French furniture.
Comprising over 40 lots of diverse and wonderful examples of a very special decorative arts genre, the Baker-Finch & Grech Collection of Perfume Bottles is an amazing presentation that represents the best available in Australia. Director Tony Philips says "These are really fine pieces from well-known collectors and represent the crown jewels of the September auction". Of particular note is a very early and rare Chelsea piece depicting Cupid on the Donkey, of which it is believed there are only four examples available in the world.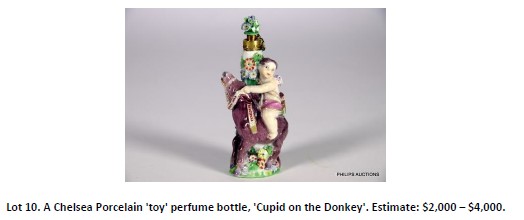 French glassware is a major attraction in September with a large range of impressive examples available from major manufacturers including Lalique, Verlux, Etling, Daum and Verlys. From Muller Frères comes a very special 1920's vase in deep orange highlighted with an intriguing trailing purple collar and flecks.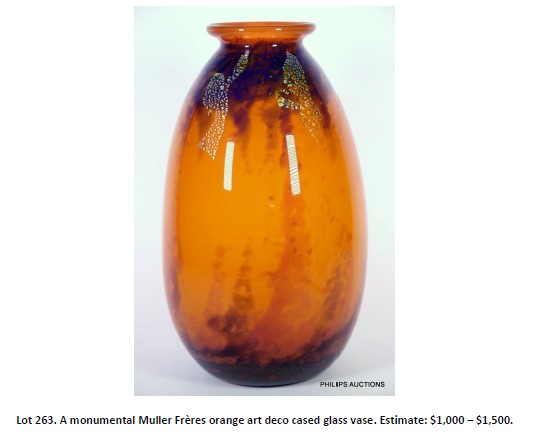 Those with an eye for the unusual will find great interest in many special items including several pitchers in the form of pig and ham, greyhound and rabbit, a fascinating German 'Singing Bird' in a gilded cage in the style of Karl Griesbaum, and a wonderful collection of decorative French Majolica asparagus plates.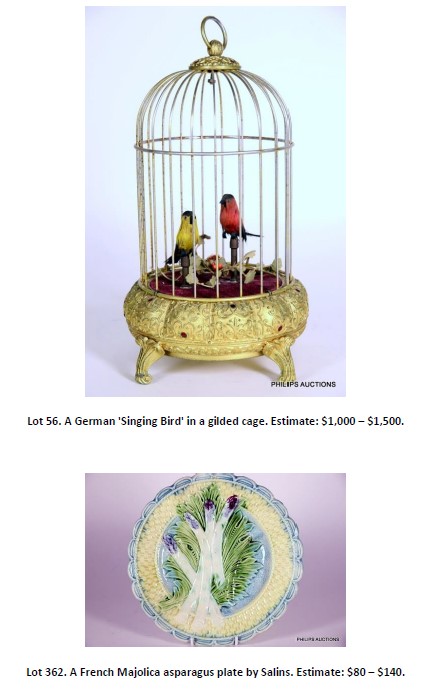 In addition to a tempting offering of silver and a stunning suite of antique porcelain featuring delightful sugar boxes, the range of furniture on offer this month is exceptional. Marvellous substantial items include a large Victorian Mahogany bookcase, a Victorian Huon pine dressing table, a régence style oak sideboard, and a fabulous Victorian mahogany six leaf extension table with twelve chairs. With room for twenty diners, this setting displays maker's cartouche for GM &HG Story of London, and features immaculate original leather upholstery.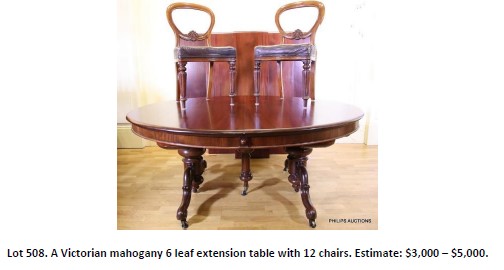 Join us on the following Monday evening for a dazzling Jewellery auction featuring a wonderful assortment of emeralds and diamonds, wristwatches, and a lovely selection of pink tourmaline. Of particular note is a stunning coral and gold bracelet, and a Faberge chain designed by craftsman Michael Evlampievitch Perchin.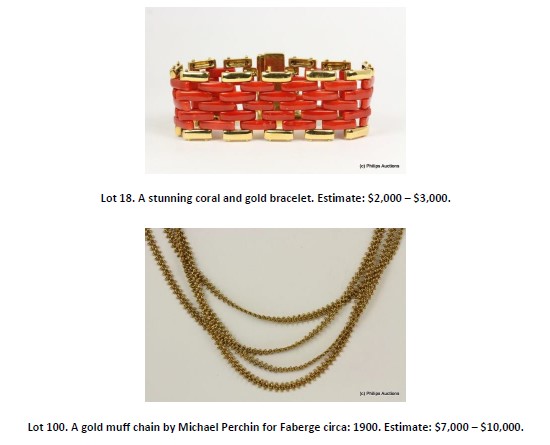 With over 520 lots of wonderful decorative arts, and 260 lots of desirable modern and contemporary jewellery to be offered at the September Philips auctions there are many opportunities for great buying. Doors open Sunday at 11am for registration with the auction commencing at 12pm.
Forthcoming Auctions
Fine and Decorative Arts - Sunday 16th September 2018
Modern and Antique Jewellery - Monday 17th September 2018

Viewing Times
Wednesday 12th September 9 am - 7 pm
Thursday 13th September 9 am - 5 pm
Friday 14th September 9 am - 5 pm
Saturday 15th September 12 noon - 5 pm
Jewellery - Monday 17th September 3 pm - 5.30 pm

Enquiries: +61 3 9509 6788 This email address is being protected from spambots. You need JavaScript enabled to view it.