Gift Horse
With festivity in the air and the spring racing carnival just around the corner, now is a great time to celebrate with some fine decorative arts, fantastic silver tableware for entertaining, or some amazing jewellery that adds sparkle and excitement to this time of year. Rising to the occasion, the Philips October auction is jam packed with an amazing variety of high quality offerings ranging from superb furniture, fine Oriental porcelain, stunning plates and beautiful dining settings.
Leading the pack is a truly wonderful rock crystal letter opener from Fabergé. This stunning creation presents with a distinctive dagger shape, and is wonderfully embellished with a horse head that has been fashioned from .875 silver, with the addition of gold horseshoe decals on either side. Complete with the mark of K. Fabergé in Cyrillic and a double-headed eagle imperial warrant, this is a most exceptional example of the Fabergé oeuvre, and would make a wonderful and appropriate presentation piece at this time of year.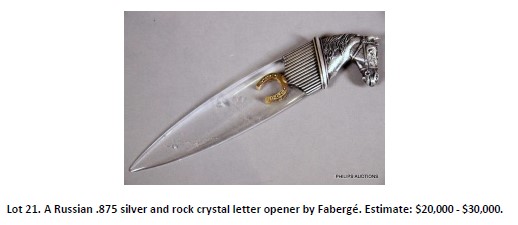 Silverware puts on a very strong showing in October, and with over 90 lots on offer, the interest in this quality range will be high. From spoons and ladles, to fine table settings, trays and candelabra, the choice is wide and provides great buying at all prices. Of particular interest is a fine example of the work of renowned silver artist Paul Storr in the form of a distinctive pair of sterling silver tureens featuring thread and twig ring handles, and intricate armorial engraving.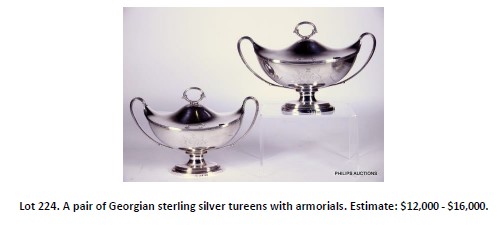 Porcelain is well positioned at this auction, including many fine items from a large collection gathered over a lifetime. Among the extensive styles and periods represented are many traditional English and French pieces, charming plates and vases from the Qing dynasty, and some great examples of Satsuma ware.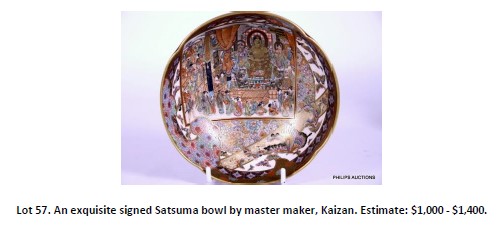 Many substantial and appealing items of furniture are to be offered, featuring lovely early English pieces in Elm and Oak, a signed Louis Majorelle palisander display armoire, a Macassar art deco dining table with six chairs, and an intricate art nouveau fruitwood and copper hallstand. Of considerable interest is an extraordinary mahogany suite complete with servery and buffet, a three leaf extension table, and seven cane chairs plus one.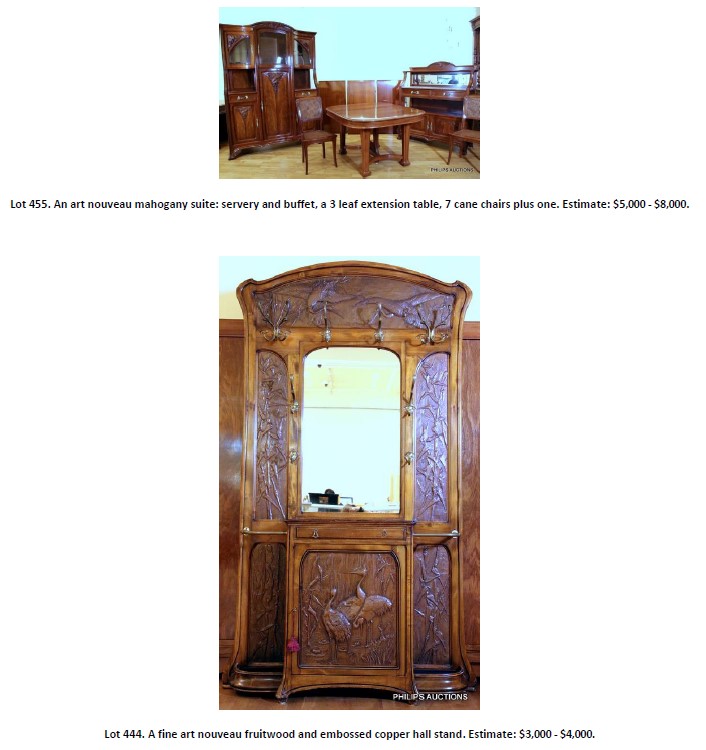 Monday evening's Modern and Antique Jewellery auction offers over 250 lots of the finest in gems and diamonds at the best prices. With racing season in mind, it represents a fabulous opportunity to acquire the essential accessories for looking great trackside, and with so many unique items to select from, you can create a wonderful standout bespoke look that is all your own. Choose from emerald and diamond cluster rings, pendants, beautiful bracelets, gold earrings, or indulge with a marvellous morganite and diamond cluster pendant on an 18ct white gold chain.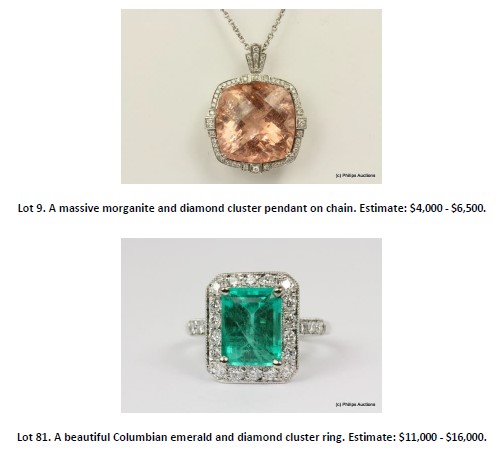 See you at the derby or the cup, and at Philips October auction! Doors open Sunday at 11am for registration with the auction commencing at 12pm.
Forthcoming Auctions
Fine and Decorative Arts - Sunday 28th October 2018
Modern and Antique Jewellery - Monday 29th October 2018
Viewing Times
Wednesday 24th October 9 am - 7 pm
Thursday 25th October 9 am - 5 pm
Friday 26th October 9 am - 5 pm
Saturday 27th October 12 noon - 5 pm
Jewellery - Monday 29th October 3 pm - 5.30 pm
Enquiries: +61 3 9509 6788 This email address is being protected from spambots. You need JavaScript enabled to view it.