Music hits a high note!
The penultimate Philips auction for 2018 was a great success with terrific results in all categories, reflected in particularly good sales of silver, furniture and jewellery, plus a great deal of interest in a wide range of silver vinaigrettes and perfume bottles. Director, Tony Philips said "Nice quality items were available at realistic prices. Discerning buyers seek quality over quantity, and we are able to offer the cream of the crop, providing rewarding outcomes for buyers and sellers alike."
Unusual items enjoyed popularity, including an extraordinary shoulder mounted taxidermic New Zealand red deer that shot beyond estimate, and a wonderful antique table music box with an inlaid walnut case that generated a lot of enthusiasm from buyers, and also hit a great note by selling well above expectations.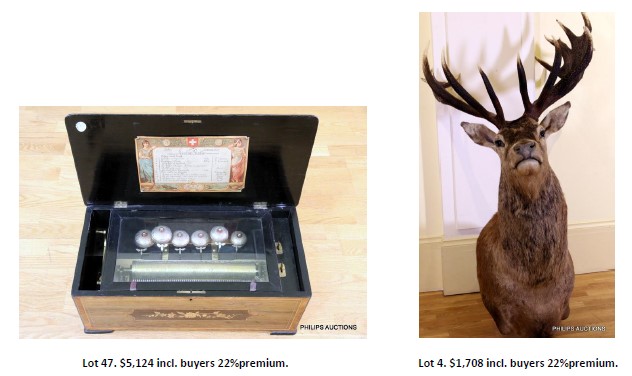 The strong results for silverware reflected the great range of quality items on offer and the determined interest from buyers. Highlights included a striking Victorian sterling silver claret jug that changed hands at the high end of estimate, and a magnificent sterling silver elephant with a distinctive articulated head that also sold extremely well.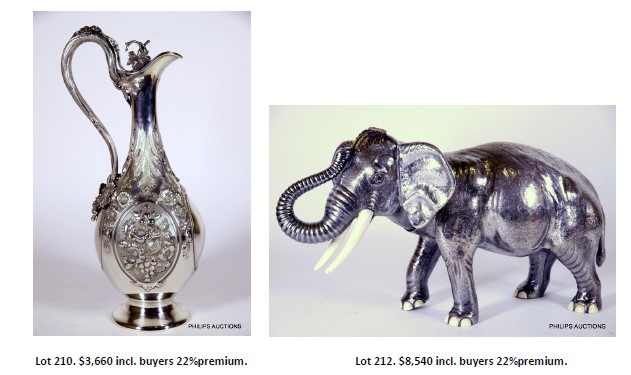 A surprise result within the silverware category was the great interest taken in vinaigrettes resulting in most of these items selling well above estimate. A rare watch form gilt vinaigrette with maker's mark for Joseph Willmore set the scene realising $2,196 from an estimate of $700 - $800, with others quickly following, including an unusual elongated silver gilt vinaigrette achieving $2,318 from the same estimated range, and a book form gilt vinaigrette also selling for $2,318 with a guide of $1,000 – $1,500.

Glassware and porcelain were also strong performers for October, with a great showing of perfume bottles resulting in the high range sale of an impressive green glass scent bottle with yellow gold cagework from the 1820's, and a lovely Royal Worcester 'fruit study' pedestal urn that attracted attention and exceeded estimate.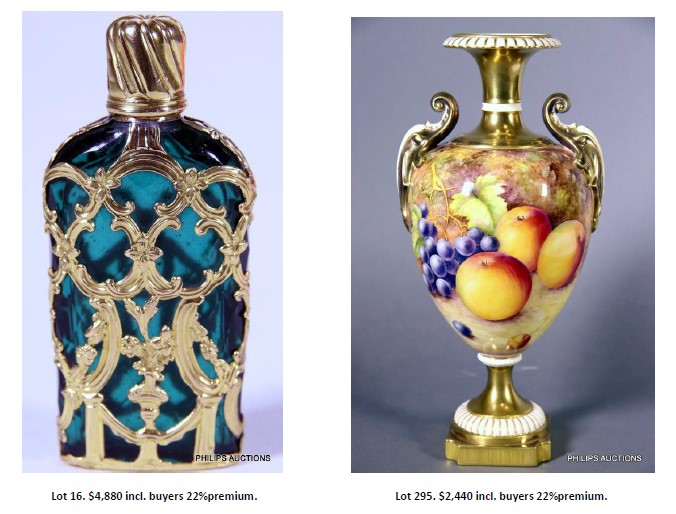 Great results were achieved for furniture with strong interest shown in all categories. Highlights of the day included a particularly delightful Victorian walnut Sutherland table with a finely figured book end veneer surface which easily exceeded estimate, and an impressive Charles II oak coffer that from a guide of $500 - $1,000 easily achieved $1,586.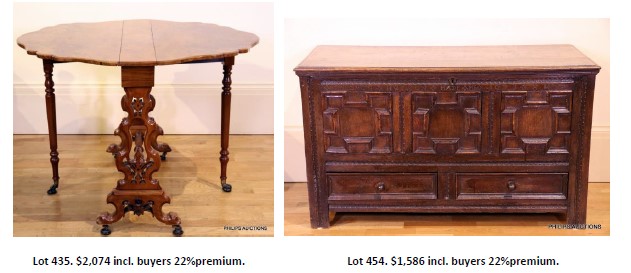 Monday evening's jewellery auction reflected the excitement of spring and delivered exceptional outcomes right across the range. Strong performers included a beautiful Columbian emerald and diamond cluster ring selling for $13,420, a large solitaire diamond pendant of 4.50ct that exceeded estimate by almost $2,000, and a stunning yellow gold vintage bracelet that achieved a similar result.

Wrapping up a great year at Philips, the jam packed December auction is the final for 2018 and is set to offer a huge range of Decorative Arts and Jewellery at great prices. Doors open Sunday at 11am for registration with the auction commencing at 12pm.
Forthcoming Auctions
Fine and Decorative Arts - Sunday 2nd December 2018
Modern and Antique Jewellery - Monday 3rd December 2018
Viewing Times
Wednesday 28th November 9 am - 7 pm
Thursday 29th November 9 am - 5 pm
Friday 30th November 9 am - 5 pm
Saturday 1st December 12 noon - 5 pm
Jewellery - Monday 3rd December 3 pm - 5.30 pm
Enquiries: +61 3 9509 6788 This email address is being protected from spambots. You need JavaScript enabled to view it.