Christmas at Philips
With Christmas just around the corner, the Philips December auction presents a great opportunity for quality gift shopping from a wide range of Decorative Arts and Jewellery. The final auction for 2018 is set for the festive season and includes a fantastic offering of exotic Anglo-Indian pieces, a range of delightful French furniture, woollen and silk rugs, a large number of fine artworks, and an impressive collection of high quality silverware.
From the estate of an Australian dentist who practiced in India during the early 1900's comes a fascinating collection of interesting and unusual items. Several have been carved from rosewood including a striking floor elephant, an occasional table, a rectangular tray, a marquise shaped wall hanging, and a delightful elephant dinner gong. Of particular note, a vintage dentist's cabinet comes equipped with many original tools and instruments for teeth cleaning, mould taking, and extractions.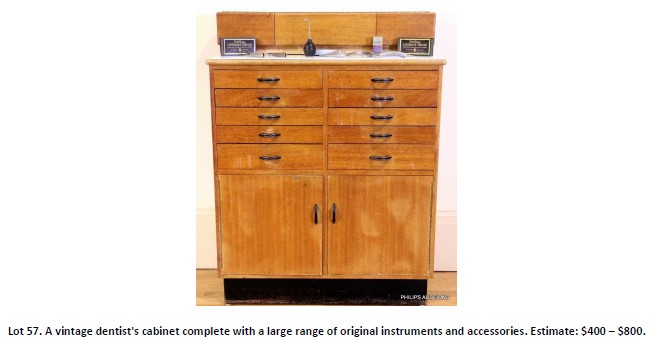 An unusual offering of car mascots is sure to create considerable interest, and would make wonderful gifts for vintage car enthusiasts and decorative arts lovers alike. Designed to be mounted on radiator caps, these fascinating objects present with many styles in either silvered bronze or glass. A standout offering from this collection is a stylised art deco glass mascot by Rene Lalique featuring a rooster's head set on a distinctive circular base rim.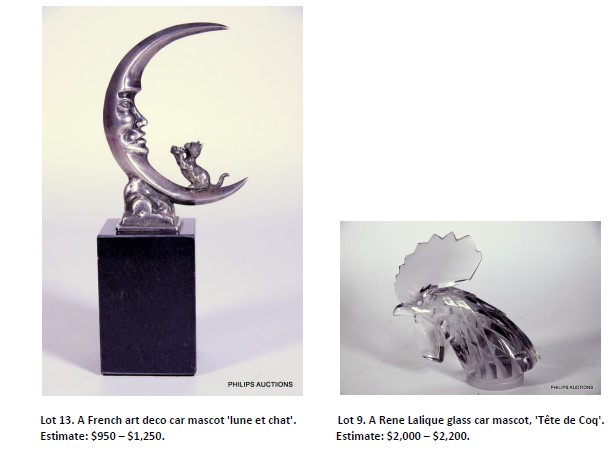 Brass, copper and silver feature strongly in December with a huge selection of antique French saucepans, jardinières, pots, cauldrons and ewers to be sold. And, with over 60 lots of high quality silver to be offered, the choice is wide and varied. Highlights include a wonderful pair of Victorian sterling silver pedestal comports, a distinctive late Georgian sterling silver water jug on heater stand, and a stunning pair of Georg Jensen sterling silver 'Poppy' candelabra.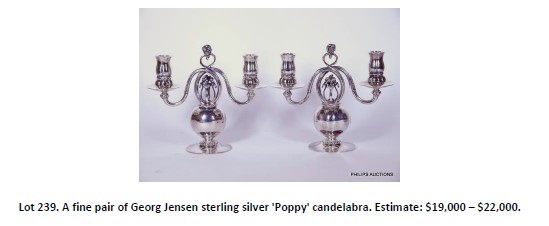 As part of a great offering of fine furniture, an impressive kingwood and ormolu vitrine will attract significant interest with an elegant stance, finely inlaid floral motifs, and finely cast rocaille embellishments. Originally purchased from Capocchi in Melbourne for $20,000, this desirable item is expected to provide great value to the successful bidder at auction. Also from the same Brighton home, a tasteful pair of antique Louis XV giltwood fauteuils is to be offered. Superbly upholstered in a floral jacquard, these seats feature arching crests, shaped arm supports, and carved cabriole legs.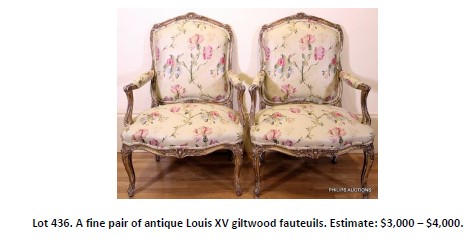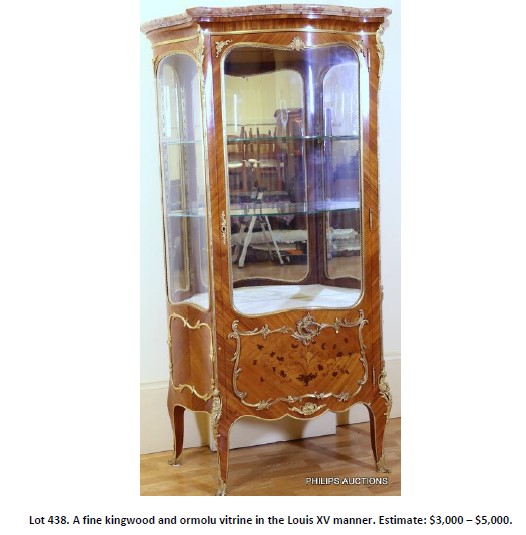 Presenting almost 300 lots of the finest gift ideas, the Monday evening Jewellery auction is set to be a blockbuster, just in time for the Christmas giving season. Choose from an amazing range including rings, pendants, brooches and earrings to bring joy at the festive season, or look out for a bargain with investment potential for the years to come. As Director, Tony Philips says, "We are offering a great selection this month of investment quality coloured stones. Many are difficult to come by and offer great potential as assets, or simply as a source of pleasure. Either way, it always pays to buy the best!'
Of notable interest in December is a particularly fine offering of ruby and sapphire diamond rings, and a wonderful selection of pendants. Highlights include a most amazing 6.27ct ruby and diamond three stone ring, and a beautiful pear cut diamond pendant set in white gold.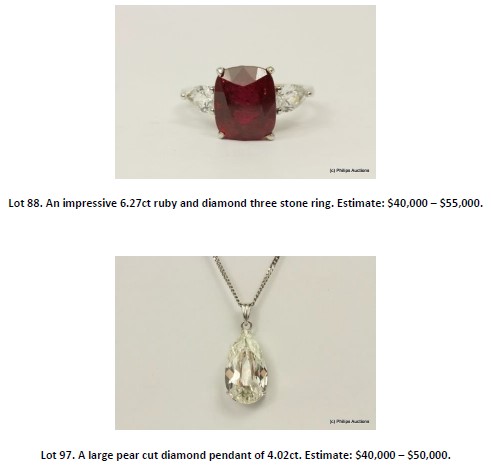 Don't miss out on any of the wonderful opportunities offered at the final Philips auction for the year. Doors open Sunday at 11am for registration with the auction commencing at 12pm.
Our Christmas break is from the 12th December, and we will reopen on the 14th January 2019. We wish all our clients a happy and safe Christmas, and a prosperous New Year.
Forthcoming Auctions
Fine and Decorative Arts - Sunday 2nd December 2018
Modern and Antique Jewellery - Monday 3rd December 2018
Viewing Times
Wednesday 28th November 9 am - 5 pm
Thursday 29th November 9 am - 5 pm
Friday 30th November 9 am - 5 pm
Saturday 1st December 12 noon - 5 pm
Jewellery - Monday 3rd December 3 pm - 5.30 pm
Enquiries: +61 3 9509 6788 This email address is being protected from spambots. You need JavaScript enabled to view it.