The Miniaturist sale
Petronella Ourtmann's intricately decorated doll's house in the Rijksmuseum Amsterdam inspired the book and subsequent compelling television series, 'The Miniaturist'.
Costing as much as an actual house, a dollshouse, such as Petronella's, was a luxury only available to the extremely wealthy in 17th and 18th century Holland and Germany. It was not a childish plaything, it was the woman of the household's domain, a domestic curiosity cabinet over which she was mistress just as she was with her household. Tiny objects of exquisite manufacture reflecting her life, her wealth, aspirations and above all, status, inhabited such dollshouses.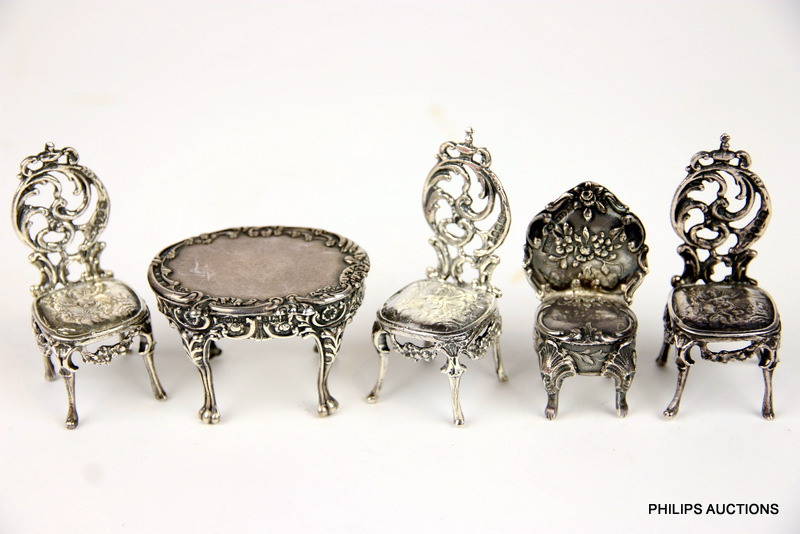 At Philips, we are pleased to be offering a delightful collection of miniature sterling silver objects, for cabinets of all kinds. From an estate and arranged over 14 lots comprising furniture items - there are sets of Rococo chairs, tables, a settle, a fine Dutch cabinet and similar commode, a desk, a splendid sedan chair and little accessories such as jardinière, rose bowl a cake stand among other items. There are even items with English royal associations including a replica of the Coronation throne, and a cradle, most likely modelled after a wooden cradle ordered by Queen Victoria for the baby Princess Louise. These pieces are beautifully made, and variously hallmarked with English, Dutch and Hanau pseudo marks.
Our miniature offerings continue with a delightful menagerie of tiny sterling silver animals. Whether your interests lie with domestic or wild, we have something to appeal. Lot 205 offers a tiny cat, pig and elephant. Lots 280 and 285 offer entire tiny herds, and lot 278, an African giraffe and kudu. Some charming pin cushions are on offer including: lot 258, two Edwardian pigs, lots 262 and 265, swans, and lot 261, a lizard. And let's not forget our sweet Spanish donkey toothpick holder, lot 199.
And continuing our miniature theme Philips is also offering some exquisite portrait miniatures, Lots 22 and 23. Both signed and dated they come supported by ephemera such as calling cards and a charming handwritten letter. Our Georgian sitters, Mrs John Atlee (by William Allison) and Mrs Thomas Hall (by William Hudson), are finely attired in their mauve and lace trimmed dresses and coiffed hair. The personality of the sitters has been marvellously recorded, Mrs Hall in particular has a twinkle in her eyes and the unmistakable hint of a smile.