Royal Worcester Vase
ITEM SPOTLIGHT: LOT 250
AN IMPRESSIVE ROYAL WORCESTER EXHIBITION VASE
1887, design 1266, Registration number 02204, manufactured 1892, puce backstamps to lid and underside; special Chicago Exhibition 1893 mark (faint).
This astonishing vase with its masterful gilding and sculptural ornament immediately suggested it worthy of an exhibition.  The vase posed many questions when it arrived but during its brief tenure at Philips Auctions its history has slowly unfolded.  
Henry Sandon's Royal Worcester Porcelain, in the ledger of numbered shapes, describes the 1887 design in a somewhat understated manner as a 'Large vase and cover, figure handles'. 
The current vendor's mother purchased the vase at Leonard Joel's auctions in 1980 for the record price of $11,500; The Financial Review 5th November 1980, thought the wonderful result worthy of a photograph and a description.  It was an extraordinary figure for the time matching the average annual earnings for that year (source: ABS); the average Melbourne house was valued at just over $30 000.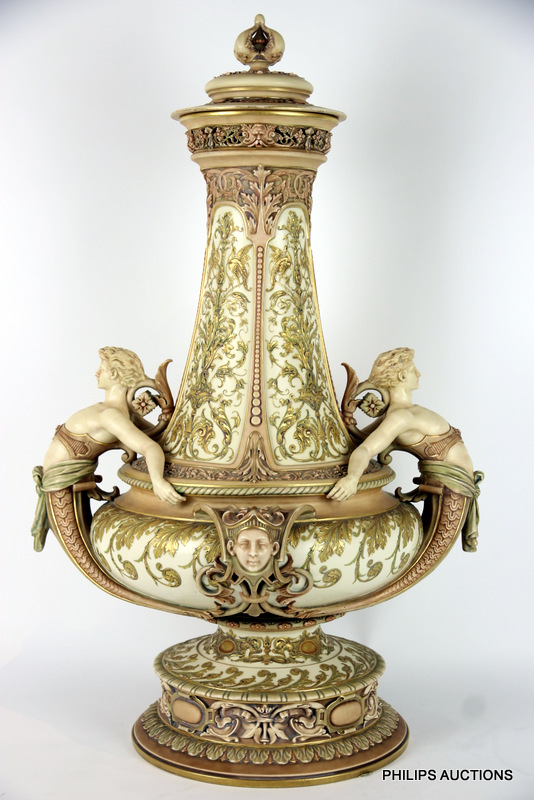 The connection to an exhibition however  continued to evade.  Until examination under a different light source - just ordinary tungsten room light in fact - when some transparent long worn lettering faintly revealed itself, curved beneath the puce backstamp under the lid:  Chicago, 1893.  The Chicago World fair, better known The World Columbian Exposition, was held in that year to commemorate the 400 year anniversary of Christopher Columbus's 'discovery' of the Americas.  The largest international fair ever conceived, exhibits covered over 600 acres and attracted some 27 million visitors over six months.
We know that the Royal Worcester company sent some extraordinary items made exclusively for this Exposition including the 'Seasons' vase, now known as the Chicago vase, which stood some 135cm high.  A roll call of notable Royal Worcester artisans contributed to the year-long manufacturing venture including designer and modeller James Hadley, Thomas and George Shaw who did the raised paste designs, and exquisite gilding by Josiah Davis.  
Maybe the hand of some of these master craftsmen can be seen our beautiful exhibition vase too.