Master Mountain View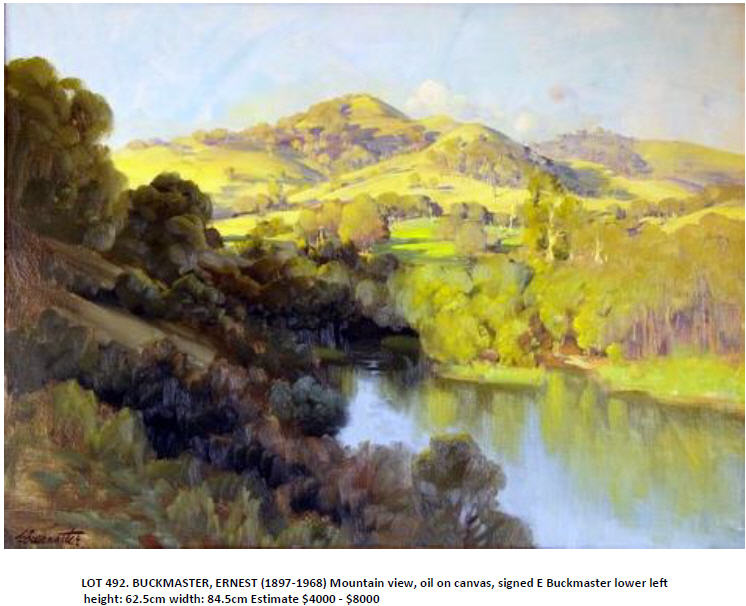 Ernest Buckmaster is well known for his arresting panoramic landscapes, often depicting Victoria's Yarra Valley and the Dandenongs near his home in Mt Evelyn. With exquisitely rendered water as a theme central to many of his works, including several views of the Sylvan Reservoir, he captures our landscape in a uniquely Australian manner.
This excellent example of his work is most typical of his romantic realism, and is highlighted by a particularly strong blaze of saturated golden colour providing an atmospheric sundrenched mountain view above a reflective languid river. Creating an illusion of nature and sunlight on canvas, Buckmaster describes a contrasting shadowed slope down to the trees at the river's edge with scattered clouds enhancing the poetic play of shade.
Buckmaster worked with great skill and assurance, employing square, fluid brush strokes with apparent ease of execution. He was greatly inspired by Beethoven's Pastoral Symphony No. 6 and the words of Wordsworth:
There was a time when meadow, grove and stream,
The earth, and every common sight,
To me did seem
Apparell'd in celestial light,
The glory and the freshness of a dream.
Also known for his portraits and still lifes, Buckmaster won the Archibald Prize in 1932 with a portrayal of Victorian Premier Sir William Irvine and was a finalist in the competition on numerous occasions. His work remains popular and continues to hold strong value.
Forthcoming Auctions
Fine and Decorative Arts - Sunday 19th June 2016
Modern and Antique Jewellery - Monday 20th June 2016
Enquiries: +61 3 9509 6788 This email address is being protected from spambots. You need JavaScript enabled to view it. www.philipsauctions.com.au