Prized Parrot for Purchase
Perched on the top of a finely crafted solid silver shaft, gold plated Polly strikes a rewarding pose.
Created by renowned Australian silversmith Stuart Devlin as a prestigious bird show award, the Polly Parrot Challenge Trophy depicts a small finely detailed gilt parrot placed on an intriguing moveable mount.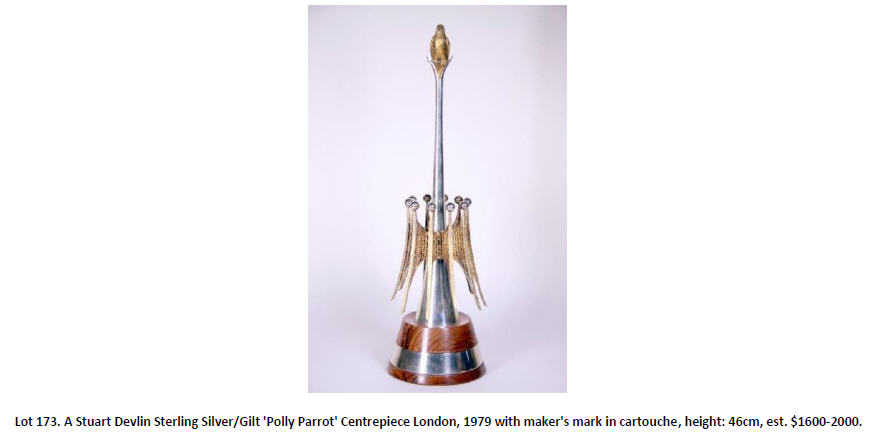 Constructed on a silver banded walnut base, the trophy is a rich piece which succeeds in combining four diverse elements in one unified whole. The silver trumpet like central shaft provides poise and balance to this uniquely proportioned object, with ten freeform wings forming a filigreed motif with ball finials, above which the quirkily undersized parrot sits in splendid isolation.
Devlin is a fine craftsman of decorative design, and a significant contemporary gold and silversmith. In Australia he is famously known as the designer of our decimal currency coins which feature the natural wonders of our land authentically depicted.
Overseas, he has received numerous royal commissions including a silver gilt commemorative egg for the wedding of Prince Charles and Lady Diana Spencer. The Polly Parrot Challenge Trophy was created by Devlin for the centrepiece of the National Exhibition of Cage and Aviary Birds at Alexandra Palace, London in 1979. This artist achieves the highest standards of craftsmanship, combining his skills as a sculptor with the application of modern technology, producing silver objects with unique qualities of form and finish. More great items are available at our new live online auctions which are held regularly.
'Polly Parrot' is a significant item of quality and is highly collectable. The humour and intrinsic interest of this ornament with it's unusual scale and unique movement provides universal appeal for all ages, and it represents a fine work from an exceptionally gifted Australian artist.
At Auction, buyers recognised the appeal and value this piece represents, and with spirited bidding drove the price well above both the estimate and reserve. 'Polly Parrot' sold for $3,120 including a 20 percent buyer's premium.
Enquiries: +61 3 9509 6788 This email address is being protected from spambots. You need JavaScript enabled to view it.
Save