Great results at March Auction
Characterised by strong interest from over 190 bidders, the Philips March auction was a great event yielding rewarding outcomes for buyers and sellers alike. Beginning with nine lots of keenly contested copper pots which all sold, and later followed by a magnificent pair of Chinese Qing Dynasty vases, the auction provided strong results for furniture which performed very well under the hammer.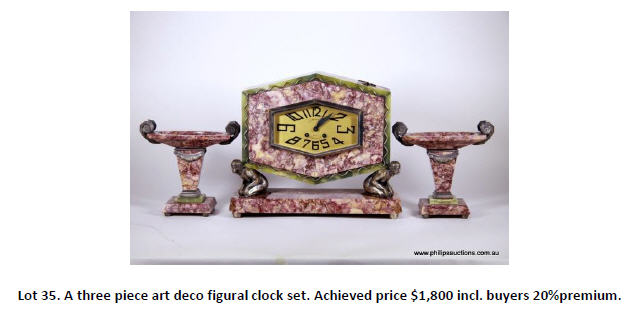 Clocks were a drawcard of the day with over 25 timepieces on offer. Of great interest was a three piece art deco clock set from the 1930s with a maker's mark of Marti and an 'A La Renaissance' Paris dial with Arabic numerals. Following in the three piece vein, a highly unusual and beautifully cast Egyptian Revival portico clock attracted great interest and sold very well. We now provide live online auctions in Australia.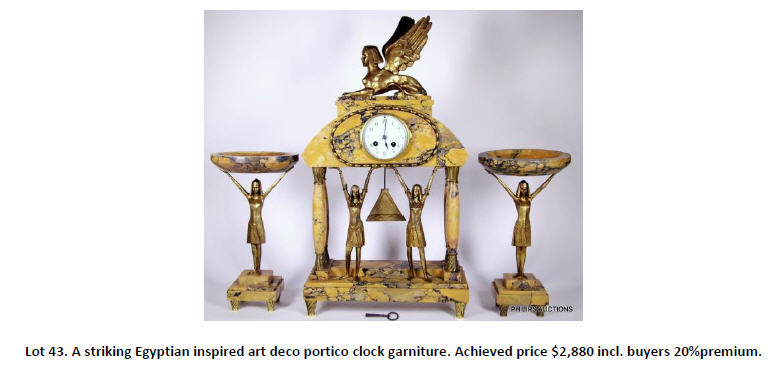 Demonstrating the value of fine table silverware, a ten piece American 'Chantilly' pattern setting sold well above estimate, and reinforces the appeal these items have for collectors at auction.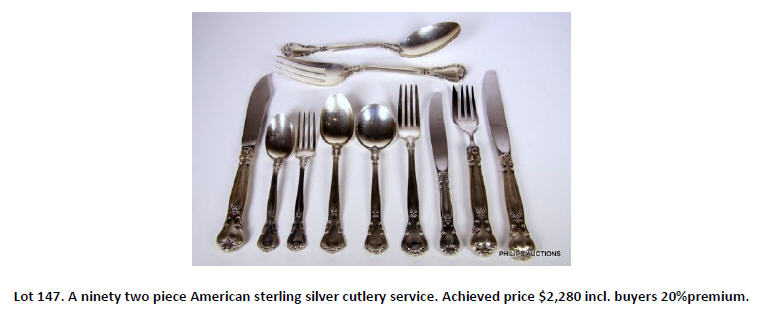 With a strong showing in March, French antiques sold extremely well with great results for a walnut commode, an intriguing walnut dough bin, and an imposing seven drawer tulipwood semainier. Forming a highlight of the furniture offering, a magnificent Napoleon III rosewood veneer and ormolu display cabinet with a striking flecked red marble top performed very well, achieving close to the high range estimate.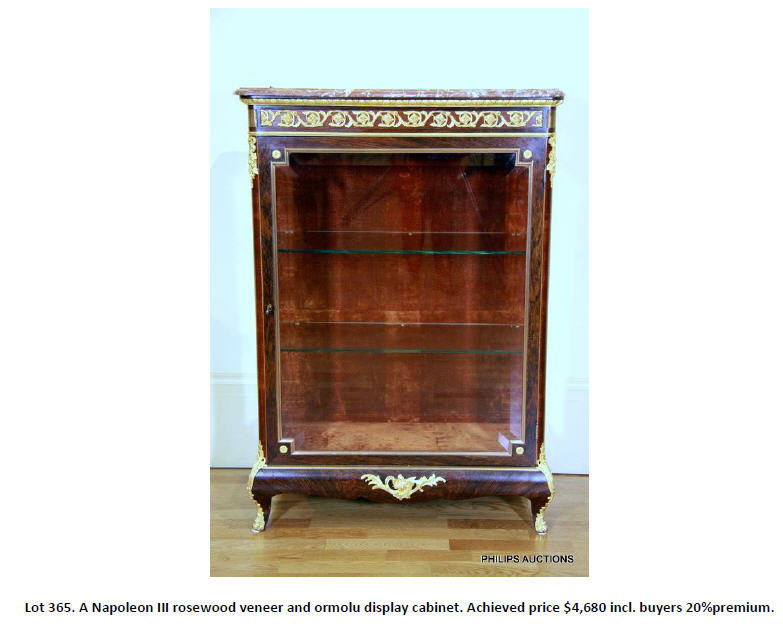 One of two interesting items of Bendigo pottery, a rare majolica cheese dome and dish was the surprise entry of the day, providing a great result for the vendor far in excess of its original estimate.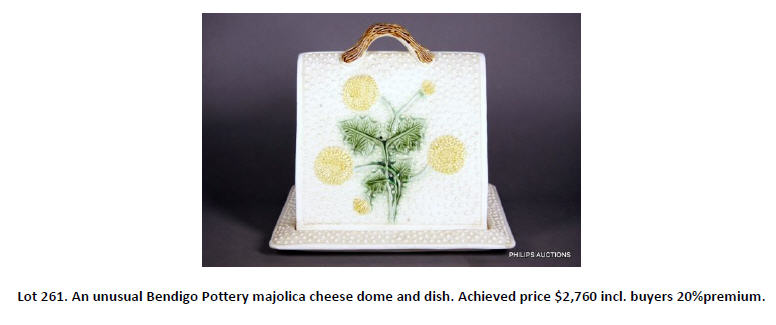 The following evening's Jewellery auction was well attended with 124 bidders and provided great results with strong sale prices and a high clearance rate. Honours for the standout sales item for the evening go to a 4.28CT solitaire diamond ring in a modern style with a high raised setting of six claws.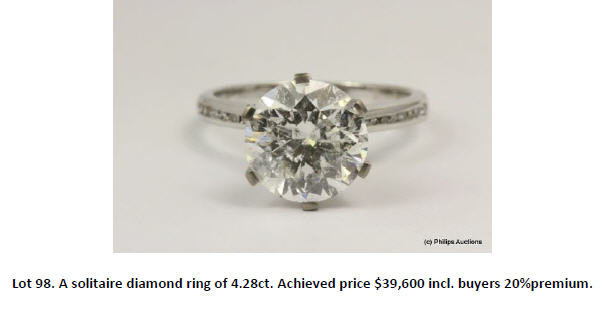 The forthcoming May auction is set to be a great occasion with a wide range of sought after items for all tastes and budgets. Doors open at 11am for registration with the auction commencing at 12pm.
In exciting news for the following auction in July, Philips are announcing the offering of a large and exclusive collection of 17th and 18th Century English porcelain. Representing the entirety of a world class collection of 300 magnificent pieces, all are in perfect condition and will be sold to the highest bidder. Please register to receive a free colour catalogue for this very important collection, and find further details coming on our website.
Forthcoming Auctions
Fine and Decorative Arts - Sunday 7th May 2017
Modern and Antique Jewellery - Monday 8th May 2017
Enquiries: +61 3 9509 6788 This email address is being protected from spambots. You need JavaScript enabled to view it.
Save