Huge turnout at Philips
Setting a record for attendance, the Philips May auction was a huge success with a large and enthusiastic crowd spilling out into the foyer for most of the afternoon. With over 240 determined bidders the sales results were tremendous and saw great results for furniture, with commodes in particular selling out completely. Antique Chinese artefacts were a solid feature of this auction, and with such strong bidding, many lots sold quickly and significantly above estimate. Highlights included a wonderful carved jade medallion pendant from the Qing Dynasty selling for $1,460, a striking cloisonné stand, and a well-crafted rosewood altar table.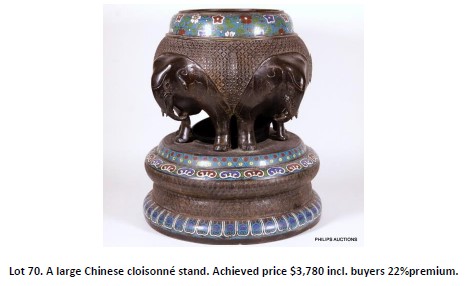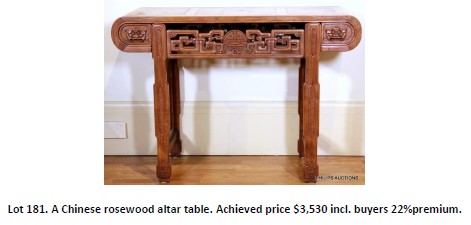 Clocks and bronze figurines were well represented in May with many fine examples changing hands for rewarding prices. A lovely French brass and enamel decorated carriage clock with an estimate of $1,000 - $ 2,000 sold very well for $4,630, and a fascinating bronze figurine by John Wolfgang Elischer exceeded all expectations and delivered a most exciting outcome.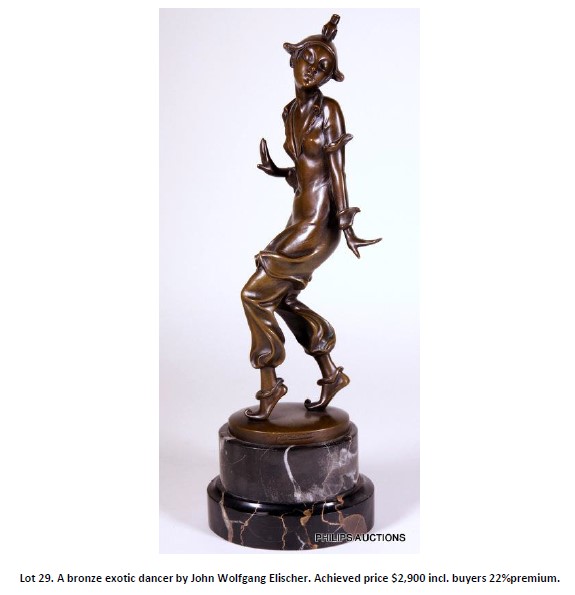 Always a strong performer, furniture provided great interest and strong bidding from the enthusiastic crowd, and with so many lots to choose from buyers were not disappointed. Other items of interest included a framed Limoges enamel plaque selling for $850, and an unusual Anglo-Indian Vizagapatam ivory and lac engraved sewing box selling well above estimate to cap off a great afternoon.

Monday evening's jewellery auction was also very well attended with over 130 bidders, and achieved a fantastic result with all items selling well. Great sales were experienced with diamond rings, pendants and bracelets, with a wonderful cushion cut pink sapphire and diamond cluster ring selling for $3,660, a three stone diamond ring delivering $7,930, and a beautiful pink sapphire and diamond set line bracelet changing hands for $3,530. Of note, a striking diamond eternity ring performed strongly, as did a very handsome and desirable star sapphire set gents ring. Note, now we provide online auctions.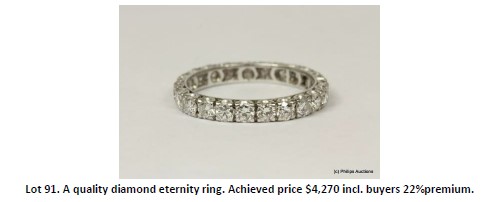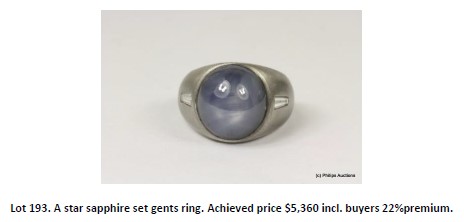 Be sure not to miss our next big auction in June, featuring a fantastic collection of great furniture and oriental artefacts, and on the following evening, a wonderful opportunity to acquire a great selection of estate jewellery. Doors open at 11am for registration with the auction commencing at 12pm.
Forthcoming Auctions
Fine and Decorative Arts - Sunday 24th June 2018
Modern and Antique Jewellery - Monday 25th June 2018
Viewing Times
Wednesday 20th June 9 am - 7 pm
Thursday 21st June 9 am - 5 pm
Friday 22nd June 9 am - 5 pm
Saturday 23rd June 12 noon - 5 pm
Jewellery - Monday 25th June 3 pm - 5.30 pm
Enquiries: +61 3 9509 6788 This email address is being protected from spambots. You need JavaScript enabled to view it.