Triple Auction Action
This August at Philips is a very special month with the extraordinary bonanza of three separate major auctions spread over three consecutive days. Beginning on Sunday afternoon, we will kick off with a packed Decorative Arts sale with over 600 lots of high quality items including fine furniture, French clocks, and early English porcelain all from a single estate; and a most important and unusual offering of Irish porcelain. Following this exciting event will be a compact, super high quality Modern and Antique Jewellery auction on Monday evening, leading up to the outstanding pocket watch sale on Tuesday evening that wraps up a terrific trifecta of auction excitement.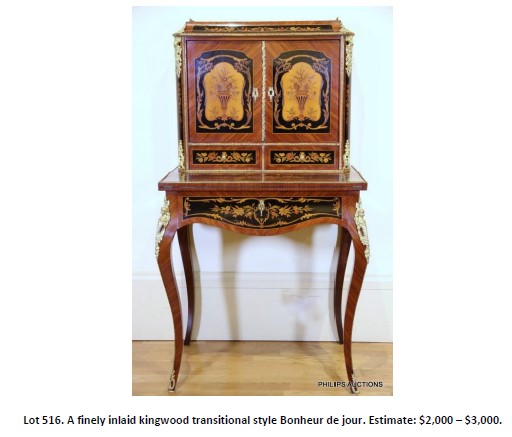 Decorative arts has a full head of steam this month with a fantastic sale of English porcelain, elegant timber boxes, clocks, and fine furniture, including a most delightful Bonheur de jour; along with a very special presentation of important paintings. Featuring works by Pro Hart, John Percival, James Gleeson, Walter Withers, and Charles Condor to name a few, this important single estate collection is an opportunity not to be missed and is being offered without reserve.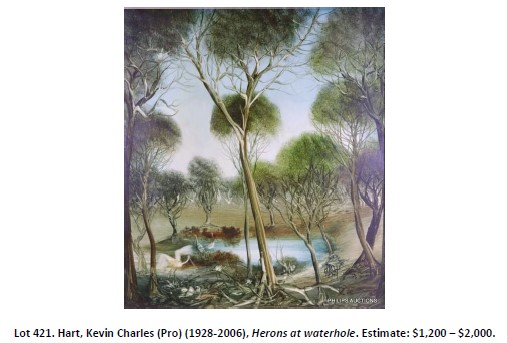 A most delightful 1930's wrought iron hallstand will be attracting the attention of art deco fans and those with an eye for the unusual. Standing 195cm tall, this piece impresses with a waisted form fashioned from textured and hammered iron, and features a graceful oval mirror, scroll hooks and striking serpentine umbrella holders.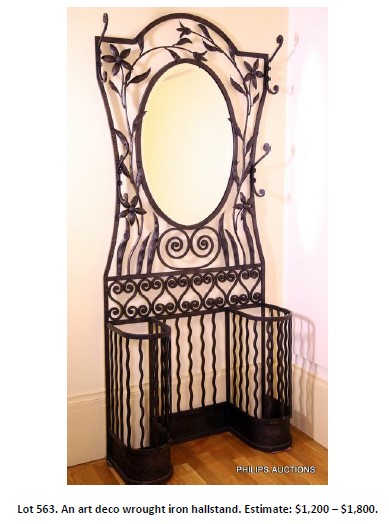 Of particular interest at this month's auction is a rare offering of 18 sizeable lots of high quality Belleek Irish porcelain. Renowned for their fineness and distinctive finish, these examples are highly prized, and represent works from the first, second and third black mark periods.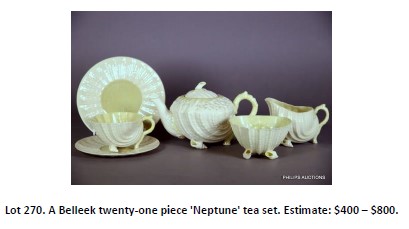 Monday evenings Modern and Antique jewellery auction is set to be an intimate affair with a delightful range of special offerings. Of particular interest is an amazing Columbian emerald and diamond ring set in 18ct white gold. Fashioned as a classic cut cornered rectangular cluster ring, it boasts a vibrant green emerald of approximately 4.80ct and sixteen brilliant cut diamonds totalling 1.30ct. Truly a wonderful piece! View some of our online auctions.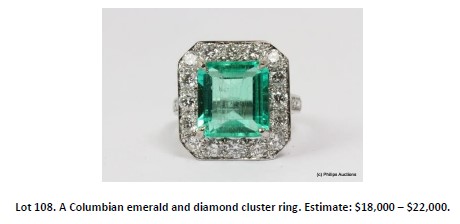 Also of great interest, this sale includes a most beautiful and valuable strand of south sea pearls, solitaire rings, diamond earrings and a stunning gold Collier necklace with seventy-five brilliant cut light cognac coloured diamonds.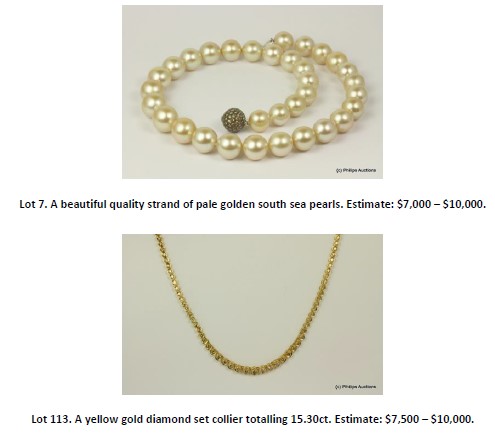 Completing this great run of fantastic auctions, the dedicated pocket watch sale on Tuesday evening will be the place to be for lovers of this beautiful and practical art form. With 160 lots of wonderful timepieces from an estate, this sale represents a rare opportunity to secure the finest examples from a collection seldom seen on this scale.
Featuring phenomenal Victorian and Georgian examples, the offering includes French gold watches, split second chronometers, along with Open Face and Full Hunter examples from leading manufacturers including Webster Cornhill, Baume Longines, Waltham, Elgin, Lupton, and Hancock. Of particular interest is a magnificent pair faced piece from Dev Bonly of London featuring a joyous
religious scene, white enamel dial, and beetle and poker hands.
This stunning collection also presents a marvellous selection of gold chains and superb gents wristwatches, including great examples from Omega, Breitling and Rolex.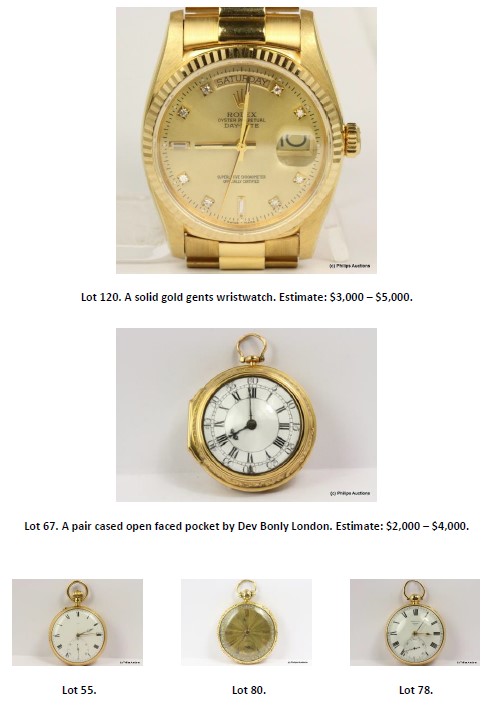 With such a rich and diverse offering of decorative arts, jewellery and watches spread out over three days, August provides the opportunity to reap the benefits of a bumper crop of feature packed auctions at Philips. Sunday's auction begins at 12pm with doors open at 11am for registration, with Monday and Tuesday commencing at 6pm with registration from 3pm.
Forthcoming Auctions
Fine and Decorative Arts - Sunday 12th August 2018
Modern and Antique Jewellery - Monday 13th August 2018
Pocket Watches – Tuesday 14th August 2018

Viewing Times
Wednesday 8th August 9 am - 7 pm
Thursday 9th August 9 am - 5 pm
Friday 10th August 9 am - 5 pm
Saturday 11th August 12 noon - 5 pm
Jewellery - Monday 13th August 3 pm - 5.30 pm
Pocket Watches – Tuesday 14th August 3 pm - 5.30 pm

Enquiries: +61 3 9509 6788 This email address is being protected from spambots. You need JavaScript enabled to view it.