Here's to a Great Year
What a wonderful year 2018 has been at Philips with so many exciting and successful auctions, plus several special and unique sales events including a triple auction in August and the magnificent offering in February of 160 lots of porcelain from a single estate.
The Philips December auction continued the trend and wrapped up the year in great style with fantastic results in all departments. Strong sales were achieved in furniture, silver and copper, and a wonderful range of decorative arts including figurines, tea services and vases.
As anticipated, a wonderful range of car mascots proved very popular with determined bidding driving sales well beyond estimate and delivering outstanding results. Two French examples performed particularly strongly due to their exotic design and the reputation of designers Rene Lalique and Henri Payen.

An amazing result was achieved with a large range of French copper saucepans with all items sold for fantastic prices, plus a big sale of spelter figurines, and an intricate 18ct gold box selling extremely well at the upper end of estimate.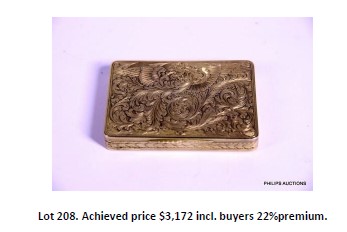 Furniture enjoyed great results in December with a complete range of rosewood furniture selling out, and impressive results for large kingwood and mahogany items, including a magnificent dining setting, and an imposing bookcase with an estimate of $2,000 - $3,000 rising to a most satisfying $4,636.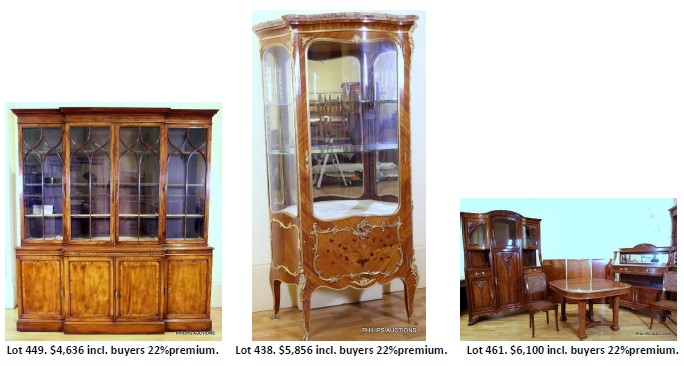 Extraordinary results were achieved with Anglo-Indian decorative arts which sold amazingly well, including a fascinating elephant bench seat with an estimate of $800 selling at $4,392, a wonderful occasional table achieving $1,220 from a guide of $400, and a set of hardwood pricket sticks and a pair of sconces rising from an expected $200 to sell at $1,220.

Silverware was a great performer this month with standout results for a Chinese silver posy vase from the Qing Dynasty, and an amazing outcome for an Indian three piece tea service and tray with an estimate of $400 changing hands for $1,952.
Also selling well at the top end of estimate, a fascinating upright disk 'Polyphon' proved very popular. Housed in a glazed walnut case, this amazing German music player is coin operated and comes with 15 disks which are played with a delightful sonorous tone.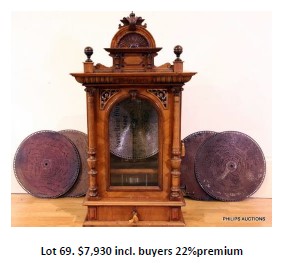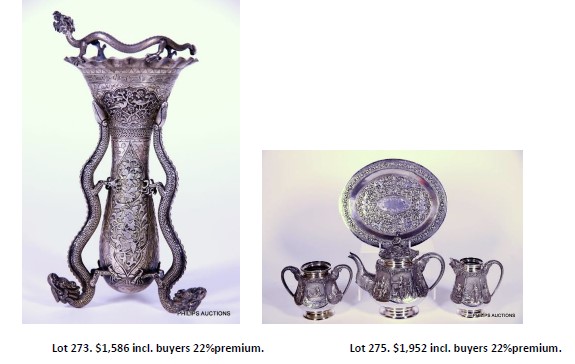 Rounding off this great year, Monday evenings online Jewellery auction went very well with a high clearance rate for the many fine items on offer. Of particular interest, a fine mesh 18ct gold purse sold extremely well at the high end of estimate, and a beautiful emerald and diamond set cluster ring provided a fantastic outcome achieving $7,808 from an estimate of $5,500.

We are now closed for renovations. Come and visit us in the New Year to see our sparkly new rooms when we reopen on the 14th January. We wish all our clients, customers and friends a happy and safe Christmas, and a prosperous New Year.
Forthcoming Auctions
Fine and Decorative Arts - Sunday 17th February 2019
Modern and Antique Jewellery - Monday 18th February 2019

Viewing Times
Wednesday 13th February 9 am - 7 pm
Thursday 14th February 9 am - 5 pm
Friday 15th February 9 am - 5 pm
Saturday 16th February 12 noon - 5 pm
Jewellery - Monday 18th February 3 pm - 5.30 pm

Enquiries: +61 3 9509 6788 This email address is being protected from spambots. You need JavaScript enabled to view it.